Jika Anda Tidak Punya Kartu Kredit dan Alat Transaksi Online, serta tidak punya keakhlian installasi, kami menawarkan paket siap pakai, meliputi domain, hosting, Lawyers | Attorneys WordPress Theme, dan tutorial. Silahkan hubungi kami Klik Chat CHAT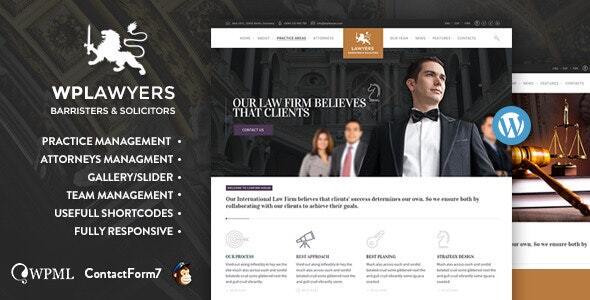 Butuh Dukungan Online atau memiliki pra-penjualan – Pertanyaan?
Hubungi kami melalui: WhatApp No: +44 7387 757771
The Law Practice adalah tema WordPress pengacara yang bersih dan tampak mencolok yang dirancang dan dikembangkan secara khusus untuk memenuhi kebutuhan advokat, pengacara, pengacara, penasihat, bisnis, konsultasi, keuangan, keadilan, pengacara, penasihat hukum, kantor hukum, responsif, pengacara, akuntan, hukum dan masih banyak lagi yang membutuhkan website perusahaan. Ini adalah solusi ideal untuk situs web pengacara pribadi serta untuk situs web kantor hukum yang lebih besar.
Tema dibuat untuk Penasihat Hukum, Kantor Hukum, Pengacara, Pengacara, Pengacara di Hukum, Penasihat Hukum, Pengacara, Advokat dan layanan terkait hukum dan hukum lainnya dan cocok untuk segala jenis aktivitas hukum dan keuangan – Pengacara di Hukum, Penasihat, Pengacara, Advokat, Akuntan, Konsultan, Konsultasi, Konselor. Ini memiliki desain yang berorientasi pada tujuan dan dilengkapi dengan opsi Tim, studi kasus, dan praktik untuk memberikan sebanyak mungkin wawasan tentang bisnis hukum Anda.
Ini mencakup semua fungsi yang diperlukan untuk menyajikan layanan hukum online. Jenis posting Layanan Kustom memungkinkan Anda menyediakan galeri tim dengan cara yang menarik dan praktis, menjelaskan kasus dan praktik Anda dengan cara yang menarik. Jika ada tim pengacara yang bekerja untuk kantor Anda, tema Pengacara menyediakan cara yang bagus untuk menampilkan profil pribadi pengacara. Pembuat halaman khusus menyediakan pemformatan konten yang mudah dalam antarmuka seret dan lepas. Kumpulan kode pendek yang hebat memungkinkan Anda membuat halaman yang beragam dan menarik. Untuk memastikan kantor hukum Anda mendapatkan lebih banyak klien, tema Praktik Hukum memiliki opsi SEO yang canggih untuk setiap halaman dan postingan. Tema Pengacara cocok untuk pengguna dengan keterampilan pemrograman nol serta pengembang tingkat lanjut.
Ubah Log: Versi 1.1 (2 Februari 2015)
1- Fixed: google font issue. Files modified were google_fonts.php  and function.php
2- Fixed: Envato toolkit plugin issue. File modified was function.php

Ubah Log: Versi 1.2 (1 Mei 2015)
Fixed: WordPress 4.2 compatibility issues
Fixed: Elements animation issue.
Fixed: Subheader text align centre issue.
Fixed: Tab shortcode vertical style issue.
Fixed: Translation issue.
Fixed: Back end RTL issue.
Fixed: Smooth Scroll issue.
Fixed: Custom css saving from theme option issue.
Fixed: Post pagination issue on custom post type [case study and team] 
Ubah Log: Versi 1.4 (30 September 2015)


Fixed: Header styles issue
Fixed: Cases disappear after publishing
Fixed: YouTube issue
Added: Map Views

Ubah Log: Versi 1.5 (14/01/2016)
Added: 4.4.1 WordPress Compatibility
Added: Twitter cache Enabled Theme Options
Fixed: RTL and Responsive issues.

Ubah Log: Versi 1.6 (11/05/2016)
 Added: WordPress 4.5.2 comparability 
Fixed: Issue With Typography / Fonts / Font Family 
Fixed: Issue with pages subheader 
Fixed: Issue With Custom ID.

Ubah Log: Versi 1.7 (17/02/2020)
New Added: Compatibility upto WordPress version (Classic Editor) : 5.3.x 
New Added: Compatibility upto php version 7.3.x
New Added: Compatibility with revolution slider 6.x

Improvement: Revolution slider Api updated
Improvement: Complete Theme package Optimization

Fixed: Practice edit issues
Fixed: Widgets not appearing in sidebar
Fixed: CS Page builder conflicts with latest wp
Fixed: wordpress Pagination not appearing
Fixed: Page comments not appearing
Fixed: Comments and categories structure issues
Fixed: Fixed: Styling, Responsive & Js issues