Jika Anda Tidak Punya Kartu Kredit dan Alat Transaksi Online, serta tidak punya keakhlian installasi, kami menawarkan paket siap pakai, meliputi domain, hosting, iMate – Business WordPress, dan tutorial. Silahkan hubungi kami Klik Chat CHAT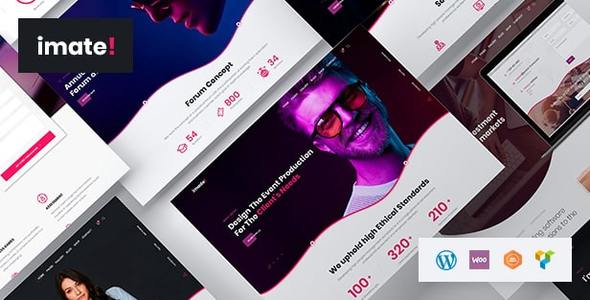 iMate – Tema WordPress Bisnis Kontemporer
iMade adalah Tema WordPress Bisnis yang indah untuk bisnis, pekerja lepas, agensi, konsultasi apa pun. Setiap orang dapat menemukan halaman yang cocok untuk dirinya sendiri. Kami telah mencoba membuat kumpulan besar komponen dan gaya untuk situs web Anda yang luar biasa.
Apa yang ada di dalam Paket?
Kode Valid HTML5 & CSS3
Desain yang indah dan mengagumkan
Responsif & Siap Retina
Kode Kecepatan Tinggi & Bersih
Dikodekan dengan SEO dalam Pikiran
Manajemen Warna yang Mudah
10 Varian Halaman Beranda
Bisnis Rumah Klasik
Acara Rumah
Pelatih & Mentor Rumah
Rumah Pribadi
Agensi Rumah
Startup Rumah
Menu Samping Lanjutan
Galeri Foto Kotak
Galeri Foto Batu
Jumlah Halaman Portofolio Kustom Tidak Terbatas
Halaman Segera Hadir
Dua varian Blog
Tata Letak Blog Layar Penuh
Halaman 404 Kustom
formulir kontak
Dokumentasi Diperpanjang
Bantuan Purna Jual Gratis (e-mail)
Dan banyak lagi…
Catatan
Penting:
*Harap diperhatikan bahwa tema tidak menyertakan semua gambar dalam file zip sumber.
PHP versi 5.4 yang didukung minimum
Perbarui Riwayat
Versi 1.2.0
- Changed portfolio filtering mechnism (Ajax loading)
- Added iMate Dashboard
Notice!: After the theme update, you should reactivate the license. 

Versi 1.0.2
- WPBackery plugin update version 6.0.2

Versi 1.0.1
- WPBackery plugin update version 5.7

Versi 1.0.0
- Theme Release