Jika Anda Tidak Punya Kartu Kredit dan Alat Transaksi Online, serta tidak punya keakhlian installasi, kami menawarkan paket siap pakai, meliputi domain, hosting, Cruz – Modern Business WordPress, dan tutorial. Silahkan hubungi kami Klik Chat CHAT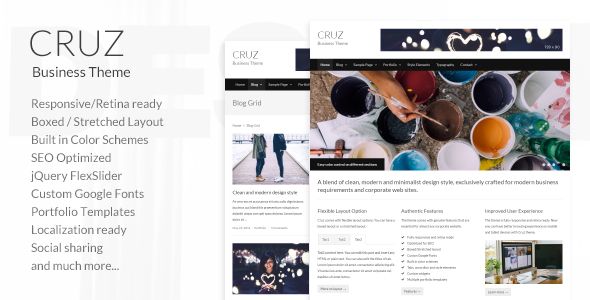 Cruz adalah tema WordPress premium yang dirancang untuk situs web perusahaan, portofolio pribadi, blog teknologi, atau situs web perusahaan kecil hingga menengah
Tema responsif dan retina siap. Fitur utama termasuk lokalisasi bahasa, dukungan RTL, kode pendek, templat khusus, opsi tema, widget khusus, dll. Gaya desain yang bersih dan modern, didukung dengan standar pengkodean terbaru membuatnya cukup fleksibel untuk memenuhi sebagian besar persyaratan desain web Anda.
Fitur Utama
Desain bersih, WordPress 4.7+ siap
Tata letak kotak dan membentang
Latar Belakang Kustom WordPress
menu tarik-turun multi level bertenaga jQuery
jQuery Flexslider
– Lebar dan tinggi yang dapat disesuaikan untuk penggeser
– Opsi penggeser yang diregangkan dengan lebar penuh
4 Template Portofolio (Penggunaan tidak terbatas)
2 Template blog (Penggunaan tidak terbatas)
Panel opsi Tema Tidak Bermerek
Plugin WooCommerce siap
Spanduk Gambar Kustom per halaman
Font Google khusus melalui Opsi Tema
7 Area Widget
6 Widget khusus (Flickr, Ikon Sosial, Posting Terbaru, Postingan Populer, Kategori Kustom, Mini Folio)
Dibangun di Templat Halaman Kontak Ajax/php dengan validasi formulir
Fitur posting tunggal termasuk Bio Penulis, Posting Terkait, dan komentar Berulir dengan dukungan Gravatar
Elemen gaya seperti akordeon, tab, sakelar, Tombol CSS3, kisi harga, dll.
Dukungan Pelokalan Bahasa (Contoh file template POT dan file PO MO disertakan)
Contoh data dummy dalam format .txt dan .xml untuk penyiapan yang mudah
Panduan langkah demi langkah dan dokumentasi terperinci untuk menginstal dan mengonfigurasi tema.
Mendukung semua browser utama
Perbarui Log
== Apr 14, 2017 - v3.4 ==
* Added compatibility with WooCommerce 3.0+
* Added WooCommerce product gallery slider, swipe, lightbox and zoom support
* Added posts pagination for archives (now WP Pagenavi not required)
* Added slider image size option in Theme Options
* Added nonce verification in theme options and improved styling
* Changed breadcrumbs separator to arrow symbol
* Improved styling for Recent Posts, Minifolio and Flickr widget
* Improved styling for WooCommerce products and shop pages
* Improved RTL CSS
== Dec 24, 2016 - v3.3 ==
* Added compatibility for php 7.0+
* Added shortcode buttons in "Visual" mode of editor
* Increased body font size and line height for better readability
Log perubahan lengkap dapat ditemukan di dalam arsip unduhan utama.