Jika Anda Tidak Punya Kartu Kredit dan Alat Transaksi Online, serta tidak punya keakhlian installasi, kami menawarkan paket siap pakai, meliputi domain, hosting, Bayside – Responsive WordPress Theme, dan tutorial. Silahkan hubungi kami Klik Chat CHAT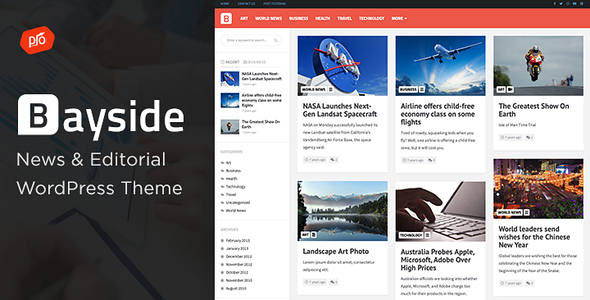 Buat situs web berita & editorial dengan ini mudah disesuaikan dan fitur lengkap Tema WordPress. Saat membeli tema ini, Anda akan menerima file bantuan terperinci bersama dengan fitur tambahan seperti Gulir Tak Terbatas dan Seret & Lepas Pembuat Halaman.
Fitur Utama
Seret & Lepas Pembuat Halaman – Bangun situs web Anda dengan mudah menggunakan pembuat halaman seret & lepas
Termasuk Add-on Elemen yang Ditingkatkan (Nilai $22) – Buat slider, peta, popup & lainnya dengan mudah dengan plugin premium ini
Konten Demo Termasuk – Dapatkan situs web Anda dan berjalan dalam beberapa menit menggunakan importir demo kami
Tata Letak Responsif – Memastikan situs web Anda terlihat bagus di perangkat apa pun dari seluler hingga desktop
Warna Tidak Terbatas – Ubah tampilan situs dari penyesuai tema front-end kami
Penyesuaian Font – Mudah menyesuaikan font dalam tema dengan penyesuai tema kami yang tangguh
Menu Mega – Tema ini memiliki dukungan bawaan untuk drop-down dan menu mega
Tajuk Lengket – Header dapat dipasang di bagian atas browser sehingga terlihat setiap saat
formulir kontak – Bangun dan tampilkan beberapa formulir kontak dengan Formulir Kontak yang disertakan dengan tema kami
Terjemahan Siap – Terjemahkan tema ini ke dalam bahasa apa pun dengan mudah
Dukungan Retina – Tema ini dioptimalkan untuk tampilan resolusi tinggi seperti iPhone dan iPad
File Photoshop Termasuk – Tema ini termasuk file photoshop dari logo dan desain
Dukungan kedudukan tertinggi – Kami memberikan dukungan hebat untuk semua tema kami
Fitur Pengguliran Tak Terbatas
Format Posting: Standar, Video, Gambar, Audio, Kutipan, dan Tautan
Pengguliran Tak Terbatas Gaya Pinterest
Muat Lebih Banyak Gaya Pagination
Paginasi Normal
Pemfilteran Posting
Pembaruan Tema – Changelog
==Version 2.4 - 23 March 2022==
Fixed deprecated function in Elementor 3.6+
Updated Premium Plugins
New Progression Elements included in /Plugins/ folder of your download

==Version 2.3 - 14 July 2021==
Support Added for PHP8
Typography Options Update (Google Fonts Plugin API Update)
Updated Files:
/inc/customizer/typography-controls.php
/inc/default-customizer.php 

==v2.2 - 19 February 2020 ==
Updated Progression Elements - Bayside plugin
New Version Located Under: /Additional Files/Plugins/progression-elements-bayside.zip
Directions on how to update plugin: https://progressionstudios.com/tutorial-item/how-to-update-your-premium-plugins/

Updated Boosted Elements Plugin

==v2.1 - 16 January 2020 ==
Fixed Header Search Icon
Updated Boosted Elements Plugin

Files Updated:
/js/script.js

==v2.0 - 17 September 2019 ==
Framework Update
Drag & Drop Page Builder Support Added
New Theme Options Panel
New Font Controls
Icon support in Menus
Mega Menu Support
One Click Demo Data Importer Added
Speed & SEO Improvements
New Contact Form
New Google Map Support
New Page Examples/Content
Child Theme Added
Sticky Navigation Added

==v1.7 - 24 August 2017 ==
Added full SSL support to theme

==v1.6 - 2 July 2016 ==
Added support for new required Google Maps API Key
Files Updated: functions.php

==v1.5 - 20 August 2015 ==
=WordPress 4.3 Support Added!
-Updated /widgets/ folder

==v1.4 - 14 June 2015 ==
-prettyPhoto Lightbox Plugin Update
Files Updated:  /js/plugins.js

==v1.3 - 28 January 2015 ==
- Minor theme maintenance. 

==v1.2 - 6 November 2013 ==
-Updated plugins.js file for the latest version of FitVids Responsive Videos script

==v1.1 - 11 June 2013 ==
-Updated archive.php to fix the category descriptions.   The grid layout was over-laying the descriptions but this has now been fixed.