Jika Anda Tidak Punya Kartu Kredit dan Alat Transaksi Online, serta tidak punya keakhlian installasi, kami menawarkan paket siap pakai, meliputi domain, hosting, Okab – Responsive Multi-Purpose WordPress Theme + RTL, dan tutorial. Silahkan hubungi kami Klik Chat CHAT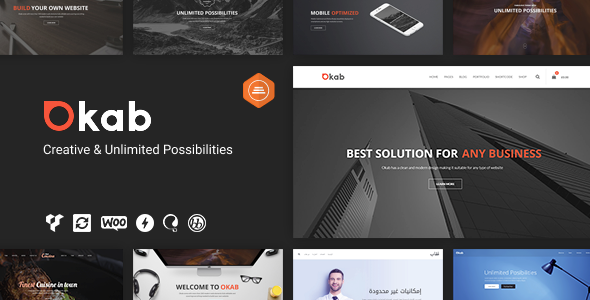 Versi Terakhir 5.9.14 | 22 Sep 2022
AMP Sepenuhnya Kompatibel
WordPress 6.0.x Siap
WooCommerce 6.x Siap
Okab adalah tema WordPress Serbaguna yang besar dengan kinerja yang luar biasa. Sepenuhnya responsif, bersih, kreatif, ramah pengguna, dan memuat cepat, temanya mudah disesuaikan dan sangat fleksibel. Desainnya yang modern membuatnya sangat cocok untuk semua jenis situs web (Bisnis, Keuangan, Konsultasi, Perusahaan, Pribadi, Agensi, Portofolio, Blog, Toko, Fotografi, Acara, Restoran, Hotel, Majalah, Konstruksi, Kreatif, Startup, Startup Kecil, RTL, … dll). Itu sudah dikemas sebelumnya dengan pembangun visual canggih yang memungkinkan Anda membangun situs web tanpa keterampilan pengkodean. Tema ini memiliki lebih dari 275 elemen gaya dan banyak fitur luar biasa.
Dukungan OKAB WordPress Menyesuaikan Layar
Dengan fitur Layar Kustomisasi WordPress (Penyesuai Tema) Anda dapat mengubah pengaturan tema dan melihat pratinjau langsung sebelum menyimpan pengaturan.

Kompatibel dengan AMP
FITUR TEMA WORDPRESS MULTIPURPOSE OKAB
Pembuat Halaman Visual
Kemungkinan tata letak halaman tak terbatas
Tersedia beberapa pilihan tema
Desain sempurna piksel
Penyesuai Tingkat Lanjut
100% Sepenuhnya Responsif
Retina Siap
275 elemen web
LTR & RTL WordPress
Siap menerjemahkan
Terjemahan lengkap ke bahasa arab
Demo Terpasang Satu klik
Satu klik instal ekstensi
Multihalaman & Satu halaman
Menu besar
Tata letak kotak dan lebar penuh
SEO dioptimalkan
Pemuatan Cepat
WooCommerce Siap
Komposer Visual, Revolusi Slider termasuk Gratis.
75+ Kode Pendek di Pembuat Halaman Komposer Visual
Widget siap pakai (Instagram, twitter, facebook, adsense siap, iklan, iklan google …)
Beberapa model tata letak (bilah sisi kiri, bilah sisi kanan, penuh, mini)
Beberapa tata letak tajuk
Beberapa model menu (kiri – kanan – atas – tetap – animasi – mengambang)
Beberapa Opsi Footer
Tata letak Grid dan Masonry
Kemungkinan dari Mengubah Footer dan Header di Setiap Halaman
Siap Penuh Tema Majalah
Cocok dengan Formulir Kontak 7 & Formulir Gravitasi
6 Halaman Beranda Unik
10+ Demo Unik
15 Gaya Blog ( Kisi-kisi, pasangan bata, Garis Waktu, standar, Sisi)
20 Tata Letak Portofolio
Portofolio yang dapat difilter isotop
Galeri Lightbox
Ikon Garis Sederhana
Termasuk Korsel Burung Hantu
bbPress Sepenuhnya Terintegrasi
Termasuk Tema Anak
Tema Anak Siap
700 Font Google Gratis
Pembaruan Gratis
Didokumentasikan dengan sangat baik
Dukungan Pelanggan dalam tiga bahasa: Inggris, Prancis, dan Arab
Pembaruan Gratis
DEMO TEMA WORDPRESS MULTIPURPOSE OKAB
PLUGIN BUNDED & KOMPATIBEL
Komposer Visual: Pembuat halaman yang kuat dan premium yang dibundel dengan tema (hemat $34)
Penggeser Revolusi: Mudah digunakan dan plugin slider premium yang dibundel dengan tema (hemat $19)
Formulir Kontak 7: Okab sepenuhnya Kompatibel dengan plugin formulir kontak yang paling sering digunakan
Bentuk gravitasi: Okab sepenuhnya Kompatibel dengan plugin formulir kontak yang paling sering digunakan
ragi: Yoast membantu Anda dengan pengoptimalan situs web Anda.
Optimalkan otomatis: Pengoptimalan otomatis mempercepat situs web Anda dan membantu Anda menghemat bandwidth dengan menggabungkan dan meminimalkan JS, CSS, dan HTML.
TambahkanToAny: Okab kompatibel dengan AddToAny, sebuah plugin berbagi gratis.
WooCommerce: Okab kompatibel dengan plugin e-niaga gratis WooCommerce
bbTekan: Okab kompatibel dengan plugin forum gratis bbPress
Wpml: Okab kompatibel dengan plugin situs multibahasa gratis WPML
Simpanse Surat: Solusi pemasaran email online untuk mengelola pelanggan, mengirim email, dan melacak hasil.
PEMBARUAN
VERSI 5.9.0 13 Mei 2022
- New: install/update all premium plugins without waiting for a theme update, you will get automatically updated.
- Add: Activation theme with Purchase code to get auto premium plugins update.

VERSI 5.7.9 25 Jan 2022
- Fix Customizer issue with the portfolio slug.
- Fix: Hide author name not working correctly in some blog style.
- FIX: issue with PHP 8.0
- UPDATE: Update Slider Revolution and WPBakery.

VERSI 5.7.8 19 Des 2021
- Fix WooCommerce products grid.
- UPDATE: Dima ShortCodes plugin.

VERSI 5.7.7 05 Desember 2021
- Fix WooCommerce default sorting.
- Fix products icons.
- UPDATE: Update Slider Revolution 6.5.11

VERSI 5.7.6 14 Nov 2021
- Fix: Close mobile-menu on scrolling.
- UPDATE: Update Slider Revolution 6.5.9

VERSI 5.6.9 24 Mei 2021
- Update Dima portfolio 1.0.8
- Update Revolution Slider 6.4.11
- Fix warning with PHP 8.

VERSI 5.6.8 20 Apr 2021
- Update Revolution Slider 6.4.8
- Update WPBakery Page Builder for WordPress
- Update some WooCommerce Archive template.
- Fix bug with post category with description
- Fix Content Position on bottom.
- Fix issue with PHP 8 and Customizer.
- Fix Issue with WPML on menu with flag ( Thanks to WPML Team ).
- Fix warning with PHP 8.

VERSI 5.5.32 – 10 Desember 2020
- SUPPORT : WordPress 5.6
- UPDATE : Slider Responsive.
- UPDATE: You can display the category description on the category archive page..
- Fix: WooCommerce cart page on Mobile.
- IMPROVEMENT : using aria-label to fix accessible label.
- Fix : an issue with categories page with a description.

VERSI 5.5.28 – 20 Oktober 2020
- UPDATE: Update Slider Revolution and WPBakery.
- FIX: Issue with PHP 7.4.1
- NEW: WooCommerce 4.6 compatibility.

VERSI 5.5.24 – 18 Sep 2020
- FIXED: Install demo.
- FIXED: back to top button.
- FIXED: WooCommerce rating.
- UPDATE: Update Slider Revolution and WPBakery.

VERSI 5.5.24 – 23 Agustus 2020
- Fixed: RTL font family.
- Added: new option removing the Website URL Field From WordPress Comment Form.
- Added: Support WooCommerce 4.4.1.
- Fixed: Slider widget.
- Update: Slider Revolution, WPBakery and Dima Shortcodes.

VERSI 5.5.22 – 14 Agustus 2020
- Support WordPress 5.5
- Fixed JS/jQuery issue with the new version of WordPress 5.5.
- Improve MetaBox with the classic editor.
- Fixed System Status error message on multi-sites.
- NEW : WooCommerce 4.3 compatibility.
- FIX : Page Title background issue.

VERSI 5.5.1 – 17 Juni 2020
- FIX: Mobile Animation.
- New: Figma Source Files.
- New: Section Shape Divider.
- New: Auto Type Element.
- New: Section With Canvas Pattern.
- New: Class Added to the slash on meta info on the post.
- New: Image Layers Element.
- New: Responsive Spacer.
- New: Row and Column options, like parallax and more.
- Improve: One Page Navigation and Smooth Scroll.
- Improve: Animation.
- Improve: Banners Element.
- Improve: Speed by minimizing JS/CSS files.
- UPDATE: DEpendency Smooth Scroll.

VERSI 5.0.9 – 25 Jan 2020
Support: WooCommerce 3.9
Fix: Main Color Issue
Fix: Woo Add To Cart
Fix: Issue on the default text color on small-footer
Fix:WooCommerce Icon Issue
Fix: Lightbox on instagram issue
VERSI 5.0.0 – 04 JUNI 2019
New: Language switcher on customizer (Now you can switch from different languages of your website directly from the customizer)
Improve: For WPML and Polylang and Okab.
Improve: Customizer options display.
Improve: Customizer color picker.
Improve: Customizer elements organizations.
Improve: Font size You can use any unit ( em-rem-px-% …)
Improve: Font size / Color change instant using customizer.
Improve: Expand the Latest Posts page when the user opened the "Latest Posts" section in Customizer.
Improve: Expand Portfolio page when the user opens the "Portfolio home" section in Customizer.
Improve: Font-display in google fonts.
Add: Support for WooCommerce Variation Swatches.
Add: Font search option.
Add: Option Letter Spacing for the body font.
Add: Customizer Option to Hide/Show author name on the blog post.
Fix: WooCommerce product variable image.
Fix: Portfolio home page with no posts.
Fix: Mobile menu color and hover color
Fix: WooCommerce external link icon issue
Update: WPBakery Page Builder 6.0.2
Update: Dima Shortcode.

VERSI 4.7.6 – 18 MEI 2019
Fix: Typo issue on customizer

VERSI 4.7.5 – 13 MEI 2019
New: Full-Screen Height option
New: Support Multi-languages
Fix: Remove Duplicate options
Fix: Export issue
Fix: Fonts and customizer
Fix: Safari Issue in equal height columns
Fix: Issue of all languages

VERSI 4.7.1 – 24 APRIL 2019
Fix: Logo on mobile
Fix: Menu on mobile
Fix: Transparent menu on mobile

VERSI 4.7.0 – 23 APRIL 2019
Improve: Related post and about author
Improve: Portfolio Code
Improve: Rename Contents template
Improve:  General code
Improve: Sidebar Code
Improve: Search code
Fix: bbpress contents
Fix: Global Contents
Fix: Plugin Image
Update: WooCommerce latest version

VERSI 4.6.4 – 17 APRIL 2019
Fix: bbpress issue
Improve: 404 Page View
Improve: Organize Images

VERSI 4.6.3 – 15 APRIL 2019
New: Theme Color Support
New: Faster Google Fonts with Pre-connect
New: Option to control Sidebar and Contents Width
New: Option to clear the cache
New: Option for section padding
New: Lazy load image option
New: Shop categories with images
New: Font Awesome 5.7.1 now used from the theme
Fix: Slider on AMP Product
Fix: Typography weights
Fix: Arabic Translation
Fix: Breaking news on RTL
Fix: Letter spacing on RTL
Fix: Columns Divisions on IE
Fix: WPBakery Frontend Editor Icons
Fix: Icon Colors
Fix: Okab Sub-menu background color issue on Vertical Menu
Add: Defer for JS
Improve: Hint google fonts and skip GA for GDPR
Improve: Counters element option

VERSI 4.5.0 – 23 FEBRUARI 2019
Fix issue on the classic editor and bullet list
Fix Shop cart and search on One Page navigation
Fix Misspelling on Google Map API Key
Fix timeline hover color
New Page, Post, Portfolio, and Product Settings:
  - General Settings such as layout, website background, boxed option.
  - Header Settings such as page title, breadcrumbs options.
  - Menu Settings such as menu style, text and background color, sticky options, and one-page navigation.
  - Logo Settings
  - Shop settings allow you to display and hide Cart and My Account on the menu.
  - Footer Settings such as big footer and small footer options, first and second footer area, widgets options.
  - Slider Settings
  - Blog Details Settings (Blog Only) such as pagination, social sharing, author box, related posts options.
  - Details Settings (Portfolio Only) such as light-box, external link, and related project options.
Add: Feature allows to add up to three custom fonts
Add: Source font option now you can include fonts from Google, FontFace, Standard Fonts, and Theme Fonts
New: Now the title of the menu is clickable
Upgrade Fontawsome version
Improve WooCommerce sorting on customizer
Customizer New Performance Option: You can disable GIF as Featured Image, Optimize WooCommerce Scripts, Minified JS files, active and deactivate animation, Remove ver parameters option
New: Second footer option
New: Footer with multi-columns
Improve stars rating on the shop

VERSI 4.0.0 – 10 DESEMBER 2018
New: Gutenberg blocks styled to match the design of the theme
New: Widgets has been added to the list of plugin territory functionality
New: Support of .alignwide and .alignfull classes
New: Color palettes
New: Users can switch between Gutenberg and WPBakery
New: Gutenberg editor is styled to match the frontend output
New: Gutenberg editor widths match the widths used in the theme

Fix: WooCommerce Issue on RTL
Fix: WooCommerce Product name hover
Fix: Tags font size
Fix: Issue on products isotope
Update: Fully support of Font Awesome V5
Improve: Checkout page on WooCommerce

Fix: Shop page with new WooCommerce update
Fix: Issue on cart page
Fix: Boxed and Full Width Layout issue
Fix: Meta-box with PHP 7.2 Issue
Fix: Menu Search bar issue (Active statue and Close icon)
Fix: Twitter widget on Footer
Update: WPBakery version 5.5.5
Update: WooCommerce 3.5.0
Improve: AMP and Added custom menu
Improve: Customizer Style
Improve: Add option for sticky menu on mobile

Fix: Issue on IE
Fix: Okab Classic demo screenshot
Fix: Audio on RTL
Improve: Search hierarchy (Now the search result display, featured image, audio, video)
Update: Dima-Shortcode to 1.5.1
Update: WPBakery to 5.5.4

New: Added 17 new Hebrew Fonts
New: Added 6 Japanese Fonts
Fix: Typo on Customizer

New: Ability to customize font for body and headings
New: Preparing for Gutenberg
New: Option to remove ver parameters
Improve: Okab framework
Improve: Customizer for header section
Improve: Typography add settings to headings
Improve: Map Element
Update: Dima-Shortcode
Update: WPBakery
Update: WooCommerce 3.4.4
Fix: ATL font for WPML and other translator plugins
Fix: translation for "CLOSE" word

New: You can add Facebook Pages ID in Open Graph Settings
New: Twitter Card
New: Add option to enable or disable prefetching
New: Option to enable or disable Structure Data
New: You can set a default Schema type
New: You can add JavaScript code after  tag
New Fonts: Markazi Text, Tajawal, Baloo Bhaijaan
New: Section On Customize in advanced Settings: Social Graph & SEO
Fix: Hide Favicon settings for Older WordPress Version 4.3
Fix: Customizer Reset confirmation on Windows
Fix Navbar Text-color after Fixed
Fix: Icons on customizer
Update: Improve and fix Typography

Update WooCommerce 3.4
Update cart.php,shipping-calculator.php,from-coupon.php, content-product.php, form-login.php, form-edit-address.php
Update slider revolution

Fix Tiny JS issue related to the menu.
Update Slider Revolution ( Fixed sticky menu )
Update Envato Market Plugin.
Cleaning JS/CSS code
Improve demo installation now you can choose what you want to install ( pages, posts,..)

Add: Option allow you to control Owl Slider speed
Add: Option allow you to make breadcrumbs not clickable

Fix: One Page hover menu

Improve: Multimedia Elements

Fix: Font Awesome with Autoptimize plugin

Fix: Font Awesome version 5 on icon-boxes

Fix: Font Awesome version 5 on top-bar and Mega-menu
New: now you can shows to use the new font Awesome version 5 or the old one v 4.7.