Jika Anda Tidak Punya Kartu Kredit dan Alat Transaksi Online, serta tidak punya keakhlian installasi, kami menawarkan paket siap pakai, meliputi domain, hosting, Disputo – WordPress bbPress Forum Theme, dan tutorial. Silahkan hubungi kami Klik Chat CHAT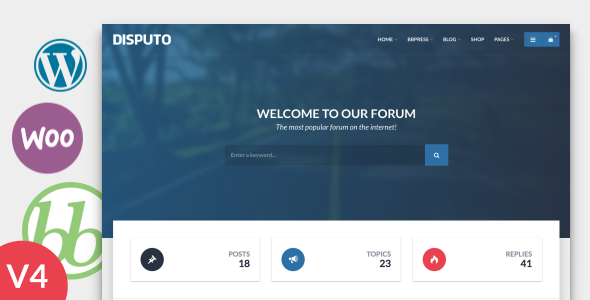 Disputo adalah tema WordPress yang dibuat untuk plugin forum bbPress. Semua halaman bbPress dirancang dengan hati-hati tetapi temanya tidak hanya mendukung bbPress. Ini akan membawa forum bbPress Anda ke tingkat berikutnya!
Kami juga menambahkan beberapa kekuatan ekstra ke tema! Dukungan WooCommerce, Pesan Pribadi, Pengelola Iklan, Sistem Peringkat Suka & Tidak Suka, Pengajuan Postingan Front-end, widget bbPress khusus, Sistem FAQ, Tombol Berbagi Media Sosial, Halaman Login/Daftar Kustom, integrasi MailChimp, Komentar Facebook, dan banyak lagi…
Fitur Utama
Sepenuhnya responsif, desain bersih dan modern
Penyesuai Langsung: Kumpulan opsi penyesuaian langsung yang kaya memungkinkan Anda menyesuaikan tema dengan mudah.
Anda dapat membuat tata letak halaman yang unik dengan Drag&Drop Pembuat Halaman Asal Situs.
12 widget pembuat halaman kustom yang mengagumkan.
Dibuat dengan Bootstrap4.
Profil pengguna: Disputo, memungkinkan pengguna Anda untuk membuat profil pengguna yang cantik dan informatif. Foto profil khusus, gambar sampul, ikon media sosial, usia, jenis kelamin, informasi lokasi, dan banyak lagi…
Direktori Pengguna: Anda dapat membuat direktori pengguna dengan widget "pengguna" fleksibel yang mudah digunakan.
Pengguna Terverifikasi: Fitur ini memungkinkan Anda memverifikasi pengguna secara manual dari layar edit profil. Anggota terverifikasi memiliki lencana "terverifikasi" seperti twitter yang ditampilkan di bagian depan. Anda dapat membuat forum dan topik hanya untuk pengguna terverifikasi (Pengguna lain dapat melihat topik tetapi tidak dapat memposting balasan).
Ikuti Pengguna: Pengguna dapat saling mengikuti dan melihat posting terbaru dari teman-teman mereka di dinding seperti facebook.
Blog Pengguna: Beri anggota Anda kemampuan untuk membuat posting blog dan mengirim mereka untuk ditinjau dari front-end. Gabungkan pos semua orang ke dalam blog, dan navigasikan dengan mudah ke profil anggota mana pun untuk membaca pos mereka saja. Mereka dapat menambahkan kategori, tag, dan gambar unggulan.
Pesan pribadi: Sistem pesan pribadi memungkinkan anggota situs Anda untuk saling mengirim pesan pribadi.
Topik Terpecahkan & Jawaban Terbaik: Anda dapat menandai topik sebagai terpecahkan dan Anda dapat memilih jawaban terbaik. Ini adalah fitur hebat khusus untuk forum dukungan.
Manajer Iklan: Ada banyak bidang dalam tema untuk iklan Anda. Anda dapat mengatur iklan Anda dengan mudah dengan sistem manajemen iklan bawaan.
Seluruh situs (Postingan, Komentar dan Balasan Forum) Sistem peringkat Suka & Tidak Suka.
Anda Tube TV: Widget You Tube TV dapat menampilkan video terbaru dari saluran You Tube yang dipilih.
Halaman login & pendaftaran kustom front-end
Cocok dengan Login Sosial WordPress. Plugin ini memungkinkan pembaca situs web dan pelanggan Anda untuk mendaftar menggunakan ID akun sosial mereka yang ada, menghilangkan kebutuhan untuk mengisi formulir pendaftaran dan mengingat nama pengguna dan kata sandi.
Integrasi yang mulus dengan WooCommerce
Ikon keranjang ajax WooCommerce + menu pengguna bbPress
Komentar Facebook bawaan: Fitur komentar Facebook bawaan memudahkan untuk menambahkan sistem komentar Facebook ke situs web WordPress Anda tanpa kerumitan.
Sistem FAQ dengan kategori dan dukungan pencarian langsung.
Pencarian Langsung: Anggota forum Anda akan menemukan hasil yang mereka cari sebelum mereka selesai mengetik kueri mereka.
Balasan kutipan: Anggota forum Anda dapat memotong kutipan dari posting sebelumnya dengan mengklik tombol.
Tanda tangan forum: Anggota forum Anda dapat menambahkan tanda tangan ke balasan mereka.
Nama dan Lencana Peran Pengguna Khusus: Anda dapat mengubah nama peran bbPress default (keymaster, moderator, dll.) dan warna lencana.
4 tata letak halaman Blog dan WooCommerce yang berbeda (2 Kolom + Bilah Sisi, 2 Kolom, 3 Kolom, dan 4 Kolom)
Pemilih Pos: Bidang pemilih posting dari widget daftar posting, memungkinkan Anda membuat kueri untuk menemukan posting, produk, forum, topik, dll. dalam database dengan mudah.
Tata letak kotak batu CSS cepat
Tajuk Fleksibel: Anda dapat mengubah warna latar belakang dan menambahkan gambar sampul yang berbeda ke setiap halaman.
Catatan Kaki Fleksibel: Anda dapat menggunakan pembuat halaman dan berbagai widget untuk membuat footer unik Anda sendiri.
Berbagi sosial terintegrasi: Disputo hadir dengan tombol berbagi media sosial dari jejaring sosial populer.
Cocok dengan MailChimp untuk WordPress. Berlangganan pengunjung situs WordPress Anda ke daftar MailChimp Anda, dengan mudah.
Cocok dengan Bundel Widget SiteOrigin plugin (Berisi 17+ widget)
Konten Laporan: Anda dapat mengizinkan pengguna untuk melaporkan topik dan balasan.
Balasan pribadi: Ketika seseorang menandai balasannya sebagai pribadi, hanya admin dan moderator yang dapat melihat balasannya..
RTL siap
Cocok dengan Formulir Kontak 7 pengaya. Formulir Kontak 7 adalah salah satu plugin paling populer untuk membuat formulir dengan mudah untuk situs WordPress Anda.
Cocok dengan Menu Mega Maks pengaya.
Dibuat dengan SEO dan Kecepatan dalam pikiran
Ramah pengembang, kode bersih
Kompatibel dengan PHP 8.x
Impor demo satu klik
Terjemahan siap. File bahasa (.pot) disertakan. Anda dapat menerjemahkan tema ke bahasa apa pun dengan mudah.
Dokumentasi bantuan yang luas
Kompatibel dengan WordPress 5.x dan Gutenberg
Dukungan Lintas Browser
dan banyak lagi…
Perbarui Riwayat
Versi 4.5 24 Mei 2022
Fixed compatibility issues with Kirki 4.x.
Added new setting to enable/disable custom role names.

Versi 4.4.1 05 November 2021
Fixed a bug in Youtube TV plugin
Updated demo file

Versi 4.4 Oktober 09, 2021
Code quality and speed improvements
General bug fixes
Fixed PHP 8 compatibility issues
Added "Include users by ID" option to users widget 
Added enable/disable options for user date of birth, gender and location fields
Updated CMB2
Updated demo content

Versi 4.3.1 13 April 2021
Bug fixes

Versi 4.3 15 Desember 2020
Added login form to the header
Added new settings for the login form to Theme Settings -> Header Buttons
Added "only verified users can submit blog post" option to Theme Settings -> User Blog
Added WhatsApp sharing button
Fixed user blog page 404 error
Updated language file

Versi 4.2 30 September 2020
Added ability to the owner of the forum posts to mark their topics as solved
Added "mark as solved/unsolved" admin links to the topic page. Users don't have to go to the edit topic page anymore
Added custom url option to the login button (Customizer)
Fixed custom styling issue on Contact form 7 messages
Updated help documentation

Versi 4.1 04 September 2020
Added solved topic & best answer feature
Added new settings to Disputo Users widget ( Thumbnail grid layout, Thumbnail grid gap, Thumbnail border radius)
Improved my wall design
Added dropdown menu width setting
Added enable/disable private reply setting
Updated demo content
Updated language file
Updated help documentation

Versi 4.0 28 Agustus 2020
Added Follow User Feature
Added YouTube TV Widget
Added a new topic tag input field
Added show only verified users option to Disputo Users widget
Added show posts from only verified authors option to Disputo post listing widgets
Added "published posts" tab to front-end user blog page
Updated language file
Updated demo file (Added a new homepage)
Updated help documentation

Versi 3.5.1 13 Agustus 2020
Fixed a bug in Disputo Features plugin ( WordPress 5.5 )

Versi 3.5 14 Juni 2020
Added a new feature! Create forums and topics for only verified users (Other users can view the topics but can not post reply).
Added new typography settings (header title, header sub title)
Added custom bbPress role name and badge color settings
Added new setting (remove bbPress breadcrumb menu)
Added Max Mega Menu plugin to the compatibility list
Updated language file (.pot)

Versi 3.4 15 Mei 2020
Added new theme setting (Maximum topic title length).
Added new theme setting (Remove page padding and shadow).
Added new setting to Disputo Users widget (Exclude users by id).
Fixed a 404 issue in Disputo Messages plugin.
Updated language file.

Versi 3.2.3 April 26, 2020
Added forum sidebar setting
Updated language file

Versi 3.2.2 15 April 2020
Fixed a PHP 7.3 compatibility issue (Updated Disputo Messages plugin)

Versi 3.2.1 14 April 2020
Updated Disputo Features and Disputo Messages plugins to fix a 404 error on user blog and messages pages.

Versi 3.2 28 Februari 2020
Fixed some compatibility issues between bbPress and "report content" feature (Updated only Disputo Features plugin).

Versi 3.1 18 Februari 2020
Added a new theme setting (Theme Settings->Header Buttons->User Menu Items). You can change the order of the user menu items or enable/disable them.
Added icon url field to Disputo Statistic widget.
Updated CMB2 plugin (Disputo Features).
Updated language file (.pot).
Updated a WooCommerce template (related products).

Versi 3.0 22 Desember 2019
Added a new widget. "Disputo Users" widget displays users in a masonry grid
Added a new page template to create users page with a search box
Added verified user feature
Added engagement page to the user profile (bbPress 2.6.3)
Added "registered" field to the user profile
Added search boxes to "topics started", "replies created" pages
Updated "change password" field
Fixed Instagram embed issue
Added new theme setting (default user post status)
Added new social media sharing icons
Removed "Google +" icon
Added new theme setting (enable/disable social media icon)
Fixed threaded (nested) reply CSS issue
Updated language file (.pot)
Updated help documentation

Versi 2.4 14 November 2019
CSS fixes (bbPress 2.6)
Fixed favorite link issue (bbPress 2.6)
Fixed blog pagination styling issue (WordPress 5.3)
Updated a few outdated WooCommerce templates (WooCommerce 3.8)

Versi 2.3 23 Oktober 2019
General bug fixes
Updated Disputo Messages plugin

Versi 2.2 27 Agustus 2019
Added default user avatar option (Theme Settings -> User Profiles -> Default Avatar) ( Default avatar must be selected as "Disputo Avatar" (Go to Settings -> Discussion -> Default Avatar )
You can now add forum signatures of the users to the header of user profiles ( Theme Settings -> User Profiles)
Added one column blog page template
Added one column blog layout option to theme settings
Added additional user menu items feature to theme settings (Header Buttons)
Added disable user menu option to theme settings (Header Buttons)
Added disable WooCommerce shopping cart icon option to theme settings (Header Buttons)
Updated outdated WooCommerce templates
Fixed WooCommerce select field styling issue
Updated CMB2 (Disputo features plugin)
Updated language file (.pot)
Updated help documentation

Versi 2.1 07 Mei 2019
Added New Feature! Private Replies
Added New Feature! Added country flag option to the user profiles
Added "Hide Featured Image" option to posts and pages
Improved live search performance
Removed TML plugin from the theme package. TML plugin is no more supported. We suggest you to use Custom Login Customizer instead.
Added Custom Login Customizer plugin to the theme package
Fixed custom avatar issue in the post comments
Updated WooCommerce templates (Compatibility)
Updated demo file
Updated language file
Updated help documentation

Versi 2.0 27 Februari 2019
Redesigned user profile page.
New Feature! Added cover image option to the user profiles.
New Feature! Added custom avatar option to the user profiles.
New Feature! Added social media icons field to the user profiles.
New Feature! Added age, gender, location fields to the user profiles.
New Feature! Added forum signature feature.
Note: After the update, please go to customizer and enable the new features which you want to use.
Updated author box.
Added a new tab to the user menus and a new page for the user blog (Please go to Settings -> Permalinks and click "Save Changes" after the theme update).
Updated media upload button. When "media upload" is enabled, users are only able to view their own uploaded images.
Updated CMB2 plugin.
Updated language file (.pot).
Updated help documentation.

Versi 1.6 20 Februari 2019
Added New Feature! - Live Search
Added New Feature! - Quote Topics & Replies
Removed dropdown menu at the topic replies. All links are visible now
Updated mobile menu and user menu icons
Updated help documentation
Updated language file (.pot)

Versi 1.5.1 06 Februari 2019
Improved mobile design of the topic replies
Fixed a bug in carousel widget

Versi 1.5 30 Januari 2019
Fixed a bug in theme settings
Added one click demo import feature
Updated demo files
Added report topic&reply feature
Gutenberg compatibility
Added DV Shortcode Whitelist plugin to the theme package
Updated language file
Updated CMB2
Updated some WooCommerce templates
Updated help documentation

Versi 1.4 25 Oktober 2018
Redesigned mobile menu
Enabled header background image on mobiles
Added new setting (Enable/Disable search box on bbPress pages)
Added new setting (Header vertical padding)
CSS Fixes
Updated some WooCommerce templates
Fixed a layout issue on the checkout page
Updated language file (.pot)

Versi 1.3.2 15 September 2018
Added support for WooCommerce 3.x gallery feature to the theme

Versi 1.3.1 20 Juni 2018
Added text editor to Disputo Tabs and Disputo Accordion plugins
A custom version of TML plugin is added to the theme package.
(The latest version of TML plugin (7.x) caused some compatibility issues. Also, they changed free modules with paid extentions. Please don't upgrade TML plugin to 7.x and use the custom version of the plugin which is included in the theme package.)

Versi 1.3 01 Juni 2018
Fixed a scrolling issue at Safari 
Updated Woocommerce files for the latest version of Woocommerce

Versi 1.2 22 April 2018
Added new customization settings to Customizer

Versi 1.1 17 April 2018
Added home icon to bbPress breadcrumb menu
Added language switcher to user edit profile page