Jika Anda Tidak Punya Kartu Kredit dan Alat Transaksi Online, serta tidak punya keakhlian installasi, kami menawarkan paket siap pakai, meliputi domain, hosting, WooCommerce Product Addons – Ultimate Product Options Plugin, dan tutorial. Silahkan hubungi kami Klik Chat CHAT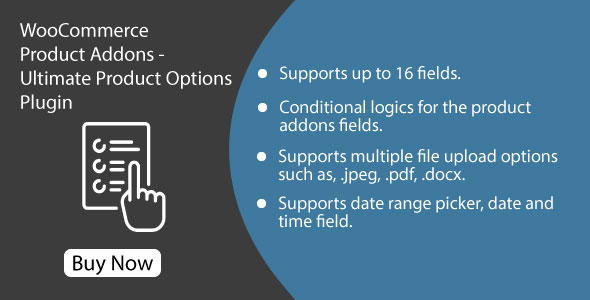 Addon produk WooCommerce – Plugin opsi produk terbaik memungkinkan pemilik toko untuk membuat opsi produk tanpa batas & menetapkan opsi ke produk, plugin mendukung hingga 16 bidang addon untuk membuat opsi. Admin dapat membebankan biaya kepada pelanggan untuk setiap kolom addon produk. Bidang addon produk ditampilkan di halaman produk sebelum tombol tambahkan ke keranjang untuk memilih opsi.
Unduh plugin harga kami yang lain di sini: Pengukuran Harga Kalkulator Untuk WooCommerce
Fitur Utama Plugin Opsi Produk
Logika Bersyarat untuk bidang add-on produk.
Opsi untuk membuat bidang add-on produk tanpa batas.
Produk untuk opsi tampilan harga secara terpisah atau dinamis.
Mendukung hingga 16 bidang.
Ini mendukung bidang formulir teks, input, radio, kotak centang, dan area teks. Ini juga mendukung file, nomor, tanggal, waktu, rentang tanggal, penggeser rentang angka, pemilih warna, dll.
Tampilkan opsi bidang setelah ditambahkan ke tombol keranjang.
Izinkan dan dukung Rest API.
Izinkan fitur tertentu untuk opsi upload file seperti, .jpeg, .pdf, .docx, dll.
Tambahkan jenis harga untuk bidang khusus seperti dalam persentase atau jumlah tetap.
Pilih kotak centang dari daftar opsi.
Pilihan produk ditampilkan sebelum checkout dan konfirmasi.
Mendukung dan memungkinkan perhitungan harga, harga tetap untuk satu paragraf, harga per karakter, dan harga per kata dalam area teks.
Ini Mendukung pemilih rentang tanggal, bidang tanggal & waktu.
Mendukung penggeser rentang untuk mendapatkan masukan dari pelanggan dalam rentang tertentu.
Ini memungkinkan pengguna untuk memilih pemetik warna.
Mengizinkan pemilihan gambar dalam satu atau beberapa.
Kontak
Changelog
Version 1.0.4
Added options for product variations.
Fixed some issues.

Version 1.0.3
Added conditional logics for the addons.
Fixed currency position & decimal separator.
Added settings to make labels dynamic.
Fixed minor issues.

Version 1.0.2
Added date range picker.
Added date/time fields.
Added color picker.
Added number range slider.
Added multi image selection.
Fixed minor issues.

Version 1.0.1
Added support for the rest API.
Fixed minor bugs.

Version 1.0.0
Initial release.