Jika Anda Tidak Punya Kartu Kredit dan Alat Transaksi Online, serta tidak punya keakhlian installasi, kami menawarkan paket siap pakai, meliputi domain, hosting, WooCommerce Coming Soon Product with Countdown, dan tutorial. Silahkan hubungi kami Klik Chat CHAT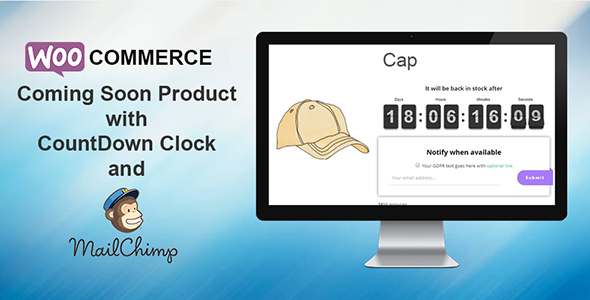 Produk Segera Hadir WooCommerce memungkinkan Anda mengaktifkan mode segera hadir untuk produk (termasuk produk variabel) dengan waktu peluncurannya. Produk akan diluncurkan secara otomatis pada saat itu dan akan menampilkan penghitung waktu mundur hingga waktu tersebut berakhir.
Ini menghapus tombol "tambahkan ke troli" dari produk saat produk tersebut dalam mode segera hadir, dan juga memungkinkan Anda mengaktifkan langganan email untuk setiap produk satu per satu.
Email akan dikirim secara otomatis ke semua pelanggan produk tersebut saat produk tersebut akan tersedia untuk dibeli. Anda juga dapat menyesuaikan Subjek dan Konten email untuk setiap produk dan dapat menggunakan HTML di Konten Email.
Anda juga dapat menyesuaikan warna Jam Hitung Mundur, dan memiliki kemampuan untuk menyembunyikan/menampilkan harga dan tab saat produk masuk mode segera. Deskripsi singkat juga dapat disesuaikan untuk produk yang akan datang.
Demo
Changelog
4.1 – 5 September 22
Feature Added: Filter products in admin by release date
Notice: POT updated

4.0 – 2 September 22
Feature Added: Clock with the variable products
Bug Fixed: Subscription form not loading
Bug Fixed: Sorting by release date not working properly.

3,8 – 12 Januari 22
Feature Added: Release time for the variable products separately
Feature Added: POT Updated
Feature Added: Supported with WC 6.0.0

3.7 – 02 September 21
Feature Added: Sorting options by release date on the shop page
Feature Added: Global settings to disable the clock

3,6 – 6 Juli 21
Some Security related fixes

3,5 – 29 Maret 21
Feature Added: Support for variable products
Feature Added: Render clock and subscription form on custom action hooks
Supported with WC 5.1.*
Supported with WP 5.7.*

3.4 – 1 21 Februari
Shortcode Support Added: [wccs id="PRODUCT_ID"]
Supported with WC 4.9.2
Supported with WP 5.6

3.3 – 9 September 20
Bug Fixed: Call to a member function get_id() on boolean

3.2 – 1 September 19
Feature Added: MailChimp integration
Feature Added: Admin notification for each subscription
Bug Fixed: Error on Checkout Page

3.1 – 5 Mei 19
Bug Fixed: Countdown not working for multilanguage products