Jika Anda Tidak Punya Kartu Kredit dan Alat Transaksi Online, serta tidak punya keakhlian installasi, kami menawarkan paket siap pakai, meliputi domain, hosting, Stock Synchronization for WooCommerce, dan tutorial. Silahkan hubungi kami Klik Chat CHAT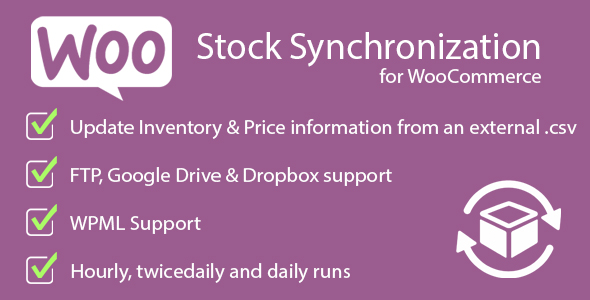 Bosan memperbarui inventaris WooCommerce Anda secara manual? Mulai sinkronisasi!
Sinkronisasi Stok memungkinkan Anda menyinkronkan inventaris WooCommerce Anda dengan file inventaris eksternal Anda. Sinkronkan inventaris Anda dengan memperbarui jumlah stok secara otomatis dari file inventaris eksternal.
Perbarui inventaris stok Anda setiap hari dengan Sinkronisasi Stok dan ucapkan selamat tinggal untuk memperbarui informasi stok secara manual!
Selamat Menyinkronkan!
Impor CSV
Plugin ini memungkinkan Anda melakukan sinkronisasi dengan file CSV eksternal. Saat pemasok atau sistem inventaris Anda menawarkan daftar inventaris CSV, kini Anda dapat menyinkronkannya. Bekerja bahkan saat menggunakan kredensial!
sinkronisasi harga
Ingin menyinkronkan harga produk Anda juga? Cukup perbarui harga produk Anda dari file CSV yang sama!
Dukungan FTP, Dropbox, Google Drive & Google Spreadsheets
Menyimpan informasi stok Anda di FTP, Dropbox, Google Spreadsheet atau Google Drive? Sinkronisasi tidak masalah!
Sinkronisasi stok Premium
Yang baru Premium Sinkronisasi Stok layanan menawarkan lebih banyak kecepatan, fleksibilitas, dan akurasi:
Dukungan Multi-Vendor
Penanganan file eksternal, lebih sedikit beban di server web Anda
Cronjob berjangka waktu, waktu kustom untuk disinkronkan
Fitur
Informasi stok produk impor
Mengimpor harga produk dan/atau mengubah harga
Dukungan Multi-Vendor
Pembaruan harian, dua kali sehari, atau setiap jam
Kompatibel dengan Variasi Produk
Dukungan FTP
Dropbox mendukung
Dukungan Google Drive dan Google Spreadsheet
WPML mendukung
Pilih pembatas Anda (koma, titik koma, bar atau tab)
Mendukung file CSV besar
Fitur untuk menjumlahkan dua kolom kuantitas
Perbarui hanya produk yang tersedia, setel sisanya ke 0
Penanganan file eksternal untuk Pengoptimalan Kecepatan
Changelog
1.6.6 Bug fix for quantity sync in Premium
1.6.5 Custom SKU field selection, fix in bug where manually added sale prices were overwritten
1.6.4 Bug fix for 0 quantity products
1.6.3 Few bug fixes. Added option to remove leading 00's from SKU. Better memory usage.
1.6.2 Bug fix for database connection issues
1.6.1 Bug fix for log and saleprice
1.6.0 Major plugin update. Added Premium Service including multi-vendor support and external file handling
1.5.5 Error fix at manual synchronization
1.5.4 WPML and Google Drive bug fixes 
1.5.3 Bug fix for admin notice
1.5.2 Added functionality to disable the cronjobs. Multiple bug fixes. 
1.5.1 Bug fix for Run Now function.
1.5.0 Added Price Altering function. Added Product Reset function. Bug fix for sale price sync.
1.4.3 Added Incremend 2nd qty function. Bug fix for FTP support.
1.4.2 Bug fix for WPML support.
1.4.1 Added sale-price-synchronization. Added synchronization log. Deprecated error fix. Bug fixes.
1.4.0 Added price-synchronization. Added FTP-support. Added "Run now" button. Error fix. Bug fix for Tab. 
1.3.2 Bug fix for WPML support.
1.3.1 Added WPML support. Bug fix when the CSV file is on the same server.
1.3.0 Added compatibility for large CSV files. Choose Delimiter. Cleaned up settings page.
1.2.0 Added Dropbox & Google Drive support.
1.1.2 Bug fix for WooCommerce 3.0 update.
1.1.1 Bug fixes.
1.1.0 Added Variation Products Compatibility.
1.0.1 Added use for CSV-files without top rows.

* Premium Hanya layanan