Jika Anda Tidak Punya Kartu Kredit dan Alat Transaksi Online, serta tidak punya keakhlian installasi, kami menawarkan paket siap pakai, meliputi domain, hosting, Point of Sale System for WooCommerce (POS Plugin), dan tutorial. Silahkan hubungi kami Klik Chat CHAT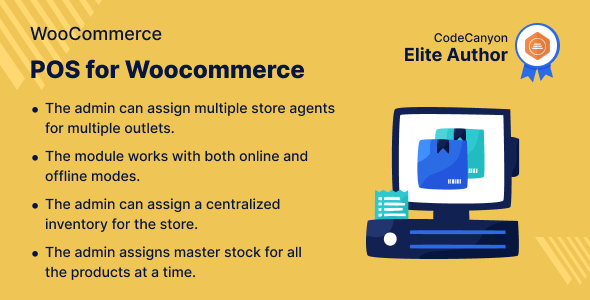 Sistem POS untuk WooCommerce
Sistem Point Of Sale untuk WooCommerce memberi pemilik toko fitur di mana mereka dapat menjual produk mereka secara online maupun offline (Toko Fisik).
POS terdiri dari dua sistem manajemen yaitu sistem Front-end dan Back-end. Sistem backend membantu admin untuk menetapkan satu atau beberapa agen toko untuk toko tersebut. Agen toko akan mengelola catatan penjualan dan pelanggan mereka untuk toko yang ditugaskan.
Sistem Point of sale bekerja baik secara offline maupun online. Sistem POS hadir dengan fitur sinkronisasi data offline. Agen penjualan dapat dengan mudah mensinkronisasikan semua detail penjualan dan pelanggan yang telah dilakukan di toko offline dengan toko online. Permintaan sistem POS meningkat dari hari ke hari karena meningkatkan penjualan pemilik toko dengan menggunakan toko fisik mereka bersama dengan toko online.
Mengapa POS penting untuk WooCommerce?
Mendukung
Pelanggan yang terhormat, jika Anda memiliki pertanyaan/permintaan, silakan ajukan tiket di webkul.uvdesk.com. Kami akan melakukan yang terbaik untuk menjawab secepat mungkin. Jangan beri kami tarif rendah tanpa menghubungi dukungan untuk masalah yang Anda hadapi. Kami selalu senang untuk membantu Anda.
Fitur Utama dari sistem POS
Admin dapat menugaskan beberapa agen toko untuk beberapa outlet.
Admin menetapkan stok induk untuk semua produk sekaligus.

Modul ini menyediakan Sistem POS PWA untuk seluler yang berfungsi di internet rendah. .
Admin atau agen penjualan dapat mengubah mode layar (mode Gelap atau Terang) dari sistem POS. .

Sistem manajemen penjualan dan inventaris yang efektif untuk admin.

Modul ini dilengkapi dengan aplikasi desktop PWA POS untuk penanganan yang lebih baik dan kinerja yang lebih cepat.
Admin atau agen penjualan dapat menetapkan harga satuan berdasarkan berat produk.
Agen POS dapat melihat Pendapatan Kotor, Pendapatan Bersih, Pesanan, Nilai Pesanan Rata-Rata, Barang Terjual, Pengembalian Dana, Pesanan Diskon, Diskon Kotor, Pajak Total, Pajak Pesanan, Pembayaran Tunai & Laporan Pembayaran Lainnya dengan bantuan grafik.
Agen POS dapat menjual produk baru yang tidak tersedia di website.
Pembayaran tanpa kerumitan melalui uang tunai, kartu atau metode split dan sistem checkout.
Selain itu, ini memfasilitasi pengaturan POS Wizard yang membantu admin untuk mengatur sistem POS secara instan.
Untuk durasi waktu tertentu (tahunan, bulanan, mingguan) atau durasi khusus, admin dapat melihat Laporan POS.
Agen penjualan dapat menggunakan opsi Rentang Tanggal untuk menentukan tanggal mana yang akan disertakan untuk melihat laporan seperti Hari Ini, Kemarin, Minggu ke Tanggal, Bulan Lalu, Tahun Lalu, dll.

Untuk durasi waktu tertentu (tahunan, bulanan, mingguan) atau durasi khusus, admin dapat melihat Laporan POS.
Manajemen penjualan yang lebih baik oleh agen POS dengan memantau riwayat penjualan, menahan penjualan, dan penjualan offline dari panel POS.
Fitur yang Disorot
1- Modul bekerja dengan mode online dan offline:-

Modul ini berfungsi untuk mode online dan offline. Admin hanya perlu mengklik tombol sinkronisasi offline untuk menyinkronkan produk offline.
2-Buat Beberapa Outlet: –

Modul tersebut memiliki fungsi untuk membuat beberapa outlet dan admin dapat menugaskan beberapa agen penjualan ke outlet toko.
5- Kelola produk Anda dengan Barcode
Buat kode batang untuk produk Anda agar dapat melakukan checkout tanpa repot.
3-Pembaca Kode Batang:-

Agen penjualan dapat menggunakan pembaca kode batang untuk memindai produk dan menambahkannya ke keranjang.
4-Kupon untuk pelanggan:-

Agen penjualan juga dapat memberikan kupon untuk pelanggan.
3- Berikan Diskon untuk produk Anda

Di keranjang, terapkan penawaran diskon sebagai jumlah yang ditetapkan atau sebagai nilai persentase (%).
Penggunaan Bisnis

Memperluas bisnis Anda secara online, terhubung dengan lokasi fisik Anda, dapat memberi pelanggan Anda pengalaman pembelian yang mengesankan.
Admin dapat mengelola POS toko fisik. Untuk menambah jumlah titik kerja, setiap toko/outlet dapat memiliki beberapa kasir atau agen penjualan.
Sistem POS dapat beroperasi dalam mode online dan offline. Agen POS juga dapat menyinkronkan data offline secara manual.

Modul Point of Sale System bermanfaat untuk meningkatkan pendapatan secara keseluruhan dengan memiliki beberapa toko fisik selain toko online.
Berjualan di Beberapa Lokasi di Waktu yang Sama

Anda tidak dapat berada di dua lokasi pada saat yang sama, tetapi integrasi POS eCommerce Anda bisa.

Admin dapat mengelola beberapa sistem POS..
Dengan menggunakan POS, produk lebih mudah dikelola.
Berdasarkan kategori dan semua item, produk dapat dikaitkan dengan outlet dari sumbernya.
Admin dapat memilih kategori untuk ditetapkan ke outlet dari sumber.
Visibilitas Inventaris Real-time Membantu Anda Menghindari Overselling

Setiap pemilik bisnis atau manajer eCommerce memahami pentingnya manajemen inventaris.

Anda tidak perlu khawatir tentang menjual terlalu banyak barang atau mengurangi pesanan klien Anda jika Anda memiliki pandangan langsung ke inventaris.
Dengan mengizinkan produk untuk toko/outlet tertentu, admin dapat dengan mudah menetapkan item ke outlet yang berbeda dengan nilai stoknya.
Administrator dapat mengalokasikan jumlah yang berbeda untuk jenis produk variabel yang berbeda.
Produk POS dapat memiliki inventaris dalam jumlah tak terbatas yang ditetapkan oleh administrator.
Pengguna juga dapat memperluas fitur dan fungsionalitas POS menggunakan add-on yang dikembangkan khusus untuk POS. Ekstensi seperti:
– Aturan Harga Titik Penjualan plugin menyediakan berbagai fitur diskon yang dapat diterapkan pada produk tertentu atau semua produk toko untuk berbagai kesempatan.
Harga diskon ditampilkan bersama dengan harga sebenarnya di POS, untuk memberi tahu pelanggan tentang produk diskon.
– Plugin Inventaris Barcode Titik Penjualan memberikan opsi kepada admin untuk menetapkan inventaris ke suatu produk dari back-end dengan memindai langsung kode batang produk dan kemudian menetapkan inventaris ke produk yang sesuai.
– Plugin Pengembalian Pesanan POS memfasilitasi pengguna POS untuk membuat pengembalian uang jika seandainya pelanggan mengembalikan pesanan atau produk. Segera setelah pengguna POS menghasilkan pengembalian pesanan, status pesanan berubah menjadi dikembalikan dan inventaris produk pesanan diperbarui, secara otomatis.
– Barang Pelengkap POS WooCommerce Plugin ini digunakan untuk menambahkan item pelengkap ke gerobak POS ketika sejumlah produk tertentu dibeli.
Modul Item Gratis WooCommerce POS berguna dalam situasi ketika pengguna POS ingin menyediakan barang pelengkap kepada pelanggan setelah pembelian sejumlah komoditas tertentu.
– Plugin Reservasi Pemesanan POS untuk WooCommerce Plugin Pemesanan & Reservasi WordPress WooCommerce POS (Point Of Sale) akan mengubah toko menjadi portal berbasis peristiwa yang dinamis.
Ini memungkinkan pemilik toko untuk menjual layanan yang dapat dipesan sebagai produk, dengan pemesanan per jam dan harian menggunakan outlet POS.
– Sertifikasi WooCommerce POS French NF525 Plugin ini membantu admin dalam memfasilitasi transaksi Point of Sale yang aman secara digital sesuai dengan hukum Prancis. Ini menggunakan tanda tangan digital untuk memvalidasi tanda terima pesanan dan faktur..
– Layar Keranjang Pelanggan WooCommerce POS plugin akan membantu konsumen dalam memvisualisasikan layar checkout. Akibatnya, konsumen dapat membantu memverifikasi keranjang sebelum pembayaran akhir. Layar pelanggan sinkron dengan layar agen POS.
– Manajemen Loyalitas POS WooCommerce Plugin ini memungkinkan pemilik toko untuk memberikan poin loyalitas atau hadiah pelanggan mereka berdasarkan aturan yang berbeda.
Saat pelanggan berbelanja di situs web WooCommerce atau di toko POS, pelanggan mendapatkan poin loyalitas.
– Pesan Notifikasi WooCommerce POS WhatsApp Plugin ini memungkinkan agen POS untuk mengirim pesan terkait pesanan yang dipersonalisasi ke pelanggan POS melalui WhatsApp. Admin dapat menggunakan plugin ini untuk membuat template pesan WhatsApp POS.
ChangeLog
"Initial release v 1.0.0" "Current release v 4.1.0"
v 4.1.0

Update - Add the Installation link in the setup wizard.
Update - Improve setup wizard UI.
Update - Add urldecode function at pos products get API #line - 168 for variation key & #line - 287 for var_slug variation key.
Update - Improve barcode add from SKU when POS got translated.
Update - Added Auto Default user to create a feature in Setup Wizard.
Update - Modify the invoice products list table structure and improve the table structure.
Update - Added Product border configuration for square, circle, and rounded.
Update - Fix the invoice save issue, invoice save action is not worked if wordfence plugin is activated on the website.
Update - Fix blank screen issue, while login on pos with other roles' users like admin/customer.
Update - Make POS Dynamic add endpoint to pos setting to changin URL /pos.
Update - Added shortcut keys for work via keyboard only.
Update - Update customers when adding a hold cart.
Update - POS drawer modifies sync drawer with orders and removes the drawer date relations in APIs.
Update - Added screen option in manage outlet.
Update - Added Light & dark mode settings in admin.
Update - Added Light & dark mode switch button in the post panel.
Update - Fixed order receipt print issue in safari browser.


v 4.0.0

Update - Added payment information in cashier today's sale section.
Update - Added react setup wizard UI.
Update - Added youtube POS installation link in the setup wizard.
Update - Added blog link in the setup wizard.
Update - Added product border configuration for square, circle, and rounded.
Update - Added POS Dynamic endpoint for access to the pos panel.
Update - Added support and services menu in the pos admin menu.
Update - Fixed screen option issue in tables.
Update - Fixed tax issue with coupon and pos discount.


v 3.6.4

Update - Added Total change in close outlet summary.
Update - Added Direct product SKU barcode can be added to cart and search in POS.
Update - Improved translations & localization of string.
Update - Fixed drawer total cash wrong amount issue.
Update - Fixed default customer form in the setup wizard.
Fix - Fixed PWA app installation issue.
Fix - Fixed Tax issue with variation product.
Enhancement - Fixed add-to-cart issue with other language variations issue.


v 3.6.3

Update - Dark Theme Feature.
Feature - Add offline order sync button.
Enhancement - Improve offline orders in POS.
Feature - Printer setting at admin end for the set default printer.
Feature - Barcode print preview setting for portrait and landscape.
Update - Order filtering according to the customer at the POS end.
Feature - Add functionality for sending the receipt manually via email after order completion.
Update - Point of sale compatibility with all add-ons.
Update - Add Extensions menu at admin end.
Fixed - Improve and fixed common issues via the client.
Enhancement - Add various hooks and filters in POS.


v 3.6.2
Update - Update the Complete UI of the point of sale.
Feature Enhancement - Dynamic UI for POS.
Feature Enhancement - Use scss for CSS as per woocommerce.
Update - Use code-splitting for improving the app performance.
Update - Improve the POS Report section as per updated woocommerce reports.
Feature Enhancement - Add Custom Report Filter in POS like woocommerce.
Update -  Enqueue Dependencies from woocommerce.
Fixed - Resolved a very common product fetching issue in POS.
Fixed - Removed unused CSS and js.


v 3.6.1
Fixed: Resolved report section issue.
Fixed: Resolved POSUser deactivation issue.
Fixed: Resolved GrandTotal issue when using Tax.
Fixed: Resolved Payment deactivation issue.
Added: Add Sync Button in Outlet for Syncing all variable products to POS screen.
Added: Added new hooks at the POS end.
Enhancement: Reduced the size of the plugin zip.
Enhancement: Enqueued the dependencies from the WooCommerce plugin itself.

v 3.6.0
Added: Invoice templates.
Added: Different invoices can be selected for different outlets.
Added: Invoices are fully dynamic.
Added: invoice API endpoint.
Added: New hooks at POS end.
Update: The build-plugin-zip shell script for the developer version can be used with the command npm run build: release.
Fixed: Resolved the payment option appearing issue at the POS end.
Update: Removed the external packages dependencies of WooCommerce Admin.
Update: Enqueued the dependencies from the WooCommerce plugin itself.
Update: Reduced the size of plugin zip.
Fixed: Fixed other security issues.

v 3.5.0
Added reports at POS end.
Added some hooks at both PHP and JS ends for add-ons.
Added translations in some static strings.
Fixed security issues.

v 3.3.1
Update: Added hooks in the back-end and pos-end to modify data.
Update: Change the layout of the backend menus and settings page.
Update : Added compatibility if apache_request_headers undefined issue.
Update: Added setting in the backend to enable the unit product price feature.
Update: Updated namespace domain.
Fixed: Removed unused codes.
Update : Added prefix in some functions.
Update : Added translations.
Fixed: Fixed other security issues.

v 3.3.0
Update: Added service worker for offline support.
Update: Added Progressive Web App for POS.
Update: Updated CSS for the front end of the app.
Update: Updated inline product price edit feature.
Fixed: Fixed issue for card payment.
Fixed: Fixed total check for 2 decimal places in case of the same tendered amount.
Fixed: Fixed issue of the loader.
Fixed: Fixed other security issues.

v 3.2.0
Update: Added inline price edit feature.
Update: Added customer-based discount feature.
Update: Added unit price feature for products.
Update: Added pagination in all tables in the backend.
Fixed: Fixed POS Discount tax issue.
Fixed: Fixed tax issue for the virtual product.
Fixed: Fixed CSS issues.

v 3.1.2
Fixed: Fixed in receipt CSS.
Update: Update create barcode by both product-id and SKU of the product.
Fixed: Fixed initial amount issue on login.
Fixed: Fixed hold issue conflict after order.
Fixed: Fixed indexed update on login.
Fixed: Fixed order create without customer issue.
Update: Compatible with booking POS and return POS.
Fixed: Fixed authentication issue on customer edit and delete.

v 3.1.1
Update: New Format of receipt.
Fixed: Fixed Major bug-related issue on load product.
Fixed: Fixed update master stock from the product edit page.
Fixed: Fixed Discount Tax in the inclusive case.

v 3.1.0
Update: Batch in order and customer also.
Fixed: Fix tax issue.
Fixed: Fixed issue offline id is not saved.
Fixed: Fixed after reset offline will not remove from data.
Fixed: Bug fixes order detail change according to currency.
Update: Coupon tax and tax will show in the cart.

v 3.0.1
Added: Introduce Centralise inventory system in POS.
Fixed: Bug fixes related to holding the cart.
Update: Change the mass assign system.
Added: Change payment page view in pos.
Update: Update invoice CSS.

v 3.0.0
Update : Update POS in react.
Added: Introduce a New feature of split payment.

v 2.2.1
Added: Introduce reports of the POS sale with two filters(payment and outlet) for the POS admin.
Added: Now subcategory is also displayed at the POS end.
Update:  Stop ajax at the cashier tab.
Fixed: Fixed loading high number of order issues.
Fixed: Fixed show product without managing woocommerce stock.
Fixed: Fixed variable product stock reduce at the front end after order.

v 2.2.0
Added: POS agents can create custom products.
Added: Added variable product barcode generation for each variation.
Fixed: Fixed validation on coupons based on product and category.
Fixed: Fixed special symbol support in the product name.
Fixed: Fixed Variable product tax issue.
Fixed: Fixed Same Variation product not showing in the receipt and order summary.

v 2.1.2
Added: Added the percentage coupon support.
Fixed: Fixed security check while changing the password.
Update: Template update regarding receipt.
Fixed: Fixed coupon tax issues.
Fixed: Fixed offline order detail issues.
Fixed: Fixed outlet assign issue.

v 2.1.1
Fixed: Fixed the coupon issue at the front end.
Update: Updated the POS product search according to an outlet on the admin side.
Update: Updated Font Awesome Icons.
Update: Updated Invoice template.
Fixed: Pagination issue fixed at admin side.
Added: Added option to search customers according to the phone number.
Added; Number dialer accepts the decimal price.
Added: Multiple taxes can be applied in POS.
Update: Shipping is calculated on basis of an outlet.
Fixed: Fixed issue of assigning outlet.
Fixed: Price-related issues fixed.
Update: CSS loads only on the pos login page.
Update:  Improved and customized POS receipt.

v 2.1.0
New: Separate master stock management system introduced for pos outlet products.
New: Bulk assign feature for outlet product stock and master stock added.
Fixed: variable product issues fixed.

v 2.0.1
Fixed: Cash drawer date time issue fixed.
Update: POS coupon updated for order as wc 3.x+ updated coupon code.
New: Epson TM-T88V thermal printer setting added.
New: Fontawesome icon updated.
Update: Apply discount section functionality changed.

v 2.0.0
New: Introduced shipping by customer address and tax and shipping tax calculation at the front end.
New: Online order summary and order offline summary updated for tax and shipping calculation.
Update: Invoice updated for tax and shipping calculations.
Fixed: Admin cannot assign Outlet with status deactivate to POS User fixed.

v 1.2.0
New: Introduced translation and included pot file in the plugin.
Update: Added some more fields in create customer form at the front.
Fixed: Stock management for products at the backend is restricted according to the available stock of products.
Fixed: Client-side validation updates for the POS login form.
Fixed: Create an outlet and create POS manager validation fixed and information added.

v 1.1.0
Fixed: Offline order invoice fixed.
Fixed: Order summary total, balance issue fixed.
Fixed: Responsiveness issues for POS fixed.
Fixed: Various notification messages are fixed.

v 1.0.0
Initial release