Jika Anda Tidak Punya Kartu Kredit dan Alat Transaksi Online, serta tidak punya keakhlian installasi, kami menawarkan paket siap pakai, meliputi domain, hosting, MStore Opencart – the complete react native e-commerce app (Expo version), dan tutorial. Silahkan hubungi kami Klik Chat CHAT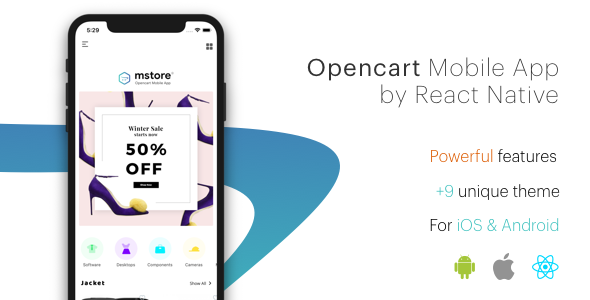 Aplikasi e-commerce React Native lengkap untuk Opencart. Anda adalah pemilik toko toko fisik dengan konsumen lalu lintas tinggi dan berpikir untuk beralih ke digital. Atau Anda adalah pemilik toko online dengan situs web E-Commerce. Anda berdua ingin memaksimalkan peluang penjualan. Anda adalah developer yang tertantang untuk mengembangkan aplikasi store mobile dalam waktu yang lebih singkat. Anda mempertanyakan bagaimana MSstore dapat membantu. Inilah jawaban Anda
Bagi mereka yang memiliki toko fisik dan pengembang, dengan MStore, Anda memiliki berbagai template E-commerce siap pakai untuk membuat aplikasi toko seluler Anda. Jika Anda memiliki toko online di Opencart, MStore mendukung Anda untuk mengonversi situs web Anda saat ini ke aplikasi toko seluler dengan mudah. Aplikasi seluler toko Anda akan ditemukan di App Store dan Google Play Store. Dengan MStore, aplikasi seluler Anda memberikan pengalaman pengguna yang lebih tinggi dibandingkan dengan situs web di seluler.
Produk Anda akan terlihat jelas dan dapat di-zoom tanpa ada kesalahan format. Meskipun Anda dapat mengontrol toko dan pesanan pembeli Anda, pembeli Anda juga dapat terhubung dan tetap mengetahui semua promosi dan pengumuman toko Anda jika mereka memiliki aplikasi Anda di ponsel mereka.
Baik Anda adalah pebisnis dengan ambisi penjualan yang meningkat atau pengembang dengan kebutuhan pembuatan aplikasi seluler yang lebih cepat, MStore memberi Anda solusi.
Lebih cepat- Lebih Halus- Lebih Dekat.
Email ke: [email protected]
Kunjungi website resmi kami: https://mstore.io
Demo Ekspo: https://exp.host/@inspire/mstore-opencart (pada login ios oleh: inspirasi / demo)
Demo Situs Web: http://opencart-demo.mstore.io
Dokumentasi: https://docs.inspireui.com/mstore-opencart
Referensi API: https://opencart-api.now.sh
Catatan: API Istirahat gratis disertakan dari paket unduhan !!!
Fitur
Versi 1.2
1. Update - latest Expo 0.35
2. Update - minor bug fix and performance improvement

Versi 1.1
1. New - Add new free Rest API, refs api document from: https://opencart-api.now.sh
2. Update - new v1.1 compatible with new API
3. Update - imporve loading performance 
4. Update latest library and bug fix

Versi 1.0
 Full integration with Opencart app
 Support well on both iOs and Android.
 Easy customization for your brand.
 WishList and sync across devices
 Smooth UX checkout: Cart/Delivery/Payment/My Order
 Flexible search filter
 Support filter by category, and pricing
 Support quick Category Filter from the Left Side Menu
 Search history and clean up
 Manage billing Address right on the app
 Easy make whilte labeling app by change the common files
 Flexible Homepage config and support many kind of layout
 Flexible Custom page display
 Awesome walkthrough animation
 Header animation (Apple style)
 Profile UI setting via config file
 Dark theme and easy to change other light Color theme
 Difference type of category page
 Enable to hide the Cart Checkout via config file
 Ability to switch between Dark and Light theme
 Easy to config for more than 9 difference kind of Homepage Layout.

Produk lain yang mungkin Anda sukai