Jika Anda Tidak Punya Kartu Kredit dan Alat Transaksi Online, serta tidak punya keakhlian installasi, kami menawarkan paket siap pakai, meliputi domain, hosting, WooCommerce Multilevel Referral Affiliate Plugin, dan tutorial. Silahkan hubungi kami Klik Chat CHAT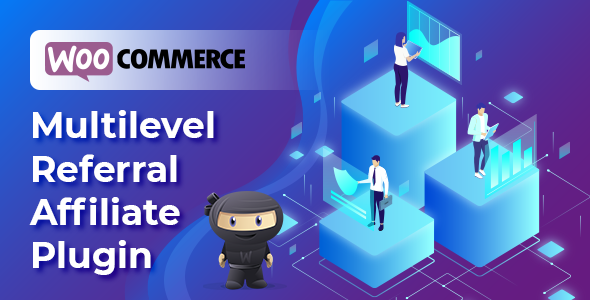 Apa yang baru ?
Nilai kredit tetap.

Dengan adanya fitur tersebut, kini admin dapat menginput dan membagikan pulsa dengan jumlah tetap juga beserta opsi persentase tetap.

Selamat datang kredit pada pendaftaran pelanggan.

Admin kini memiliki kemampuan opsional untuk mendistribusikan kredit tambahan kepada pengguna yang baru saja mendaftar sebagai rujukan – dalam bentuk kredit selamat datang.

Kode referral wajib.

Admin kini memiliki kewenangan untuk menjadikan kode referral sebagai keharusan bagi pengguna yang ingin mendaftar di situs webnya.
Plugin Multilevel WooCommerce adalah Plugin Add-On WooCommerce.
Tarik pelanggan baru, kembangkan, dan pasarkan bisnis Anda secara gratis menggunakan program referensi sosial. Dibuat khusus untuk pemilik toko WooCommerce, WooCommerce Multilevel Referral Plugin memberi penghargaan kepada klien Anda karena telah berbagi situs web Anda dengan teman, keluarga, dan kolega mereka.
Plugin Referensi Multilevel memberi Anda kebebasan untuk menjadikan klien Anda, duta situs web Anda.
Salah satu program pemasaran rujukan yang paling direkomendasikan di WooCommerce, sangat mudah dikonfigurasi dan digunakan. Anda dapat melacak perujuk, penjualan mereka, total kredit mereka juga – bersama dengan kredit yang ditukarkan untuk mengenal klien Anda dengan baik.
Selain itu, Anda bahkan dapat mengirim email ke pengguna rujukan yang mengingatkan mereka tentang poin rujukan mereka, menarik mereka untuk meningkatkan pembelian mereka. Dengan demikian, kami membantu Anda meningkatkan penjualan dari mulut ke mulut serta memikat mereka yang sudah terdaftar untuk membuat mereka membeli lebih banyak.
Kemenangan ganda untuk semua penjual situs web e-niaga, bukan?
Plugin rujukan kompatibel dengan WordPress terbaru serta versi WooCommerce.
Bagaimana cara kerja Plugin Rujukan Bertingkat?
Klien Anda akan mendaftar di situs web dan bergabung dengan program rujukan menerima kode rujukan.
Dia kemudian akan membagikan kode tersebut dengan kerabat dan teman-temannya.
Setelah koneksinya mendaftar di situs web, bergabung dengan program rujukan menggunakan kodenya dan membeli produk, dia berhak menerima hadiah rujukan.
Semakin banyak jumlah orang yang dirujuk dalam hirarkinya, semakin besar komisinya.
Klien kemudian dapat menukarkan poin untuk mendapatkan diskon pada produk yang tersedia di situs web
Kesederhanaan dan kemudahan plugin rujukan bertingkat menarik klien untuk menggunakannya dan melanjutkan putaran ke depan.
Mengapa membuat Plugin Rujukan Bertingkat WooCommerce berbeda?
Kompatibel dengan versi WordPress dan WooCommerce terbaru, dapat dikonfigurasi dengan mudah dari pengaturan WooCommerce.
Sistem Kredit Berbasis Level di mana pemilik toko dapat menetapkan persentase yang berbeda untuk perujuk dari setiap level yang berbeda.
Jaringan MLM biner melacak pendapatan & pengeluaran downline.
Kapan saja, Anda memiliki kebebasan untuk mengaktifkan atau menonaktifkan sistem kredit berbasis level. Jika Anda memilih untuk mengaktifkan sistem kredit berbasis level, Anda juga dapat mengatur jumlah maksimal level
Komisi dapat diberikan menggunakan dua metode terpisah dalam Sistem Kredit Berbasis Level –

Harga produk dimana harga produk langsung akan digunakan untuk menghitung komisi untuk setiap level.
Komisi/Kredit di mana Referral Plugin pertama-tama akan menghitung komisi/kredit sesuai dengan persentase yang ditetapkan secara global. Kemudian, persentase tersebut akan digunakan untuk menghitung komisi/kredit tiap level.
Pemilik toko dapat menetapkan persentase diskon yang berbeda untuk pelanggan yang datang langsung dan yang datang melalui tautan rujukan.

Kami telah memberi Anda opsi untuk memilih dari 3 persentase kredit toko –

Secara global (berlaku pada semua produk kecuali yang tidak termasuk dalam program referral)
Tingkat kategori (satu set kelas – pakaian pria, pakaian wanita atau pakaian anak-anak)
Product specific (pada produk tertentu).

Persentase yang ditentukan pada kategori khusus produk akan diberikan prioritas tertinggi. Jika persentase tingkat produk tidak ditentukan, persentase tingkat kategori akan diterapkan. Prioritas yang diikuti adalah, khusus produk > tingkat kategori > persentase global.
Jika produk tertentu memiliki beberapa kategori (misalnya, kemeja unisex), pemilik toko diberikan aksesibilitas untuk memilih apakah persentase terendah atau tertinggi harus diterapkan dari pengaturan plugin.
Jika plugin lain hanya menampilkan catatan pendaftaran, kami memberi Anda lebih banyak aksesibilitas dan detail di dasbor dalam panel Admin. Lihat daftar lengkap pengguna terdaftar, hierarki mereka, poin yang diperoleh, dan urutkan menggunakan berbagai filter.
Pada versi sebelumnya, poin kredit selamat datang hanya diberikan kepada anggota yang baru terdaftar. Namun atas desakan pengguna plug-in kami, administrator sekarang memiliki fleksibilitas untuk memberikan manfaat kredit selamat datang bahkan kepada pelanggan yang sudah ada pada pembelian pertama mereka.
Beri pelanggan Anda pilihan untuk bergabung atau tidak bergabung dengan program rujukan dengan menggunakan opsi bergabung otomatis/manual kami. Bergabung secara manual mengirimkan pesan kepada pengguna jika dia ingin menjadi bagian dari program rujukan sedangkan bergabung otomatis secara otomatis menjadikan pengguna sebagai anggota.
Apakah Anda merasa beberapa produk Anda terlalu luar biasa? Tidak ingin menambahkannya ke dalam kategori apa pun? Jangan khawatir. Admin memiliki fleksibilitas untuk mengecualikan produk dari program rujukan.
Administrator juga dapat mengatur batas kredit bulanan serta batas penebusan bulanan.
Plugin juga memungkinkan pengguna situs web terdaftar untuk bergabung dengan program rujukan.
Kami memahami bahwa pengguna membutuhkan leverage yang setara untuk bergabung. Oleh karena itu, anggota terdaftar dapat melihat poin kredit yang diperoleh dan ditukarkan di dasbor dalam akun mereka. Selain itu, untuk kemudahan pengguna, mereka juga dapat mengundang orang lain hanya dengan memasukkan alamat email mereka.
Administrator dapat menetapkan masa berlaku kredit poin setelah itu poin yang terkumpul akan hangus. Dia juga dapat menggunakan template email (dirancang oleh kami) untuk dikirim ke pengguna untuk mengingatkan mereka tentang poin di keranjang mereka serta periode kedaluwarsa yang semakin dekat.
Menerima email pengingat dari pemilik toko akan mengatur kredibilitas Anda dan membuat klien terkesan. Ini akan membantu Anda dalam publisitas positif dan memberi pengguna cukup waktu untuk mengambil tindakan yang tepat sebelum kredit kedaluwarsa.
Bersamaan dengan email kadaluarsa kredit, kami juga menyediakan berbagai template email lainnya untuk disesuaikan demi kenyamanan Anda.
Kami juga menawarkan 8 spanduk undangan rujukan bersemangat yang dapat disesuaikan sepenuhnya untuk mempromosikan program rujukan kepada pengguna Anda.
Mengapa Anda harus memilih WooCommerce Multilevel Plugin?
Karena ini adalah kemenangan untuk semua – Anda menghargai klien Anda, mereka memberi Anda pelanggan baru, meningkatkan penjualan Anda, pelanggan baru mendapat diskon. Semua orang menyukainya, bukan?
Semua kami melakukan semua pelacakan rujukan, sementara Anda berkonsentrasi pada penjualan produk-produk inovatif. Bersama-sama, kita akan membuat tim pemacu penjualan yang hebat!
Kami terus bekerja untuk menghasilkan produk mutakhir. Untuk memberikan pengalaman pengguna yang unggul kepada pelanggan Anda, kami telah menerapkan standar dan praktik pengkodean apex. Selain itu, kami memastikan QA yang curam dan sistem Pengujian berlapis-lapis sebelum komisioning akhir Plugin Bertingkat WooCommerce.
Umpan balik, rekomendasi, dan masukan Anda untuk pembaruan lebih lanjut sangat berharga bagi kami. Kami berharap dapat mendengar saran Anda dan bersama-sama membangun plugin rujukan perintis untuk WooCommerce.
Item ini Didukung
Dukungan dilakukan melalui kami FORUM DUKUNGAN . Kami berada di GMT +5:30 (IST) dan kami bertujuan untuk menjawab semua pertanyaan dalam waktu 24 jam di hari kerja. Dalam beberapa kasus, waktu tunggu dapat diperpanjang hingga 48 jam. Permintaan dukungan yang dikirim selama akhir pekan atau hari libur nasional akan diproses pada hari Senin berikutnya atau hari kerja berikutnya.
##Catatan perubahan
[2.20] 2020-07-10
### Update - Save referral code in a cookies for future registration.
### Update - Remove credit section in a cart/checkout page on max redeem credit to zero.
### Update - Allow credits up to 10,000 for fixed commission type.
### Update - Visual issue.
### Fix - Credit issue for fixed credit value type.
### Fix - Facebook sharing issue
### Fix - Validate wrong referral code from user dashboard
### Fix - Calculation of credit and redeem blocks.
### Fix - Allow float value in the category credit.

[2.19] 2020-03-03
### Feature - Added total volume of referees limitation.
### Feature - Managed the referral code required functionality for the auto-join referral program.
### Feature - Added the ability for choosing credits distribution between percentage & fixed value.
### Feature - Allowed welcome credits on customer registration.
### Feature - Added support for referral credit on user registration.
### New hook "wmc_referral_tab_block" - The user can add new block after referral statistics block on the front end.
### New hook "wmc_registation_referral_fields" - To hide referral program fields from a registered form
### New hook "wmc_withdraw_credited" - That adds support for The Referral Withdrawal and The Referral Credit Manager Add-on plugins.
### New hook "wmc_withdraw_earned" - That adds support for The Referral Withdrawal and The Referral Credit Manager Add-on plugins.
### New hook "wmc_additional_commission_settings" - The user can add additional setting for their requirements.
### Update - Removed commented code and regenerated language file for localisation.
### Update - Allowed NEGATIVE Total Credits.
### Fix - Addressed a Referral link issue on a user dashboard
### Fix - LinkedIn sharing issue.
### Fix - Difference of "Total Available Credits" in cart/checkout and referral page.
### Fix - Removed duplicate queries.
### Fix - Addressed a Visual issue
### Fix - Changed image resolution to resolve social sharing issue.
### Fix - Addressed Image cache issue for social sharing.

[2.18] 2020-11-20
### Added hooks for add additional mail templates
### Added referral code filter in order listing page
### Changed referral registration flow in check out page
### Fixed auto join referral user issue
### Fixed display credits with points 
### Fixed warnings

[2.17] 2020-09-17
### Added a copy referraral code from dashboard
### Added customer based bonus offers
### Added total volume of referees
### Added search by customer name/email to referral users panel
### Added search by customer name/order id/referral code to orderwise user credits panel
### Fixed multiple store credits for same order
### Fixed typo mistake and warnings

[2.16] 2020-05-23
### Added a setting for referral users where a user will not gain any reward point without a purchase.
### Added a setting to select products to gain reward points.
### Fixed a mail class issue.
### Fixed a search based issue from the Referral user tab.
### Improved the UI layout on the front as well as on the admin panel.

[2.15] 2020-05-13
### Fixed typo mistake and warnings.
### Added support for Binary MLM System.

[2.14] 2020-02-18
### Fix language translation issue.
### Change a minor backend layout.

[2.13] 2019-12-04
### Improved code for the social media sharing banners. 
### Removed some issues. 

[2.12] 2019-12-03
### Remove bug from the admin referral listing. 

[2.11] 2019-11-11
### We added ability to add Referral code and link dynamically on Custom Banners. Previously, this feature was available for pre-defined banners. 
### The size of Social media sharing banners has been changed to 1200px*630px. 
### Store owners can design their own banners and upload. The referral code and link will be added dynamically on the banners on top and bottom respectively. Keep the 100px space on top and bottom for referral code and link.

[2.10] 2019-11-05
### Added shortcode support for front end my account dashboard tabs "Referral" and "My Affiliates".
[wmc_my_referral_tab] : It will provide ability to invite peoples by email and social media sharing. 
[wmc_my_affiliate_tab] : It will show the list of referral's of logged in user. 
### Provided High resolution pre-designed banners to share on social media 

[2.9] 2019-10-17
### Added option to control the distribution of credit points in Recursive Credit method. Admin can set number of levels which are entitled to receive the credit points from the settings.  

[2.8] 2019-09-20
### Implemented AJAX technique to get followers/referral's count in the admin panel to improve the page performance.

[2.7] 2019-08-13
### Fixed issues related to followers count. 

[2.6] 2019-08-05
### Upgraded to new Envato API to validate plugin. 

[2.5.1] 2019-06-25
### Fixed bug in cart and checkout page related to redemption of credit point feature.

[2.5] 2019-06-08
### Fixed bug permalink and social media share.

[2.4] 2019-05-22
### Fixed bug with Auto join feature in checkout page.

[2.3] 2019-05-21
### Fixed bug related to "My Affiliate" tab in Dashboard.

[2.2] 2019-05-17
### Fixed some minor bugs from the plugin.

[2.1] 2019-03-18
### Fixed Issue in checkout form caused by terms and condition checkbox.
### Change the order of referral program fields on checkout page. 

[2.0] 2019-01-16
### Level Based credit system
#### Previously, the credit percentile was fixed and was applicate globally. With this new version, we are now introducing and adding a completely new credit system as. Henceforth, the store owners will be able to assign variable percentile for each level of referrers individually, as well.
Store owners can manage level base credit percentage globally (Applicable for all products), Category Wise and even product specific. 
This version does not replace the old credit system and that too will be in working status. Apparently, now, we have 2 systems to choose from, Depending upon a subsequent criteria, store owners will now have the choice to choose either from - Level Based Credit System (LCS) or Recursive Credit System (RCS - old one). 
### Manage number of levels.
#### Store owners now can define the number of referrer levels which the referrers would receive the credit points for. 
From the admin panel, store owners can now manage levels and their credit percentage. 
### Social Media Sharing
#### We are happy to be introducing a social media sharing option as well for the referrers. 
Referrers can share predefined banners on social media for increasing their network. 
Visitors who follow or click a socially shared link, will join under the referrer's account. The previous version only had an option to invite people to join referral program, only via email. But now, social media sharing is available, apparently opening one's business up to a wider audience.

[1.4.7] 2018-02-24
### Bug Fix
#### Made compatible with WordPress 4.9.4 and Woo commerce 3.3.3. The plugin setting page was showing some warnings/errors which are removed from this version. 

[1.4.6] 2018-01-20
### Bug Fix
#### Remove validations from the referral program fields, if the users do not wants to join the referral program.

[1.4.5] 2018-01-19
### Added Feature
#### Now Users can join referral program from the checkout page if they wants to register on the website. 
### Bug fix
#### If users added wrong referral code then plugins shows the error message but they can not able to change the code to correct it. Now, this bug has been fixed so users can change the wrong referral code. 

[1.4.4] 2017-12-18
### Bug Fix
####  The exclude product select list issue has been resolved in this version.

[1.4.3] 2017-09-11
### Bug Fix
####  Made compatible with latest version of WordPress and Woo commerce.
#### There was an issue where the row action options for Posts and Custom Post Types were not visible after upgrading to the latest version of WordPress, which has been resolved now.

[1.4.2] 2016-11-21
### Bug Fix
#### Removed bug in the code which is affecting showing list of users in admin panel if the prefix of wordpress tables has been modified.

[1.4.1] 2016-10-28
### Added
#### My Affiliate Information: 
There is one more mod where we have added a new shortcode "[wmc_show_affiliate_info]" to show affiliate user information in tabular format for customers who are already logged in. 
A customer can see a list of users who have joined their referral program using his/her referral code.
This shortcode can be used anywhere on any given page and post, just as in - [wmc_invite_friends] and [wmc_show_credit_info] shortcodes.
### Added
#### Referral tab in My account page : 
Hello folks.
We have yet another modification here to the Front End.
The Referral Tab is now on the My Account page
This tab has been added to the WooCommerce 'My Account' page.
All plugin related information will be displayed here itself now. Previously this was within the WooCommerce Dashboard.
Following this one can now view entities like the Invitation form, Affiliate information as well as the Credit points information there itself henceforth.
Also, the users can now see all their referral activity inside one separate tab - "Referral".

[1.4] 2016-10-18
### Added
#### Multilingual Support : We are happy to announce that the WooCommerce Referral Plugin now has gone multilingual and supports French and Italian. 
Currently it supports the above 2 languages only, but the good news is that it can be made available in any given language (non-regional), and you just need to contact us with your preferred language.
To add to the lucidity, If one has some knowledge of the WordPress Multilingual feat, one can himself make the plugin available in any preferred language. It is that easy.
You just need to reach out to us and we will guide you with few simple steps and you will have the plugin available in the language of your choice.
### Added
#### Welcome Credit Setting : 
Previously, the Welcome credit points were only available for newly registered users.
Now, existing users too will get the benefit of Welcome Credits on their first purchase.
Administrator can choose this option between all users or can restrict it to newly registered users only.

[1.3] 2016-09-30
### Fixed
#### The referral program joining form for already registered users was not being displayed within the WooCommerce My Account section. We have now fixed this issue and now the users which have not joined the referral program can view the joining form within the WooCommerce My account page.

[1.3] 2016-09-25
### Added
#### Category level Credit point feature has been added. Now, you can set credit point percentage for categories, and so percentage defined for category will be applicable for all the products within that category. 
If the product level percentage is not defined, then, the category level percentage will be applied and if both, the product and the category level percentage is not defined then, global percentage will be applied. In case if the product is having multiple categories then, lowest/highest percentage among all the categories will be applied. You can choose whether lowest or highest should be applied, from the plugin settings.

[1.2] 2016-09-20
### Added
#### Added two more shortcodes to show "Invite Friend" form and "Credit point details". Now credit point information and invite friend form can be show anywhere on wordpress pages. These shortcodes will show information of users who are logged in.
[wmc_invite_friends] =  this shortcode will show invite friend form.
[wmc_show_credit_info] = this will show logged in user credit point information.

[1.2] 2016-09-10
### Added
#### Added Auto join feature. Provided "Auto Register" option in admin panel. If user select "Yes" then users will automatically join to the referral program, if select "No" then plugin will provide option to join or not to referral program while registration. 
#### Added Product level credit point settings. If product level percentage has been added then product percentage will be used otherwise global percentage will be used.

[1.1] 2016-08-26
### Fixed
#### Added security to prevent XSS attacks  

[1.1] 2016-08-06
### Fixed
#### Fixed activation bug from the plugin.
### Changed
#### corrected typo mistake.