Jika Anda Tidak Punya Kartu Kredit dan Alat Transaksi Online, serta tidak punya keakhlian installasi, kami menawarkan paket siap pakai, meliputi domain, hosting, Puerto Poll Script, dan tutorial. Silahkan hubungi kami Klik Chat CHAT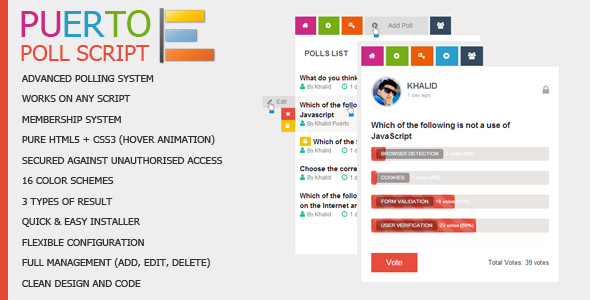 Video tutorial: https://www.youtube.com/watch?v=up7PNkpJgSI
Skrip Puerto Poll adalah skrip berbasis PHP/MySQL dinamis yang mengagumkan yang memungkinkan Anda membuat jajak pendapat dan menampilkan hasilnya dalam berbagai jenis dan warna. Itu telah dibangun dari awal menggunakan teknologi web terbaru yang tersedia seperti PHP, HTML, dan CSS.
Demo Langsung
+ Masuk sebagai admin (tautan)—[username: Admin; password: Admin]
Apa yang baru:
+ What is new in v3.0 (16/10/2022):

   - Update all libraries to their latest version
   - Update social media login to the latest version
   - PHP 8 Compatible
   - Voting allowed only for members (enable and disable from the administration)
   - Add description for poll
   - Add ads from the administration
   - add categories
   - add upload thumbnail for polls
   - Fix bugs


Versi 2.0 hadir dengan banyak fitur baru seperti:
+ In general:
     - Login using social media (twitter, facebook and google).
     - Add Multi Language translation.
     - Support rtl and ltr.
     - Re-organasie stylesheet.
     - Add site statistics.
     - Convert script from mysql to musqli.
     - Responsible design for mobile.
     - Add User details on header.
     - Add avatar pick up on registration.
     - Add "My Profile" link.
     - Add Email address to registration page.
     - Admin username with a deffirent color.
     - Top Polls
     - Upgrade font awesome to latest version 4.5.0.

+ In poll system:
     - Add Social media share button.
     - Add Iframe embed (Exemple: http://puerto-demo.blogspot.com/).
     - Add expired date option for polls (datepicker).
     - Add hide results option for polls.
     - Add multiple votes for single poll.
     - Delete answers
     - Add poll thumbnail
     - Swetch registration votes from ip to coockies.

+ In cpanel:
     - Specific number of answers for single poll from cpanel.
     - answers truncate from cpanel.
     - add a confirmation alert when delete, lock and unlock a poll.
     - Close rigestration page from cpanel.
     - Desable or enable login by using social media.
     - Specific buttons and icons styles from cpanel.
     - Specific Languages by add, edit and delete.

Apa yang dikatakan pelanggan kami tentang skrip jajak pendapat ini: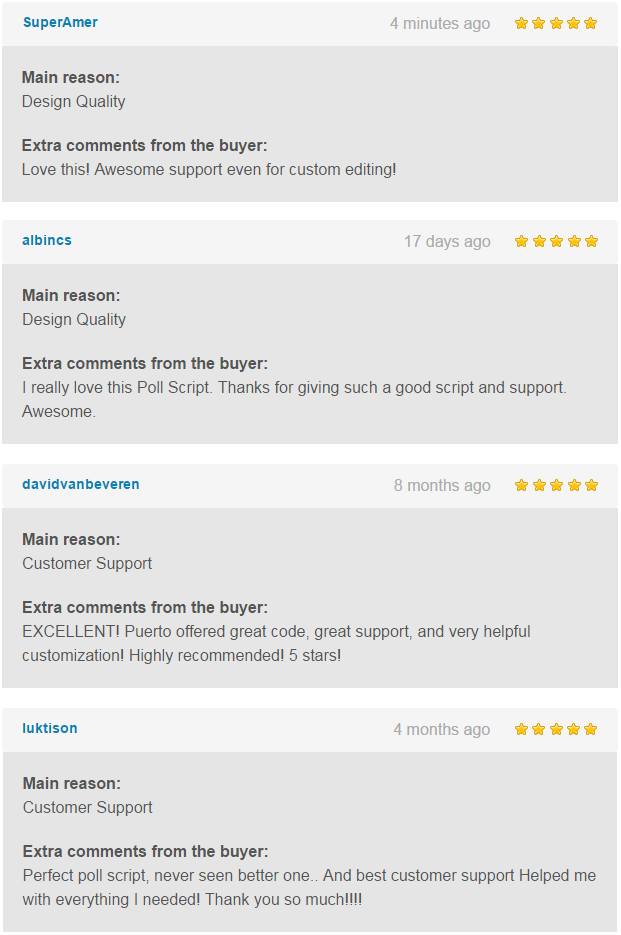 Beberapa Fitur:
Sistem Polling Lanjutan
Bekerja di skrip lain.
Sistem Keanggotaan
Sistem Multi-Bahasa mendukung arah RTL dan LTR, dapat menyesuaikan dari cpanel.
Manajemen penuh (tambah, edit, hapus).
Suara ganda atau suara tunggal (kotak centang atau radio)
Polling dapat kedaluwarsa setelah sejumlah hari, jam, dan menit tertentu (pemilih tanggal).
Kode iFrame yang indah Sematkan sehingga Anda dapat menempatkan jajak pendapat di situs web Anda sendiri [blogger exemple (link)].
Pengguna juga dapat mendaftar menggunakan akun media sosial (dukungan: facebook, twitter dan google).
HTML5 dan Animasi yang indah dengan desain yang sepenuhnya responsif
16 Skema Warna
Lintas browser
Pemasang Cepat & Mudah
Dokumentasi Luas
Dukungan Gratis
Tolong jangan lupa untuk ikuti aku dan untuk menilai skrip yang luar biasa ini.