Jika Anda Tidak Punya Kartu Kredit dan Alat Transaksi Online, serta tidak punya keakhlian installasi, kami menawarkan paket siap pakai, meliputi domain, hosting, Coupons + | Advanced WooCommerce Coupons Plugin, dan tutorial. Silahkan hubungi kami Klik Chat CHAT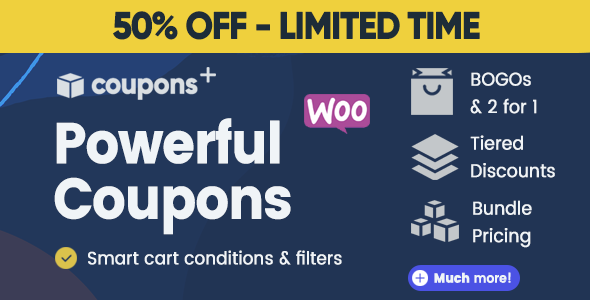 Versi Terbaru: 1.3.0 – 12 Juni 2022
Coupons + adalah ekstensi WooCommerce luar biasa yang memperluas fungsi kupon WooCommerce default untuk memungkinkan Anda membuat penawaran & penawaran yang sangat kompleks seperti penawaran Beli Satu, Dapatkan Satu (BOGO), diskon untuk pelanggan baru, diskon pengiriman, diskon berjenjang & kuantitas, dan banyak lagi menggunakan pembuat penawaran yang sangat kuat dan fleksibel. Rancang hampir semua jenis penawaran dengan Kupon +!
Kami di sini untuk membantu – Dukungan Premium

Jika Anda tidak tahu harus mulai dari mana, atau memerlukan bantuan untuk menyiapkan Kupon+ kupon Anda, hubungi dukungan dan kami akan memberi Anda saran hasil personalisasi dan banyak lagi. Hubungi Dukungan Di Sini (Khusus Pelanggan)
Daftar Fitur Lengkap
10+ Ketentuan (+ lainnya segera hadir!)

Riwayat Pembelian Pelanggan
Subtotal keranjang
Peran pengguna
Bidang Checkout
Jumlah Penggunaan Kupon
Tipe pelanggan
Meta Pengguna Khusus
Tanggal Pendaftaran Akun
Lokasi (BARU)
Waktu (BARU)
+ lainnya sudah dalam pengembangan

6+ Filter Keranjang

Produk Tertentu
Gabungan Biaya Barang
Jumlah Item
Dalam Kategori
Di Tag
Produk Pilihan

4+ Jenis Penawaran

Produk Ekstra
Diskon
Harga Paket
Diskon pengiriman

5+ Jenis Kolom

Sederhana
Dan
Atau
Berjenjang
Multi

Pembangun penawaran yang andal
Terapkan kupon secara otomatis
20+ preset bawaan
Kuantitas lanjutan & diskon berjenjang
Impor prasetel sekali klik
Buat penawaran bundel harga tetap
Menawarkan diskon pengiriman
Batasi untuk pelanggan baru
Tawarkan diskon berbeda berdasarkan peran pengguna, berapa kali digunakan, jumlah item, subtotal keranjang + lainnya
Dukungan WooCommerce Penuh
Pembaruan seumur hidup GRATIS
Dukungan Premium dengan rekomendasi yang dipersonalisasi
Kode bersih – 1500+ lulus tes otomatis
Pembaruan (Changelog)
VERSI 1.3.0 – 12 Juni 2022
#NEW: Time condition. You can now offer time-based discounts. For example, offer a 2 for 1 only on Tuesdays or discounts based on the time of the day (EG: 10% from 10 A.M. to 13 P.M.).
#NEW: New Time and Location presets.
#NEW: The coupons list from the WordPress dashboard now shows the apply type (auto or manual) for each coupon.
#UPDATE: Improvements to the algorithm of the automatically applied coupons.
#UPDATE: The In Categories condition now considers ancestor/multi level categories. Eg: Food (category) > Italian (category) > Pizzas (category) > Deep Dish Pizza (product), The Deep dish pizza will now be matched when selecting the Food category.
#FIX: When using Shipping Discount (offer), taxes are now calculated based on the discounted amount.
#FIX: The shipping cache is cleared when a coupon has been updated.
#UPDATE: Minor UI style improvements.
#UPDATE: A message when the cart is empty and the coupon is invalid no longer shows to the user (the coupon is just silently removed).
#UPDATE: Added more info to the User Role, Location and Products conditions and filters.
#UPDATE: Auto-applied coupons can no longer be manually removed since they are automatically applied for the customer, therefore the [Remove] button from the cart page has been removed (only for auto-applied coupons).

VERSI 1.2.0 – 16 Mei 2022
#NEW: Location condition. You can now restrict offers based on the location of the customer and/or shipping address.
#UPDATE: Columns now display their type before the close button.
#UPDATE: Added some missing translatable strings.
#FIX: Fixed server error with cookies on the front-end of some servers.
#FIX: Improved WooCommerce dependency functionality.

VERSI 1.1.3 – Pembaruan Kecil – 8 Mei 2022
#UPDATE: Some sites were having problems with the cookies on the admin side. This minor bug has been fixed.

VERSI 1.1.2 – Pembaruan Kecil – 6 Mei 2022
#UPDATE: Improved support for javascript translations as well as setting a preferred directory for translation files.

VERSI 1.1.1 – Pembaruan Kecil – 4 Mei (bw/u), 2022
#UPDATE: Improved support for translation strings

VERSI 1.1.0 – Pembaruan Besar – Internal
#NEW: ExtraProduct can now add products dynamically from the filtered items.
#UPDATE: improved the filters and conditions algorithm when using ExtraProduct.