Jika Anda Tidak Punya Kartu Kredit dan Alat Transaksi Online, serta tidak punya keakhlian installasi, kami menawarkan paket siap pakai, meliputi domain, hosting, WordPress Push Notifications – WooCommerce Push Notifications, dan tutorial. Silahkan hubungi kami Klik Chat CHAT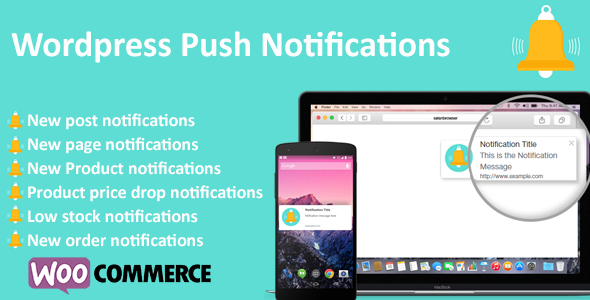 Plugin WordPress Push Notification akan Mengirimkan pemberitahuan push otomatis tentang peluncuran produk baru, penurunan harga, posting blog baru dan banyak lagi.
Jika Anda ingin mengirim pemberitahuan push dengan tautan ke posting situs web Anda atau produk dari situs web Anda, plugin kami akan melakukannya. Anda akan mendapatkan pengunjung reguler ke situs Anda dengan fitur pemberitahuan push browser ini untuk situs Anda.
Fitur
Mudah digunakan.
Pemberitahuan push tak terbatas dan pelanggan tak terbatas.
Semua ID pelanggan disimpan di database Anda.
Notifikasi sambutan untuk pengguna
Beri tahu peluncuran produk baru ke semua pengguna
Beri tahu posting blog baru ke semua pengguna
Beritahu pesanan baru ke admin
Beritahu stok menipis ke admin
Pemberitahuan Keranjang yang Diabaikan kepada pengguna
Bekerja dengan baik dengan Google Chrome di semua perangkat
Persyaratan
Sertifikat SSL
Akun Firebase gratis
Tangkapan layar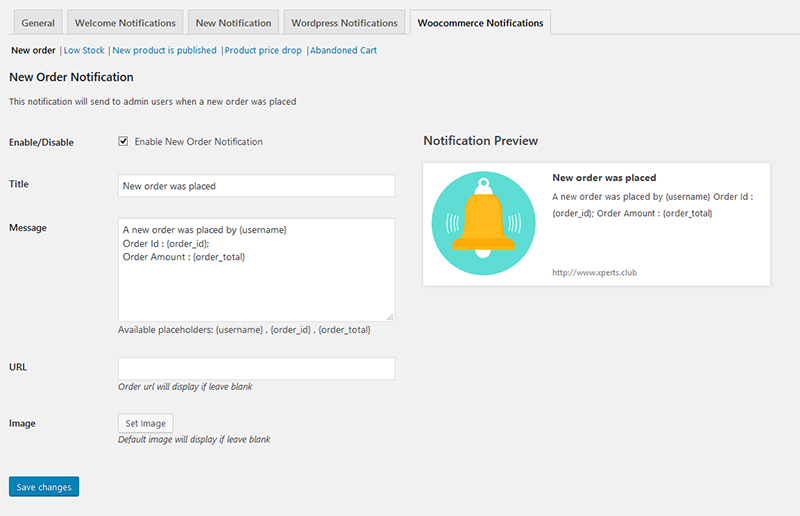 terjemahan bahasa Spanyol oleh Dinero
Pembaruan & Log Perubahan
= 1.6 - 2020.07.29 =
Fixed: Issues with Gutenberg
Fixed: Performance improvements

= 1.5 - 2018.12.29 =
Fixed: unexpected shutdown: PHP Fatal error in Woocommerce sessions
Update: get user location from Woocommerce when Woocommerce active

= 1.4 - 2018.10.04 =
* Fixed Currency symbol Unicode display
* Fixed Chrome console warnings.
* Added Products titles to new order notification
* Added option Send notifications based on user role
* Added Spanish translations

= 1.3 - 2018.09.17 =
* Fixed unicode URL issues
* Fixed issues in Abandoned Cart Notification

= 1.2 - 2018.07.20 =
* Fixed minor issues

= 1.1 - 2018.07.18 =
* Feature added Abandoned Cart Notification.
* Feature added Welcome notification.

= 1.0 - 20118.07.12 =
* Initial release!

Sarankan fitur
Kami ingin mendengar saran fitur Anda. Jika Anda memerlukan beberapa fitur yang saat ini tidak ada di plugin ini – beri tahu kami. Anda dapat mengirimkan ide Anda melalui email ke [email protected] atau hubungi kami melalui dukungan.

Source