Jika Anda Tidak Punya Kartu Kredit dan Alat Transaksi Online, serta tidak punya keakhlian installasi, kami menawarkan paket siap pakai, meliputi domain, hosting, WooCommerce Multi Locations Inventory Management, dan tutorial. Silahkan hubungi kami Klik Chat CHAT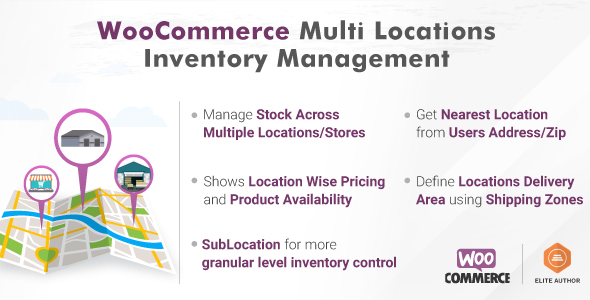 Plugin Manajemen Inventaris Multi Lokasi WooCommerce menyediakan opsi untuk mengelola Stok Produk dari Berbagai Lokasi untuk Toko WooCommerce Anda.
Plugin kami dirancang untuk membantu toko eCommerce berbasis WooCommerce yang mengirimkan produk ke pelanggannya di seluruh dunia dari beberapa gudang atau perusahaan yang menjual produk dari tokonya di lokasi berbeda. Plugin secara otomatis mendeteksi Lokasi Produk terdekat. Ini juga menunjukkan Ketersediaan dan Harga Produk berdasarkan lokasi suatu produk.
Fitur Multi Lokasi #1 untuk Plugin WooCommerce:
40+ FITUR. NILAI LUAR BIASA. Plugin WooCommerce Stok / Manajemen Inventaris Multi Lokasi adalah plugin yang mudah digunakan, namun sangat kuat, dengan set fitur terkaya.
  Kelola stok Produk di berbagai lokasi, Gudang, atau Toko.
  Pengunjung dapat menemukan dan memilih Lokasi di dekat mereka di Halaman Produk atau Secara Global di situs web.
✔ Opsi untuk Secara otomatis memilih lokasi produk terdekat berdasarkan alamat pengguna. (Memerlukan kunci Google Map API )
 ✔ Menampilkan Kuantitas atau Ketersediaan produk berdasarkan lokasi.
  Mendukung Lokasi Multi untuk Sederhana sebaik Variabel tipe produk
Opsi untuk menambahkan Harga berdasarkan lokasi

Ajax tambahkan ke troli dengan Lokasi Terpilih. Ajax add to cart memungkinkan pengguna untuk memasukkan info lokasi produk sederhana atau produk variabel di keranjang tanpa memuat ulang halaman. Ini juga berfungsi di halaman toko untuk mempercepat proses pembelian.

Alur Pemenuhan Pesanan berdasarkan aturan.
Pemenuhan dari Stok Terbanyak / Terendah
Pemenuhan dari lokasi terdekat ke alamat pengiriman
Pemenuhan sesuai Prioritas Lokasi

Pusat Produk. Cara mudah untuk mengedit Massal dan Mengelola Produk dari semua lokasi di satu layar.

Lokasi Toko di Google Maps, Memungkinkan pengguna Anda menemukan toko terdekat atau dekat dengan lokasi mereka menggunakan peta. Filter Toko di peta berdasarkan produk atau radius.


Hanya mode backend. Memungkinkan admin menetapkan lokasi pemenuhan untuk memesan dari backend, pelanggan tidak perlu memilih lokasi saat memesan.

Tetapkan Lokasi sebagai Lokasi Penjemputan Lokal bagi pelanggan untuk menampilkan atau memilih lokasi pengambilan saat checkout.
  Lokasi Toko Halaman. Halaman terpisah yang mencantumkan produk yang tersedia di Lokasi tertentu.
Hanya mencantumkan produk Lokasi yang Dipilih. Halaman toko WooCommerce hanya menampilkan produk yang difilter dari Lokasi yang dipilih secara global. Sembunyikan Lokasi dari halaman depan situs web kami menggunakan opsi ini
 SubLokasi untuk kontrol inventaris tingkat yang lebih terperinci. Sublokasi dapat berupa rak, nomor bin, nomor rak, sub-area gudang, lantai, gedung, dll.
 ✔

Grup Lokasi untuk mengelompokkan berbagai lokasi Anda ke dalam satu grup. Ini dapat mewakili Kota, Wilayah, Distrik, Negara Bagian atau Negara, dll. Ini sangat berguna untuk menggabungkan ketersediaan inventaris di beberapa lokasi.
 ✔ Opsi untuk ditetapkan Manajer Toko ke lokasi
Beri tahu Manajer Lokasi atau Karyawan. Email pemberitahuan Pesanan Admin juga dikirim ke ID email Lokasi dan Manajer lokasi WooCommerce.
✔ Tetapkan Spesifik cara Pembayaran ke lokasi
 ✔ Secara otomatis mendeteksi geolokasi pengguna dari browser dan mengalokasikan Lokasi Woocommerce berdasarkan geolokasi.
Saat pengunjung mengunjungi kembali situs web, situs tersebut akan menampilkan lokasi yang sama dengan yang dipilih pengunjung pada kunjungan sebelumnya.
  Menambahkan Inventaris setiap lokasi ke inventaris Woocommerce default Anda
  Pengaya Tingkatkan Konversi dengan Menyarankan ketersediaan produk di lokasi terdekat lainnya ketika kehabisan stok di lokasi yang dipilih
Pengunjung dapat melihat gudang/lokasi yang dipilih pada halaman checkout dan cart.
  Batasi pelanggan ke lokasi tertentu dari WordPress Backend
 ✔ API REST untuk mendapatkan dan memperbarui stok produk untuk lokasi
 ✔ Tunjukkan Jarak ke Lokasi WooCommerce yang Dipilih dalam Kilometer atau Miles
 ✔ Menambahkan Gudang Tanpa Batas atau Lokasi Stok untuk WooCommerce dengan mudah tanpa biaya tambahan
Kelola inventaris dengan mudah dengan satu dasbor

Sederhanakan operasi Anda dan tingkatkan efisiensi Anda dengan satu dasbor

Pusat Produk adalah dasbor yang kuat untuk Edit massal dan Kelola Produk dari semua lokasi di satu layar. Pelanggan kami menggunakan Pusat Produk untuk mengetahui cara inovatif untuk mengontrol inventaris guna meningkatkan inefisiensi dan memaksimalkan keuntungan.
Selain itu, perbarui tingkat stok lokasi dengan cepat dengan memperbarui stok melalui halaman daftar produk di Dasbor Backend WooCommerce. Itu Ikon Pembaruan/Edit Stok pada daftar Produk WooCommerce di dasbor backend akan memberi Anda sembulan untuk memperbarui inventaris Anda.
Solusi Pengiriman Lengkap untuk Bisnis dengan Beberapa Lokasi
Hemat Biaya dan Waktu dengan mengirimkan barang dari berbagai lokasi.
✔ Tetapkan area Pengiriman untuk Lokasi dengan Zona Pengiriman WooCommerce
✔ Pisahkan Paket Pengiriman berdasarkan lokasi saat pembayaran. Kirim dan lacak item secara terpisah dengan mudah jika dipesan dari lokasi berbeda.
Dukungan Pengiriman Multi-Lokasi. Cocok dengan
Pro Pengiriman WooCommerce untuk UPS
Pro Pengiriman WooCommerce untuk FedEx
Pro Pengiriman WooCommerce untuk EasyPost Mendukung 100+ operator
Cocok dengan Pengiriman Tarif Tabel untuk WooCommerce oleh elemen tebal. Buat tarif pengiriman Anda sendiri berdasarkan lokasi
Cocok dengan Pengiriman Lanjutan WooCommerce oleh somano. Buat aturan pengiriman Anda sendiri berdasarkan lokasi.
Cocok dengan Integrasi Stasiun Kapal
oleh WooCommerce. Plugin mengirimkan Lokasi ke bidang khusus ke Shipstation dan Automation Rules Route pesanan ke Lokasi di shipstation.
✔ Cocok dengan Pengiriman Tarif Jarak Jauh untuk WooCommerce plugin
✔ Cocok dengan Pickup Lokal untuk WooCommerce plugin
tambahan untuk Pisahkan Pesanan berdasarkan Lokasi. Pisahkan pesanan secara otomatis sesuai dengan item dalam keranjang berdasarkan lokasi produk yang dipilih.
Berjualan di Beberapa Toko Fisik dan Online
Plugin MultiLocation WooCommerce terintegrasi dengan plugin POS dan memungkinkan Anda menjual stok yang tersedia di berbagai outlet Anda, baik online maupun offline untuk memaksimalkan keuntungan. Plugin memungkinkan Anda terus memperbarui stok di toko dan di situs web. Ini berarti bahwa ketika produk dijual di outlet, mereka secara otomatis diperhitungkan dan nomor stok yang benar ditampilkan di situs web Anda.
Cocok dengan OpenPOS – Titik Penjualan WooCommerce (POS)

✔ Cocok dengan Titik Penjualan untuk WooCommerce oleh Ekstensi Aktualitas
Cocok dengan StockUpp POS untuk WooCommerce oleh techspawn
Impor & Ekspor Stok dengan Mudah
Cocok dengan WP Semua Impor untuk Impor / Ekspor Stok.
Add-on gratis untuk Impor & Ekspor Kuantitas Stok melalui CSV & Excel
Lebih bertenaga jika digabungkan dengan plugin terlaris lainnya.
Dapatkan lebih banyak dari plugin Multi-lokasi WooCommerce dengan menggunakannya bersama Persediaan untuk WooCommerce! Menggunakan StockUpp, Anda dapat mengatur penjualan, pesanan pembelian, pemasok, pengiriman, dll. Ini juga memberikan Laporan Penjualan, Pembelian, Inventaris berdasarkan lokasi.
✔ Dukungan Multi-Mata Uang. Cocok dengan Multi-Mata Uang untuk WooCommerce Pengaya
✔ Buat Harga dan Diskon Dinamis untuk lokasi Anda dengan mudah. Cocok dengan Aturan Diskon untuk WooCommerce – PRO plugin oleh flycart
✔ Cocok dengan WOOF – Filter Produk untuk WooCommerce
Cocok dengan Konektor Buku Cepat WooCommerce plugin
Cocok dengan SEO Yoast plugin
Laporan Penjualan Berdasarkan Lokasi (Addon GRATIS)
Addon GRATIS ini menambahkan Penjualan berdasarkan Lokasi tab laporan ke Laporan WooCommerce Anda, memungkinkan Anda untuk melihat laporan Penjualan untuk lokasi tertentu kapan saja.
Report of Sales by Location adalah alat penting bagi pemilik bisnis untuk memahami aspek lokasi penjualan, berapa banyak yang terjual di setiap lokasi, lokasi mana yang berkinerja terbaik dan sebagainya. Anda dapat mengidentifikasi strategi pemasaran yang paling sesuai untuk wilayah tersebut dengan menelusuri laporan lokasi.
Mudah Diinstal dan Dikonfigurasi
✔ Plugin ini dengan baik didokumentasikan dan termasuk petunjuk langkah demi langkah untuk instalasi dan konfigurasi. Ini membantu untuk mengkonfigurasinya agar sesuai dengan kebutuhan pengguna tertentu.
✔ Ramah Pengembang. Kami senang bekerja dengan pengembang WordPress lainnya. Jika Anda memerlukan asisten untuk menggunakan produk kami untuk proyek Anda, cukup buka tiket dukungan.

Dapat disesuaikan. Kami memastikan plugin kami akan mencakup sebagian besar kasus penggunaan, tetapi jika Anda memiliki persyaratan tidak biasa yang memerlukan penyesuaian dalam plugin, kami dengan senang hati akan melakukan penyesuaian berbayar.
✔ Tidak Ada Biaya Bulanan / Tahunan.
Manfaat Plugin Inventaris Multi Lokasi WooCommerce
✔ Plugin Manajemen Inventaris WooCommerce memungkinkan Anda untuk melihat daftar lokasi dan tingkat inventarisnya dan dengan mudah membuat perubahan pada harga produk, tingkat stok, dan detail khusus lokasi lainnya.
✔ Plugin Manajemen Inventaris WooCommerce (Multi-Lokasi) membantu Anda membuat keputusan berdasarkan informasi tentang produk mana yang akan disimpan, di mana menempatkannya, dan berapa banyak yang dipesan.
Sinkronkan inventaris situs web Anda di semua lokasi / gudang / toko / cabang menggunakan plugin ini.
Mudah mengelola banyak lokasi, baik untuk produk maupun pesanan
Tidak perlu mengelola dan menginstal beberapa situs WordPress dan menyinkronkan inventaris di setiap situs.
✔ Delegasikan Manajemen Lokasi ke Manajer Toko
✔ Kumpulkan pembayaran untuk setiap lokasi menggunakan Metode Pembayaran terpisah
Hubungkan dan Sinkronkan stok Mulitlocations Anda ke alat inventaris pihak ketiga dengan WooCommerce REST API
✔ Tetapkan area Pengiriman untuk Lokasi dengan Zona Pengiriman
Ada pertanyaan?
Jangan ragu untuk bertanya kepada kami Mendukung jika Anda mencari fitur tambahan atau memiliki Pertanyaan Pra-Penjualan untuk Plugin Woccomerce Multi Warehouse
Untuk dukungan konfigurasi gratis, kirim permintaan ke Skype: techspawn1 atau Email ke [email protected]
Baca lebih lanjut tentang kami di: www.techspawn.com
Changelog
= Version 3.2.5= October 27, 2022
[Fix] Stock is not available for the product, it is still displayed as in stock in the product edit.
[Fix] Total stock is not reducing after deleting the location for variable product.
[Fix] When the Limit 1 location per order setting is enabled, the location is not selectable in the location drop down.
[Fix]  "Show Next Closest in stock Location" settings is not working as expected.

= Version 3.2.4= October 17, 2022
[Fix] The option "use current location" does not appear in the Location dropdown after clicking on it.
[Fix] When product is on "Allow Backorder" , the on frontend add to cart button is not working with list view(display setting)
[Fix] ]Backend only mode >> Product total count is not displayed when we use 'Location with most inventory in stock' rule
[Fix]  Local pickup location > The pickup location address should be displayed the same for both frontend and backend only modes.

= Version 3.2.3= October 11, 2022
[Fix] If admin enter sale price greater than regular price in product central then the message should be displayed as "please enter a value less than the regular price".
[Fix]  Set Location Cookie Time is not saving.

= Version 3.2.2= October 01, 2022
[Fix] Simplify backend-only mode settings.
[Fix] Backorder setting is not working for variable product
[Fix] The checkout page is always loading with Backend only modes 2nd rule 
[Fix] Show address details >It displays the street address twice on the product details page with list view.
[Fix] Hide the location dropdown on the product page if the stock status for a specific product variation is disabled.

= Version 3.2.1= September 24, 2022
[Fix] Facing error on checkout page "Error processing checkout. Please try again" Can't place an order.
[Fix] Local pickup location(Back end only mode) Issue for both simple and variable product
[Fix] Added validation > Multilocation > Local Pickup location when the product stock is 0

= Version 3.2.0= September 17, 2022
[Fix] Manage location> location priority field is displayed when the back end-only mode is disabled.
[Fix]  "The total stock does not equal the total stock of the locations." even when the total stock quantity is the same.
[Fix] Allow Backorder > List view > Both variable and Simple product "On Backorder" text does not appear

= Version 3.1.8= August 13, 2022
[Fix] Aligment issues on frontend 

= Version 3.1.7= August 06, 2022
[Fix] Critical error in backend only mode
[Fix] Restrict user's setting issue
[Fix] Detect location on page load setting

= Version 3.1.6= August 02, 2022
[Fix] Multilocation backend mode rule 2 having issue on checkout page
[Fix] Enable WC Tax Class For Each Line Item
[Fix] shop now functionality on variable product  
[Fix] WCPOS compatibility - Set one outlet to one location, Added backorder support
[Fix] WCPOS stock count issue

= Version 3.1.5= July 18, 2022
[Fix] Add to cart issue on the location page
[Fix] Detect location on page load 
[Fix] Nearby location finder

= Version 3.1.4= July 02, 2022
[Fix] Backend only mode - rewriting closest location by shipping address
[Fix] Code optimization 
[Fix] Stock Updation issue once order is placed with rule
[Fix] Backend only mode order critical error once order is placed with php8

= Version 3.1.3= June 19, 2022 
[New]  Compatibility with ShipStation for WooCommerce<br />

= Version 3.1.2= May 29, 2022 
[New] Nearby location feature when using Backend only mode
[New]  Compatibility with Point of Sale for WooCommerce by Actuality Extensions

= Version 3.0.9= March 22, 2022 
[Fix] Order page filter issue 

= Version 3.0.7= Feb 28, 2022 
[Fix] Email notification fixes 
[Fix] Validation for max item allocation in order from backend 
[Fix] Product count issue for backend only mode.

= Version 3.0.5= Jan 16, 2022
[Fix] Variable products location dropdown issue.

= Version 3.0.3= December 18, 2021
[New] Custom Message for Notification 
[Fix] Product Central Fix for huge data 
[Fix] Manage Stock / Stock Updation Improvements

= Version 3.0.2= December 4, 2021
[New] Import Export AddOn [Initial Release]
[New] Get Direction on the selection of location at the product page 
[New] Split Shipping Package by locations
[Enhancement] - Shop Page Filter product by stock for the selected location
[Fix] Main Stock update issue on quick edit at product listing page
[Fix] Variable product stock update issue on quick edit at product listing page 

= Version 3.0.1= November 28, 2021
[NEW] Product central new option for MANAGE STOCK  in product central 
[Fix] Fixes for location group options
[Fix] Safari browser issue for variable product 

= Version 3.0.0= November 18, 2021
[New] Add Location Group feature for multilocation inventory. 
[New] Added Location group taxonomy.
[New] Added Location group user role.
[New] Shortcode for location group select view
[New] Update on popup shortcode if location group enable.
[New] Location group control options.       
[Fix] For shop managers permission to view and restrict location-specific orders.             
[New] Location group manager support for view/update stock and price (regular and sale price) on inventory.             
[Fix] On select safari browser issues updated.           
[New] On select location Set cookies Location Term and Location Group ID to support custom development.
[Fix] Backend Only (Reduce stock as per shipping zone).

= Version 1.2.16= November 4, 2021
[Fixed]  Screen hang issue & Backorder issue for restricted users
[Fixed]  Update restrict users to particular location logic

= Version 1.2.15= November 1, 2021
[Fixed]  Backend only mode line items sorting 

= Version 1.2.14= October 9, 2021
[Fixed] Product central issue

= Version 1.2.13 = October 4, 2021
[Fixed] On order place mail not sent issue fixed.
[Fixed] Fixed rest apis permission callback error
[Fixed] = Fixed Backend only mode stock deducted when order created
[Fixed] if manage stock disables still showing location on product list page fixed
[Fixed] in stock status as per wc settings if nearby location finder on
[Enhancement] Limit one location per order works with nearby location finder
[Enhancement] Refactor code, Removed unnecessary inventory log code, created empty table on activation
[Enhancement] Removed inventory logs dead code.
[Fixed] same product with same location added as new item in cart issue fixed
[Fixed] location not showing selected after product add to cart issue fixed
[Fixed] Fixed nearby location finder issues
[Fixed] Fixed multiple undefined notices on locations map page & added some validation in create locations rest api
[Enhancement] enable billing for map api error has been tracked for Validate api click
[Fixed] = Created location by api it doesn't appear on the map.
[Fixed] = Variable Product Accept button issue
[Fixed] = Force visitors to location popup closed on esc button issue fixed
[Enhancement] = Set popup icon position
[Fixed] = OpenPOS issue on order refund locations stock not updated
[Fixed] = Fixed validate api url protocol issue http/https
[Fixed] = Fixed undefined variable error on order line item location dropdown.
[Fixed] = Fixed WC Rest API Publicly available issue

= Version 1.2.12 = August 28, 2021
Fix: Shortcode tab and Shortcode documentation
Fix: Savay theme compatibility

= Version 1.2.11 = August 18, 2021
Fix: X store theme compatibility fixes
Fix: Next available stock

= Version 1.2.10 = August 02, 2021
New: Product Central. Easy way to Bulk edit and Manage Products from all locations on one screen.
New: Cron and button to update the total of location stock to the main stock 
Fix:  Location selection Issue for safari browser and iOS
Fix:  Share my location not working

= Version 1.2.9 = July 26, 2021
New: Stock update popup on WooCommerce Product list page. Now quickly update locations stock from one page

= Version 1.2.8 = July 20, 2021
New: List and Grid view for locations 
New: Bulk allocate default location to products 
Fix: Regular price sale price issue on variable product 
Fix: Clear cart fix for WooCommerce version 5.5.1

= Version 1.2.7 = July 8, 2021
New:  Bulk allocate default location to users
Fix: Local Pickup Location for backend mode
Fix: Virtual and Downloadable products add to cart issue

= Version 1.2.6 = July 3, 2021
Add: Set locations as Local Pickup Locations
Add: Compatibility with Woocommerce Composite Product Plugin by SomewhereWarm
Fix: Allow to order from only one location per order issue fixed

= Version 1.2.5 = June 18, 2021
Add: Rules based order fulfillment:
   Fulfillment from most inventory in stock 
   Fulfillment from Closest location to shipping address
   Fulfillment as per Location priority
Add:  Default location setting

= Version 1.2.4 = June 5, 2021
Fix: Variation Product Sale price fix
Fix: Location Email Notification template
Add: Option to disable plugin CSS
Add: Location Cluster on Store locator map

= Version 1.2.3 = May 28, 2021
Add: Ajax add to cart with selected location
Add: Location Support for Manage stock at product level for variable products
Fix: Location shop manager fixes
Fix: Order filter by location

= Version 1.2.2 = May 20, 2021
Add: Woocommerce Advanced shipping Compatibility
Add: Option to allocate orders automatically to Nearest Location using Customer Shipping address
Add: WPML Compatibility (WIP)
Fix: Code optimization & Reorganisation of Settings

= Version 1.2.1 = May 8, 2021
Add: Location filter widget
Add: Compatibility with Table Rate Shipping for WooCommerce plugin
Fix: Minor UI and UX issues

= Version 1.2.0 = May 1, 2021
Add: Store Locator on Google Maps, Allows users to find stores nearby or close to their location using map.
Add: Store List shortcode
Add: Backend only mode, allows admins to assign order locations from backend 
Add: List only Selected Locations products.
Add: Location Shop Page. Separate page which lists product available at particular Location.
Fix: Backorder Issues

= Version 1.1.7 = April 25, 2021
Fix: Backorder issues
Add: Hide out of stock locations

= Version 1.1.6 = April 17, 2021
Add: Assign Shipping Methods to locations
Fix: Bug fixes 

= Version 1.1.5 = April 7, 2021
Add: Compatibility with Openpos - WooCommerce Point Of Sale(POS)
Add: Better UI with design preview and color options for location data  
Add: Compatibility with Yoast SEO
Add: Option to Limit users to order from only one location 
Add: Suggest other nearest location when product is out of stock

= Version 1.1.4 =  March 15, 2021
Add: Create Sub-location under locations
Add: Assign Payment Methods to locations
Add: Hide/show location on frontend 

= Version 1.1.3 = March 3, 2021
Add: assign Shop Managers to locations
Fix: Enhanced way to store inventory in database

= Version 1.1.2 =
Add: Restrict customers to specific locations
Add: Compressed js files for better speed

= Version 1.1.1 =
Add: Locations Distance from the entered address 
Add: Option to add location-wise price

= Version 1.1.0 =
Note: If you are upgrading from 1.0.0, previously created locations will be deleted, and need to create those once again.
Add:  Assign Shipping zones to each location
Add:  Shortcode to select a sitewide location
Add:  Option to detect visitors location and set nearby location

= Version 1.0.0 =
- Initial Realase.