Jika Anda Tidak Punya Kartu Kredit dan Alat Transaksi Online, serta tidak punya keakhlian installasi, kami menawarkan paket siap pakai, meliputi domain, hosting, Tokenbox – Best Security Token Offering Platform (STO), dan tutorial. Silahkan hubungi kami Klik Chat CHAT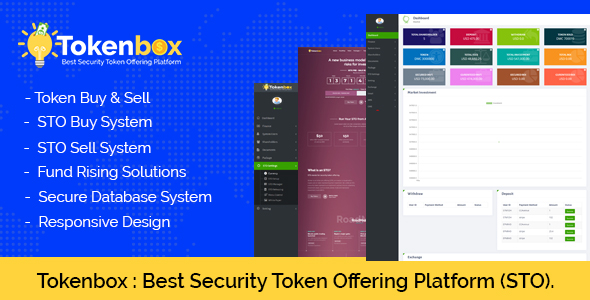 Link Demo :
Demo situs web: https://tokenboxdemo.bdtask-demo.com/
admin super : https://tokenboxdemo.bdtask-demo.com/admin
Panel Pemegang Saham : https://tokenboxdemo.bdtask-demo.com/shareholder
Keterangan :
Sistem Security Token Offering (STO) kami adalah aplikasi web online untuk perdagangan publik token. Sistem ini dikembangkan untuk mengotomatisasi distribusi token & penjualan token. Kami mengembangkan aplikasi web ini untuk membeli dan menjual token dari mana saja. Dalam sistem ini juga memiliki panel pemegang saham & admin dari mana mereka dapat dengan mudah mengontrol dan memantau setiap aktivitas.
Fitur utama :
Tampilkan semua informasi dan menu token di perangkat seluler apa pun dengan ukuran layar yang bervariasi. Misalnya desktop, tablet, smartphone. Dan Multi-Bahasa dapat didukung
Admin panel untuk pemilik token, disini admin dapat melakukan operasi create, read, update, edit dan delete pada menu.
Admin akan dapat membuat penawaran token atau paket baru dan dapat menambahkan peran seperti pengguna sistem, pemegang saham, dan admin.
Admin dapat mengirim satu atau beberapa Email dan SMS ke pengguna dan pemegang saham sekaligus.
Pemegang saham dapat membeli paket dan token dan dapat menukarkan token yang dibeli tersebut.
Pemegang saham dapat memeriksa informasi akun, keuangan, paket, dan pertukaran melalui panel pemegang saham.
Pemegang saham dapat melakukan transaksi apapun, mentransfer dan menarik saldo dengan membuat deposit melalui panel pemegang saham.
Pemegang saham dapat memeriksa riwayat dompet mereka secara sekilas melalui panel pemegang saham
Fitur utamanya adalah Pemegang Saham dapat merujuk ke orang lain. Jika ada yang membeli token dalam jumlah berapapun dari referensi tersebut maka orang yang direferensikan akan mendapatkan persentasenya, besaran persentasenya akan ditentukan oleh admin.
Change Log :01/09/2019

1. Add Two-Factor Authentication
2. Add Shareholder Package Payout List
3. Update Release Coin
4. Mobile Version (Login/Register) Update
5. Category Update
6. Advertisement Update
7. Chart Update

Change Log: 21/08/2019
# landing page - road map – text double – take off - Fixed
# where can change currently i token price in admin - Fixed
# Why there all in all places ADVERTISEMENT text – how can take off? AND not correct displayed %%%% ???? -Fixed
# why this timer not working after one round ends in landing page 0000000 not change to round two  ???