Jika Anda Tidak Punya Kartu Kredit dan Alat Transaksi Online, serta tidak punya keakhlian installasi, kami menawarkan paket siap pakai, meliputi domain, hosting, B2B Marketplace for WooCommerce | B2B Wholesale Plugin, dan tutorial. Silahkan hubungi kami Klik Chat CHAT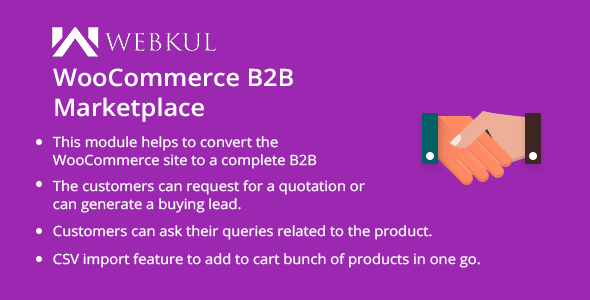 Pasar B2B untuk WooCommerce
Plugin WooCommerce B2B Marketplace dapat mengonversi toko WooCommerce Anda menjadi B2B Marketplace seperti Alibaba, Indiamart, ThomasNet, EC21. Ini akan menciptakan platform online tempat pembeli dan pemasok bisnis di seluruh dunia dapat terhubung dan melakukan transaksi bisnis satu sama lain.
Plugin ini memiliki berbagai fitur bawaan seperti – Buying Leads, Request Quotations (RFQ), Quick Order, Contact Supplier, Supplier Review, dan masih banyak lagi.
Catatan: -Ini didasarkan pada Socket.IO, dan pengguna perlu menginstal node di servernya untuk menggunakan plugin.
Dukung
Pelanggan yang terhormat, jika Anda memiliki pertanyaan/permintaan, silakan ajukan tiket di webkul.uvdesk.com. Kami akan melakukan yang terbaik untuk menjawab secepat mungkin. Jangan beri kami tarif rendah tanpa menghubungi dukungan untuk masalah yang Anda hadapi. Kami selalu senang untuk membantu Anda.
Fitur
Konfigurasi komisi untuk pemasok.
Admin dapat menyetujui pemasok secara otomatis/manual.
Formulir pendaftaran pemasok terpisah.
Pemasok dapat menambahkan produk dari akunnya.
Admin dapat mengonfigurasi jenis produk untuk pemasok.
Admin dapat mengonfigurasi kategori yang diizinkan bagi pemasok untuk menambahkan produk.
Pelanggan dapat mengobrol dengan pemasok.
Kirim permintaan penawaran (RFQ) ke pemasok.
Membeli prospek untuk pemasok.
Pelanggan dapat membuat pesanan cepat.
Dasbor pemasok untuk menganalisis penjualan.
Saluran sosial untuk pemasok.
Profil khusus untuk pemasok.
Bagian kebijakan pemasok.
Bagian informasi kontak pemasok.
Proses verifikasi untuk pemasok.
ChangeLog
"Initial release v 1.0.0" "Current release v 1.1.1"
v 1.1.1
Shipping:
Issue Fixation: Resolved shipping issue.
Added: B2B local pickup shipping and B2B flat rate shipping
Added: Shipping tab in the configuration menu for the seller to show addon shipping.
Enhancement: Improve shipping data for suppliers.

Chat Server:
Enhancement: Improve frontend view for customers.
Enhancement: Improve on click event for customers.

UI Issues:
Enhancement: Improve UI issues at the admin panel.
Issue Fixation: Fixed Loader UI issue.
Enhancement: Improve CSS for our customer view.

Commission :
Enhancement: Improve seller commission view.
Issue Fixation: Fixed old commission view.

Others issues:
Issue Fixation: Fixed configuration issue (data do not save when words exceed 50 words)
Added: Quick order code improved.

General:
Issue Fixation: Remove all general fatal errors.
Issue Fixation: Fixed all warning issues.

v 1.1.0
Added: Tier Based Pricing feature.
Fixed: Security issues.

v 1.0.0
Initial release