King Theme is a WordPress viral magazine theme designed to help your content go viral with features like community user submissions for news, videos, images, polls, and trivia quizzes. It has a user profile page, follow system, share buttons, hot and trending lists, and multiple ad locations. The theme comes with 12 post listing templates, 6 header templates, and other customization options like night mode and user badges. It is SEO optimized, compatible with multiple plugins, and has various updates for bug fixes and feature additions like AI content creation, Reddit share option, and membership functionality.
Untuk Membantu Anda Yang Tidak Punya Alat Transaksi Online Seperti Kartu Kredit, Paypal, Dll. Juga Tidak MEmahami Hosting, Cara Installasi, dan Setting Awal. SHOP.co.id, menawarkan paket Siap Pakai, meliputi : Pembelian Script atau Theme, Domain, Hosting, dan Installasi. Bukan hanya itu, kami juga memberikan tutorial dan support.
Jika Anda Membeli dari Sumbernya langsung, Anda Wajib punya alat transaksi online, Keakhlian Installasi, Memahami Jenis Hosting, dan Juga Hal Teknik lainnya.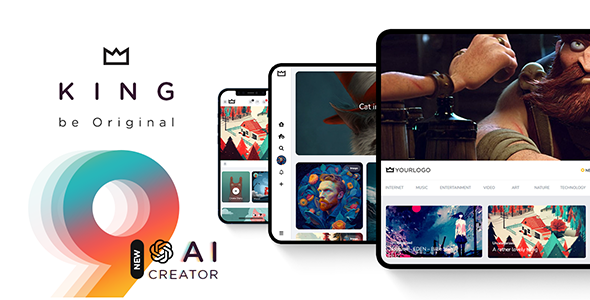 King adalah Tema WordPress Majalah Viral dirancang untuk membantu konten Anda menjadi viral… Tema King memiliki fitur unik, memungkinkan pengguna komunitas untuk mengirimkan berita, video, gambar, daftar, jajak pendapat, dan kuis trivia, dan dilengkapi dengan halaman profil pengguna, ikuti sistem, tombol berbagi, daftar panas dan tren dan beberapa lokasi iklan dan banyak lagi… semuanya termasuk dalam tema, tidak diperlukan plugin. Jika Anda ingin membuat situs web Anda lebih interaktif, King Theme memiliki banyak fitur bagus di area ini. Tema King adalah mahakarya modern yang akan mengubah situs web Anda menjadi situs web viral yang ideal. Jadi diri sendiri dengan Tema Raja Viral…
King – Fitur Tema WordPress Majalah Viral
Desain responsif 100%.
Retina siap
Profil Pengguna Viral
Posting seperti sistem
Posting Reaksi
Reaksi Komentar
Pengeditan posting front-end
Terjemahan yang mudah
Grup Pengguna
Lencana Pengguna
Papan Peringkat Pengguna
Pengguna Terverifikasi
12 Templat daftar kiriman
6 Templat Tajuk
Kategori dan Tag ikuti
Penggeser mini
Pilihan Editor
Tampilan Lightbox Galeri
Kategori yang berbeda untuk format posting yang berbeda
Pencarian Langsung
Notifikasi Langsung
Simpan Posting sebagai Draf
Mode malam
Widget Youtube
Login Sosial (facebook, google+)
Tombol Berbagi Sosial dan penghitung berbagi
Penghitung tampilan
Penggeser
Mendukung NSFW
Pengajuan Viral Frontend
Kompatibilitas lintas browser
Pengguna mengikuti sistem
Pengguna, Dasbor, Panas, Trending, halaman
SEO dioptimalkan
Kompatibel dengan plugin SEO
Dioptimalkan untuk Google PageSpeed
Terjemahan siap
Dukungan untuk artikel multi halaman
widget khusus,
DAN BANYAK LAGI FITUR…
King – Tema Viral Magazine WordPress Menggunakan Teknologi
PEMBARUAN
V9.1

     NEW! - added AI content and image creator
     NEW! - added Reddit share option
     NEW! - added Youtube short video submission ,
     FIX -  fixed some bugs

V9

     NEW! - added new 4 demo 
     NEW! - added 3 new header templates
     NEW! - added 4 new post templates
     NEW! - added new link & affiliates format
     NEW! - added customize post layout for every pages,
     NEW! - added new ad-free mode
     NEW! - added new slider
     FIX -  fixed some bugs

V8

     NEW! - added Collections.
     NEW! - added new slider layouts.
     NEW! - added new social logins ( instagram, twitter, reddit and vk ).
     NEW! - added new widgets.
     NEW! - added new MAGAZINE demo.
     NEW! - added new header layout.
     NEW! - added new 3 post layout.
     NEW! - added megamenu cover and description.
     NEW! - added share button for posts.
     NEW! - redesigned footer.
     FIX - Improved RTL
     FIX - compatible with php8.1
     Fixed Some bugs

V7.5.3

     NEW! - added new template options for all pages.
     FIX - fixed stories bugs
     Fixed Some bugs

V7.5.2

     FIX - fixed flags dropdown for admin
     FIX - fixed android bug with stories
     FIX - Improved stories
     Fixed Some bugs

V7.5.1

     NEW! - added flags to posts and comments
     NEW! - added new font styles to stories
     NEW! - added moderate stories and featured stories
     NEW! - added webp image support for front end 
     fixed Some bugs

V7.5

     NEW! - added stories
     NEW! - added categories and tags with mega menu to header
     NEW! - changed google+ to instagram
     fixed Some bugs

V7.1

     NEW! - added homepage login and register option
     NEW! - added use wordpress default login and register option
     NEW! - added lazyload for images
     NEW! - added NSFW for lists, polls and trivia quiz
     fixed Some bugs

V7.0.2

     NEW! - added Share buttons to Quiz and Poll
     fixed Some bugs

V7

     NEW! - added New post types Lists, Poll, Trivia Quiz 
     NEW! - added Gifs to comments
     NEW! - added Emojis to comments
     NEW! - added Down and up votes
     NEW! - added Post favorite button
     NEW! - added new grid style for featured posts
     NEW! - added post badges style
     NEW! - added post page styles for trivia quiz and poll post types
     NEW! - added votes to comments
     NEW! - added infinite loader for comments
     NEW! - Improved comments
    NEW! - submit button styles
     fixed Some bugs

V6.5

     NEW! - added Membership
     NEW! - updated profile
     NEW! - added tooltips
     fixed Some bugs

V6.3

     NEW! - added Kingflix Demo
     NEW! - added new theme options
     fixed Some bugs

V6.2

     NEW! - added new header layout
     NEW! - added new post layout
     NEW! - added new KingTube demo
     NEW! - added one click demo import
     NEW! - categories in mini slider
     fixed Some bugs

V6.1

     fixed Some bugs

V6

     NEW! - added bookmarks
     NEW! - added newsletter popup
     NEW! - added mega menu for header
     NEW! - added headerstrip
     NEW! - added GDPR cookies popup
     NEW! - added instagram widget
     NEW! - added copy link for posts
     fixed some bugs

V5.5

     NEW! - added new Music post format
     NEW! - added creating playlist
     NEW! - added new header templates
     NEW! - added more options for posts
     fixed some bugs

V5.2

     NEW! - added tiktok video submission
     NEW! - added spotify submission
     NEW! - added category for specific post format
     NEW! - added video for homepage
     NEW! - added youtube widget
     fixed Some bugs

V5.1

     NEW! - added gallery lightbox option
     NEW! - added new gallery options for photos
     +3 new grid template for slider
     fixed Some bugs

V5

     NEW! - added new templates
     NEW! - +5 new header template
     NEW! - +12 new post templates
     NEW! - +3 new pagination options
     NEW! - +1 new grid template for slider
     NEW! - added new sidebar templates
     NEW! - added new search layout for header
     NEW! - added live search option
     NEW! - added new social share layout
     NEW! - added user groups options and group permissions
     NEW! - added user search option for search page
     NEW! - added templates page in theme options
     fixed some bugs

V4

     NEW! - added notifications
     NEW! - added tags and categories follow
     NEW! - added text translation
     created new users page
     improved user dashboard page
     NEW! - added new options in theme settings
     removed google+
     fixed some bugs

V3.2

     fixed Some bugs

V3.1

     NEW! - added editors' choice badge color change
     fixed css bugs
     fixed Some bugs

V3

     NEW! - added new featured posts grid templates
     NEW! - added new mega menu for header
     NEW! - added night mode
     NEW! - added save post feature
     NEW! - added editor's choice
     NEW! - added mini slider
     NEW! - added badges for menu items
     Fixed Some bugs

V2.5

     NEW! - added 11 new single post templates
     NEW! - added new categories page
     NEW! - added category and tags icon and background image
     NEW! - added allowed emails for register page
     NEW! - added instagram and pinterest social links for user profiles
     Fixed Some bugs

V2.1

     NEW! - added colors for categories
     NEW! - added customize option to categories menu on header
     NEW! - added envato market plugin
     updated woocommerce files
     Fixed Some bugs

V2

     NEW! - added Google AMP
     NEW! - added Facebook instant articles
     NEW! - added User badges
     NEW! - added User Leaderboards
     NEW! - added Reactions without comments
     NEW! - added Badges page
     NEW! - added New Widget
     NEW! - added Sponsored post option
     NEW! - added Ad Post
     NEW! - added Post delete option in post edit
     NEW! - added some new theme options
     Fixed Some bugs

V1.9

     Improved WooCommerce
     NEW! - added subcategories in submit page
     Fixed Some bugs

V1.8

     NEW! - added WooCommerce Support
     NEW! - added url in user settings
     NEW! - added social links in author box
     Updated Acf Pro Plugin
     NEW! - added new theme options
     Fixed Some bugs

V1.7

     NEW! - added floating video
     NEW! - added Embed code support
     Updated Acf Pro Plugin
     Fixed Some bugs

V1.6.1 – Pembaruan Perbaikan Bug

     NEW! - added Header Nav Options
     Updated Acf Pro
     Fixed Some bugs

V1.6

     NEW! - added Front-end post edit
     NEW! - added shortcodes support to ad areas
     NEW! - added Rtl option
     NEW! - added max file upload option
     Updated Acf Pro
     Fixed Some bugs

V1.5.2

     NEW! - added Modal Login
     NEW! - added default avatar and cover image
     Fixed Some bugs

V1.5.1

     NEW! - added Users Points System
     NEW! - added Fake likes count
     Fixed Some bugs

V1.5

     NEW! - added Fake View Count Option
     NEW! - added More customization options
     Fixed Some bugs

V1.4

     NEW! - added Private Message System
     NEW! - added Message Notify on header
     NEW! - added Login redirect option
     Fixed reset password issues
     Fixed Some bugs

V1.3

     NEW! - added new theme options
     Fixed some bugs

V1.2

     NEW! - added reactions page
     NEW! - added Whatsapp share button for mobile view
     Fixed some bugs

V1.1

     NEW! - added video upload option (mp4, flv)
     NEW! - added mp3 music file upload
     NEW! - added custom video and audio player
     NEW! - added demo content
     Fixed some bugs