The Kapee WordPress theme is a fast, clean, highly customizable, and responsive theme suitable for all types of WordPress websites including fashion, electronics, furniture, accessories, and more. It is compatible with popular page builders, such as WPBakery and Revolution Slider, and supports multi-vendor marketplaces like Dokan, Vendor WC, WC Marketplace, and WCFM. Some of its key features include AJAX search, instant product filtering, product comparison, wishlist, powerful e-commerce features, and multi-language support. This theme is designed to optimize website performance and speed, making it an excellent choice for users with any level of coding knowledge.
Untuk Membantu Anda Yang Tidak Punya Alat Transaksi Online Seperti Kartu Kredit, Paypal, Dll. Juga Tidak MEmahami Hosting, Cara Installasi, dan Setting Awal. SHOP.co.id, menawarkan paket Siap Pakai, meliputi : Pembelian Script atau Theme, Domain, Hosting, dan Installasi. Bukan hanya itu, kami juga memberikan tutorial dan support.
Jika Anda Membeli dari Sumbernya langsung, Anda Wajib punya alat transaksi online, Keakhlian Installasi, Memahami Jenis Hosting, dan Juga Hal Teknik lainnya.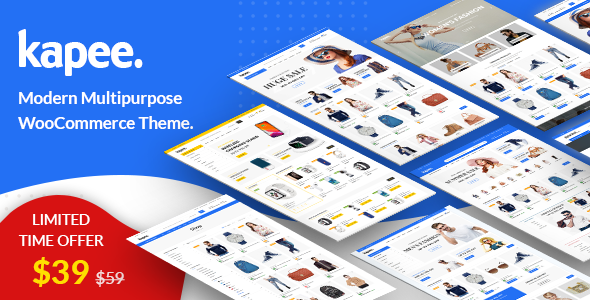 Kapee adalah tema WordPress yang cepat, bersih, sangat dapat disesuaikan, dan responsif. Tema ini cocok untuk semua jenis toko seperti Fashion, Elektronik, Furnitur, Aksesori atau cocok untuk segala jenis situs web WordPress.
Tema kapee kompatibel dengan WPBakery Page Builder, Revolution Slider, dan lainnya. Tema kami terlihat bagus di platform apa pun, sepenuhnya responsif dan siap untuk Retina. Mudah digunakan, mengagumkan dan kuat. Anda akan dapat membangun situs web Anda dalam sekejap tanpa pengetahuan pengkodean.
Versi 1.5.7 keluar – 11 April 2023

Kompatibel dengan WordPress 6.xx

Kompatibel dengan WooCommerce 7.xx

Dukungan Bahasa RTL Melihat

Kompatibel dengan Dokan Multivendor Marketplace Melihat

Kompatibel dengan Vendor WC Melihat

Kompatibel dengan Pasar WC Melihat

Pasar WCFM Melihat

Manajer Frontend WooCommerce Melihat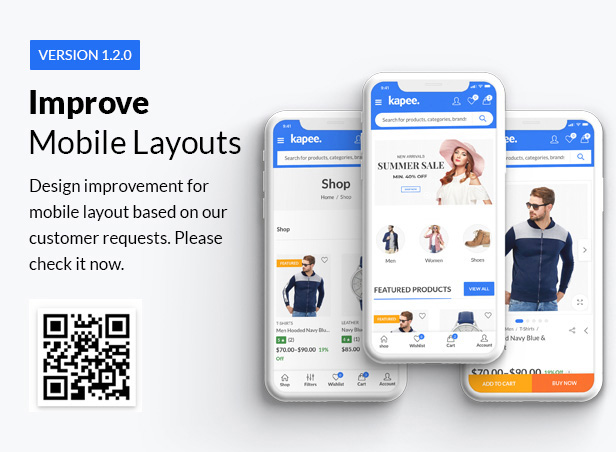 Fitur E-niaga yang Kuat
Pencarian Ajax:Masukkan kata kunci ke dalam kotak pencarian untuk menemukan item yang diberi tag.
Membandingkan:Gabungkan item yang berbeda pada perbandingan layar penuh yang mendetail.
Tambahkan ke Daftar Keinginan b Indonesia:Tambahkan item ke daftar keinginan favorit Anda hanya untuk menonton lebih baik.
Dari keranjang kanvas:Gerobak dilepas dari kanvas untuk menghemat lebih banyak ruang.
Beli Bersama:Tingkatkan penjualan Anda dengan rekomendasi produk yang dipersonalisasi.
Panduan Ukuran:Opsi Panduan Ukuran untuk semua produk.
Teks Penawaran:Tambahkan beberapa penawaran khusus untuk produk.
Teks Layanan:Tambahkan beberapa layanan khusus untuk produk.
Multi-Vendor:Plugin multi vendor yang didukung penuh (Dokan, vendor Wc, Wc MarketPlace, WCFM).
Gaya Tinjauan Lanjutan
Video Produk
Fitur utama
Desain Bersih dan Modern
WordPress Siap
WooCommerce Siap
Tajuk Lengket Cerdas.
Seret & Jatuhkan Pembuat Halaman WPBakery
Maju Mega Menu
Tidak ada batasan. Tata letak yang rumit, menu, latar belakang, kode pendek, dan apa pun yang Anda butuhkan siap untuk Anda dengan tema Kapee untuk merancang menu mega yang Anda inginkan. Bayangkan saja dan kemudian dengan mudah mendesain menu mega dengan WPBakery Page Builder.
Toko Lanjutan
Tema ini menghadirkan opsi lengkap untuk membangun dan toko online. Tema ini Didukung oleh WooCommerce, platform eCommerce paling populer. Tema ini didasarkan pada desain modern dan minimal menggunakan teknologi ajax memberikan pengalaman yang sangat unik dan praktis bagi pengguna. Tema ini adalah cocok untuk semua jenis toko seperti Fashion, Elektronik, Furnitur, Aksesori atau jenis lain yang dikenal.
Pencarian ajax instan
Multi-Vendor
Munculan Tampilan Cepat
Daftar Keinginan YITH
AJAX tambahkan ke troli
5 efek hover item toko yang berbeda
Tidak Perlu Pengetahuan Pengodean.
Sangat dapat disesuaikan
Kompatibel dengan WPML
Tema Kapee dapat dengan mudah diterjemahkan dengan menggunakan file po dan mo atau Anda dapat menggunakan Plugin WPML jika diperlukan, Jadi tema juga tersedia dalam bahasa Anda.
Performa Tinggi
Pentingnya naik di halaman hasil pencarian dan kecepatan memuat situs jelas bagi semua orang; Pengguna akan menemukan yang dibuat dan dirancang dengan perhatian yang signifikan untuk menghadirkan kinerja kecepatan tinggi untuk situs web mereka. Kami membuat sangat cepat dan kuat untuk digunakan.
Bangun dengan HTML5 dan CSS3
Plugin Premium Gratis.
100% Sepenuhnya Responsif
Kontrol Tipografi.
Google Font disertakan
Tipkit Integrasi font
Opsi font khusus
RTL Mendukung
Retina siap
Importir Demo Satu Klik
Cara termudah dan tercepat untuk membangun situs web Anda, satu klik mengimpor posting, halaman, widget, Slider, opsi tema, dan lainnya!
Gaya Portofolio Tingkat Lanjut
Warna Tidak Terbatas Anda dapat mengubah seluruh tema warna webiste Anda hanya dengan beberapa klik. Pilih warna Anda dari pemilih warna dan selesai.
Widget Kustom

Daftar Postingan
Tab Posting
Tulisan Terbaru
komentar terbaru
Portofolio
Tentang kami
Pengarang
Buletin
Tautan Sosial
Instagram
Twitter
Halaman Facebook
Flickr
Produk
Tab Produk
Produk yang Dilihat Terbaru
Filter Atribut
Merek Produk
Penyortiran Produk
Daftar Filter Harga

Format Posting Kustom
Kapee mendukung format posting blog khusus berikut:
Standar, Gambar, Galeri, Video, Audio, Kutipan, Tautan
Terjemahan SiapTema ini sepenuhnya siap untuk diterjemahkan ke bahasa apa pun menggunakan file po dan mo.
SEO Siapkompatibel dengan plugin seperti all in one SEO atau Yoast
Tema Anak Siap -Buat tema mulai dari memasukkan tema anak boneka.
Template Halaman Kustom & Opsi Halaman Termasuk
Banyak Shortcode yang Berguna

Menu Vertikal/Kategori
Blok Menu
Instagram
Twitter
Dan Lainnya…

Maju Opsi Tema Panel
Kode HTML5 dan CSS3 yang valid.
Kompatibel dengan Plugin WPML.
Formulir Kontak 7 Kompatibel.
Dukungan Peramban Lintas Modern.
Berbagi Sosial Siap.
Siap Multibahasa.
Dukungan Khusus
Dokumentasi Online dan Offline disertakan.
Dan masih banyak lagi fitur….
Catatan
Semua gambar hanya digunakan untuk Tujuan Pratinjau Saja. Itu bukan bagian dari tema dan TIDAK termasuk dalam file pembelian akhir.
UBAH LOG
Versi 1.5.7 – 04-11-2023

ADDED : Option Social icon Show/Hide in Mobile Layout
ADDED : Option By Default Product Hover in Mobile
ADDED : WordPress Compatible 6.2
ADDED : WooCommerce Compatible 7.5.1
IMPROVED : Mobile Language & Currency Switcher CSS
UPDATED : Kapee Extensions Plugin 1.2.7
UPDATED : Revolution Slider 6.6.12
UPDATED : Language POT File
FIXED : Post Ajax Search Issue
FIXED : Minor CSS Issue
FIXED : Minor RTL CSS Issue

Versi 1.5.6- 03-02-2023

ADDED : WooCommerce Compatible 7.4.1
UPDATED : Revolution Slider 6.6.11
UPDATED : Language POT File
FIXED : Countdown Timer Issue
FIXED : Cookie Notice Issue
FIXED : Bootstrap Vulnerabilities Detected Issue
FIXED : Quick View Variation Image Issue
FIXED : Minor CSS Issue
FIXED : Minor RTL CSS Issue

Versi 1.5.5 – 02-04-2023

ADDED : NEW FEATURE Mobile Navbar Color Light/Dark Option
ADDED : WooCommerce Compatible 7.3.0
IMPROVED : Theme Activation Security 
UPDATED : Revolution Slider 6.6.10
UPDATED : Language POT File
FIXED : Minor CSS Issue
FIXED : Minor RTL CSS Issue

Versi 1.5.4 – 01-06-2023

ADDED : WooCommerce Compatible 7.2.2
IMPROVED : WCMP Currency Switcher Style
UPDATED : Revolution Slider 6.6.8
FIXED : Size Chart Load Issue
FIXED : Minor CSS Issue
FIXED : Minor RTL CSS Issue

Versi 1.5.3 – 15-12-2022

ADDED : WooCommerce Compatible 7.2.0
IMPROVED : Size Chart Template
UPDATED : Language POT File
FIXED : Minor CSS Issue
FIXED : Minor RTL CSS Issue

Versi 1.5.2 – 12-06-2022

ADDED : WordPress Compatible 6.1.1
UPDATED : Revolution Slider 6.6.7
UPDATED : Kapee Extensions Plugin 1.2.6
IMPROVED : Ajax Search
FIXED : Minor CSS Issue

Versi 1.5.1 – 11-12-2022

ADDED : WordPress Compatible 6.1
ADDED : WooCommerce Compatible 7.1.0
UPDATED : WPBakery Page Builder 6.10.0
UPDATED : Revolution Slider 6.6.5
UPDATED : Language POT File
FIXED : Minor CSS Issue

Versi 1.5.0 – 10-07-2022

ADDED : NEW FEATURE Checkout Process Step With Option
ADDED : NEW FEATURE Newsletter Pop-up Version Option
ADDED : Product Thumbnail in Group Product
ADDED : Product Thumbnail in Checkout Page
ADDED : COMPATIBLE TranslatePress - Multilingual Plugin
ADDED : COMPATIBLE Notification for WooCommerce Plugin
ADDED : COMPATIBLE Back In Stock Notifier for WooCommerce Plugin
ADDED : WooCommerce Compatible 6.9.4
IMPROVED : Search Pop-up
UPDATED : Revolution Slider 6.6.1
UPDATED : Language POT File
UPDATED : WPML Config File
FIXED : Minor CSS Issue
FIXED : Minor RTL CSS Issue

Versi 1.4.9 – 19-09-2022

ADDED : WooCommerce Compatible 6.9.2

Versi 1.4.8 – 09-01-2022

ADDED : WordPress Compatible 6.0.2
ADDED : WooCommerce Compatible 6.8.2
UPDATED : Revolution Slider 6.5.31
UPDATED : Kapee Extensions Plugin 1.2.5
FIXED : Portfolio Issue
FIXED : Rating Star Font Issue in RTL
FIXED : Dokan Tooltip Issue
FIXED : Minor RTL CSS Issues
FIXED : Minor CSS Issues

Versi 1.4.7 – 08-11-2022

ADDED : WooCommerce Compatible 6.8.0
UPDATED : Kapee Extensions Plugin 1.2.4
FIXED : Toggle Issue in Custom Widget Area
FIXED : Ajax search by SKU Issue

Versi 1.4.6 – 15-07-2022

ADDED : WordPress Compatible 6.0.1
ADDED : New Class in Product Loop 
ADDED : WooCommerce Compatible 6.7.0
UPDATED : Kapee Extensions Plugin 1.2.3
UPDATED : Revolution Slider 6.5.25
FIXED : Our of Stock Label issue in Single Product
FIXED : PHP Error

Versi 1.4.5 – 06-07-2022

ADDED : WordPress Compatible 6.0
ADDED : WooCommerce Compatible 6.5.1
UPDATED : Revolution Slider 6.5.24
UPDATED : Kapee Extensions Plugin 1.2.2
FIXED : Hot Deal Element Issue
FIXED : WCFM Sidebar Toggle Issue
FIXED : Menu Hover Transition Issue
FIXED : Minor CSS Issues

Versi 1.4.4 – 05-03-2022

ADDED : WooCommerce Compatible 6.4.1
UPDATED : WPBakery Page Builder 6.9.0
UPDATED : Revolution Slider 6.5.21
FIXED : Number of Quantity Not Added In Cart After LoadMore Products
FIXED : My Account Page in Mobile(Responsive) View
FIXED : Free Shipping Percentage Decimal Point issue
FIXED : Minor RTL CSS Issues
FIXED : Minor CSS Issues

Versi 1.4.3 – 04-09-2022

ADDED : WordPress Compatible 5.9.3
ADDED : WooCommerce Compatible 6.3.1
UPDATED : Revolution Slider 6.5.19
FIXED : Embed Code not Working in Product Short Description
FIXED : Minor RTL CSS Issues
FIXED : Minor CSS Issues

Versi 1.4.2 – 02-11-2022

ADDED : WordPress Compatible 5.9.0
ADDED : WooCommerce Compatible 6.2.0
UPDATED : Theme Activation Security
UPDATED : Revolution Slider 6.5.15
FIXED : Minor RTL CSS Issues
FIXED : Minor CSS Issues

Versi 1.4.1 – 20-01-2022

ADDED : WooCommerce Compatible 6.1.0
FIXED : Mobile Sticky Header Logo Issue
FIXED : RTL CSS Issues

Versi 1.4.0 – 01-10-2022

ADDED : New Feature 4 Product Gallery Layouts
ADDED : New Feature Product Quantity Input in Archive Page
ADDED : New Feature Product Quantity Input in Mini Cart
ADDED : New Feature Free Shipping Bar in Mini Car and Cart Page
ADDED : New Feature 360 Degree View Product Image
ADDED : New Feature Header Sticky When Scroll Up
ADDED : New Feature Sticky Add To Cart Button When Scroll Down
ADDED : New Feature Promo Bar On Top or Bottom With Options 
ADDED : New Feature Sekeleton Animation Effect
ADDED : New Element Products Catagory Tab
ADDED : New PLS Font Library
ADDED : Option Hide Product Count in Category Element
ADDED : TikTok Profile Icon
ADDED : WordPress Compatible 5.8.3
ADDED : WooCommerce Compatible 6.0.0
IMPROVED : Site Performance
IMPROVED : Single Product Page Structure 
IMPROVED : Product Gallery Layout
IMPROVED : Product QuickVIew Layout
IMPROVED : Prodcut Countdonw Design & Position
IMPROVED : Cart Page Structure
UPDATED : Kapee Extensions Plugin 1.2.0
UPDATED : WPBakery Page Builder 6.8.0
UPDATED : Revolution Slider 6.5.14
UPDATED : Dokan Compatible 3.3.5
UPDATED : Dokan Pro Compatible 3.4.4
UPDATED : WC Marketplace Compatible 3.8.5
UPDATED : WC Vendors Marketplace Compatible 2.3.2
UPDATED : WC Vendors Pro Compatible 1.8.0
UPDATED : WCFM - WooCommerce Frontend Manager Compatible 6.6.1
UPDATED : WCFM - WooCommerce Multivendor Marketplace Compatible 3.5.0
UPDATED : Latest JS Library
UPDATED : Latest CSS Library
UPDATED : Sample Data
UPDATED : Documentation
UPDATED : Language POT File
UPDATED : WPML Config File
REMOVED : Simple Line Icon Library
REMOVED : Kapee Font Library
REMOVED : WooCommerce cart.php Template File
FIXED : PHP Error When Data Import Time
FIXED : Mobile Navbar Filter Sidebar Canvas Issue
FIXED : Product Countdonw Style Issue in Related Products
FIXED : Product Countdonw Hover Issue in Shop Listing Page
FIXED : Product Review Pagination Issue
FIXED : Kapee Tab Title Hide Issue in Mobile Device
FIXED : Product Gallery Action Buttons Position Issue
FIXED : Newsletter Background Image Not Remove Issue
FIXED : Tab Not Display In Mobile Layout
FIXED : Minor RTL CSS Issues
FIXED : Minor CSS Issues

Versi 1.3.16 – 12-06-2021

ADDED : WordPress Compatible 5.8.2
ADDED : WooCommerce Compatible 5.9.0
UPDATED : Revolution Slider 6.5.11
FIXED : Site Preloader Issue in FireFox
FIXED : Toggle Widget Menu Icon Issue

Versi 1.3.15 – 26-10-2021

ADDED : WooCommerce Compatible 5.8.0
ADDED : Show Count Option in Product & Category Box Element
ADDED : Show Empty Category in Element Category Dropdown Option
UPDATED : Kapee Extensions Plugin 1.1.7
UPDATED : Revolution Slider 6.5.9
FIXED : Hide Empty Category Option In Product Category Element
FIXED : Twise Social Login Buttons When Pro verison of Nextend Social Login Plugin
FIXED : Redux Security Issue
FIXED : Minor Bug

Versi 1.3.14 – 20-09-2021

ADDED : WordPress Compatible 5.8.1
UPDATED : Revolution Slider 6.5.8
FIXED : Theme Activation Issue

Versi 1.3.13 – 18-08-2021

ADDED : WordPress Compatible 5.8
ADDED : WooCommerce Compatible 5.6.0
FIXED : Header Top Bar Newsletter PopUp Open on Click
FIXED : Disabled Canvas Sidebar on Vendor Page
FIXED : Disabled Widgets Block Editor - WP 5.8
FIXED : Minor Bug
UPDATED : Revolution Slider 6.5.6
UPDATED : WPBakery Page Builder 6.7.0

Versi 1.3.12 – 20-06-2021

ADDED : WordPress Compatible 5.7.2
ADDED : WooCommerce Compatible 5.4.1
UPDATED : Revolution Slider 6.5.2

Versi 1.3.11 – 05-02-2021

ADDED : WordPress Compatible 5.7.1
ADDED : WooCommerce Compatible 5.2.2
ADDED : Filter for Change Variation Product Price
FIXED : WPSCript Notice for Localize File
FIXED : Product Custom Tab Visual Editer Issue

Versi 1.3.10 – 23-03-2021

ADDED : WordPress Compatible 5.7.0
ADDED : WooCommerce Compatible 5.1.0
UPDATED : Revolution Slider 6.4.6

Versi 1.3.9 – 24-02-2021

ADDED : WordPress Compatible 5.6.2
ADDED : WooCommerce Compatible 5.0.0
UPDATED : Kapee Extensions Plugin 1.1.6
UPDATED : WPBakery Page Builder 6.6.0
UPDATED : Revolution Slider 6.4.1
FIXED : Products Search by SKU

Versi 1.3.8 – 24-12-2020

ADDED : Display Dynamic Current Year in Copyright Footer
ADDED : WordPress Compatible 5.6
ADDED : WooCommerce Compatible 4.8.0
UPDATED : Dummy Data
UPDATED : Kapee Extensions Plugin 1.1.5
UPDATED : WPBakery Page Builder 6.5.0
UPDATED : Revolution Slider 6.3.4
FIXED : Products Filter By Price Issue
FIXED : Product Gallery Zoom Option
FIXED : Product Gallery Lightbox Option
FIXED : Product Gallery Thumbnail Issue
FIXED : Theme Option PHP Warning Issue
FIXED : Admin Appearance > Customize Options Issue
FIXED : Minor RTL CSS Issues
FIXED : Minor CSS Issues

Versi 1.3.7 – 11-12-2020

ADDED : WordPress Compatible 5.5.3
ADDED : WooCommerce Compatible 4.7.0
UPDATED : Kapee Extensions Plugin 1.1.4
UPDATED : Redux Framework 4.x
FIXED : Frequently Bought Together Variation Issue
FIXED : Pagination Infinite Loading Issue
FIXED : Redux Framework Theme Option Issue

Versi 1.3.6 – 27-10-2020

ADDED : Option Breadcrumbs Position in Product Page
ADDED : Option Products Per Row - Small Desktop in Related/Up-Sells/Rviewed Carousel
ADDED : Option Products Per Row - Tablet in Related/Up-Sells/Rviewed Carousel
ADDED : Option Products Per Row - Mobile in Related/Up-Sells/Rviewed Carousel
ADDED : Option Products Per Row - Small Mobile in Related/Up-Sells/Rviewed Carousel
ADDED : WooCommerce Compatible 4.6.1
UPDATED : Kapee Extensions Plugin 1.1.3
UPDATED : WPBakery Page Builder 6.4.1
UPDATED : Language POT File
FIXED : Gallery Image Change Issue Using Product Variation Switch
FIXED : Product Blank Review Issue
FIXED : Wishlist Icon Issue on Ajax Filter
FIXED : Minor RTL CSS Issues
FIXED : Minor CSS Issues

Versi 1.3.5 – 21-09-2020

ADDED : Filter - kapee_single_product_highlights_label
ADDED : Filter - kapee_single_product_services_label
ADDED : Filter - kapee_single_product_sizechart_label
ADDED : Filter - kapee_product_sizechart_popup_title
ADDED : Loader Added on Product Buy Now Button
ADDED : WordPress Compatible 5.5.1
ADDED : WooCommerce Compatible 4.5.2
UPDATED : Language POT File
UPDATED : WPBakery Page Builder 6.4.0
UPDATED : Revolution Slider 6.2.23
FIXED : SKU Duplicate Live Search Issue
FIXED : Variable White Swatch Color Issue
FIXED : Lazy load Images Issue in Mobile
FIXED : Review Link Scrolling Issue in Mobile
FIXED : Minor RTL CSS Issues
FIXED : Minor CSS Issues

Versi 1.3.4 – 19-08-2020

ADDED : WooCommerce Compatible 4.4.0
ADDED : Filter kapee_header_myaccount_signinup_text
UPDATED : Language POT File
FIXED : Mobile Header Height Issue
FIXED : Login/Register Popup Responsive Issue
FIXED : Multi Step Checkout Login Button Loading issue
FIXED : Multi Step Checkout Page Signup Button Issue
FIXED : Minor RTL CSS Issues
FIXED : Minor CSS Issues

Versi 1.3.3 – 18-08-2020

FIXED : Buy Now Button Issue

Versi 1.3.2 – 18-08-2020

ADDED : Loader Added in Multi Step Checkout Button
ADDED : Blog Carousel Element 4 Rows in desktop
ADDED : WordPress Compatible 5.5
ADDED : WooCommerce Compatible 4.3.3
UPDATED : Kapee Extensions Plugin 1.1.2
ADDED : YITH WooCommerce Wishlist Compatible 3.0.13
UPDATED : Revolution Slider 6.2.21
UPDATED : Language POT File
FIXED : Internal Explorer Issue
FIXED : Mega Menu Issue
FIXED : Page Options Not Appear in Admin Side
FIXED : Variable White Color Border Issue
FIXED : Variable Product Wishlsit Loader Issue
FIXED : Minor RTL CSS Issues
FIXED : Minor CSS Issues

Versi 1.3.1 – 08-04-2020

ADDED : Option Show/Hide login/register on mobile menu header
ADDED : Option Show/Hide Blog Page Content
ADDED : WooCommerce Compatible 4.3.1
IMPROVED : Mini Cart Popup Design
UPDATED : Kapee Extensions Plugin 1.1.1
UPDATED : Language POT File
UPDATED : Sample Data
FIXED : WooCommerce Password strength Issue in Checkout page
FIXED : Minor RTL CSS Issues
FIXED : Minor CSS Issues

Versi 1.3.0 – 17-07-2020

ADDED : NEW DEMO - Electronics
ADDED : NEW FEATURE Product View Mode Vertical/Horizontal Options In Elements
ADDED : NEW FEATURE Blog View Mode Vertical/Horizontal Options In Elements
ADDED : NEW FEATURE Hot Deal Products Progressbar in Hot Deal Products Elements
ADDED : NEW FEATURE Highlighted with Border in Hot Deal Products Elements
ADDED : NEW FEATURE Deal With Timer in Hot Deal Products Elements
ADDED : NEW FEATURE Comapre Icon with Count On Header
ADDED : NEW FEATURE MyAccount/Profile Menu Dynamic
ADDED : NEW FEATURE Ajax Mini Search Popup
ADDED : Socail Login/Signup Using Nextend Social Login
ADDED : Filter - Display MyAccount/Profile Menu Login/Logout User
ADDED : Filter - "SHOPPING NOW" - kapee_empty_mini_cart_button_text
ADDED : Filter - kapee_products_cart_icon
ADDED : Filter - kapee_mobile_products_cart_icon
ADDED : Option 2 Footer Layouts One and Two Column
ADDED : Option Enable/Disable Product Live/Ajax Search 
ADDED : Option Enable/Disable Mobile Categries Menu
ADDED : Option Enable/Disable Product Hover Tooltip
ADDED : Option Show/Hide Language Switcher on Header 
ADDED : Option Show/Hide Currency Switcher on Header
ADDED : Option Show/Hide Login/Register on Header
ADDED : Option Show/Hide Categories Menu on Header
ADDED : Option Show/Hide Cart Icon on Header
ADDED : Option Show/Hide Wishlist Icon on Header
ADDED : Option Show/Hide Comapre Icon on Header
ADDED : Option Show/Hide Ajax Search bar on Header
ADDED : Option New Label Color
ADDED : Option Show/Hide Product Header
ADDED : Option Show/Hide Product Sorting
ADDED : Option Enable/Disable Single Product Gallery Lightbox
ADDED : Option Dynamic Mobile Navbar Label Icon
ADDED : Option Show/Hide Product Count in Kapee Attribute Filter Widget
ADDED : WooCommerce Compatible 4.3.0
ADDED : Dokan Compatible 3.0.5
ADDED : WC Marketplace Compatible 3.5.3
ADDED : WCFM - WooCommerce Frontend Manager Compatible 6.5.1
IMPROVED : Mobile Bottom Navbar
IMPROVED : Mobile Header Style
UPDATED : Dokan, WCMP, WCVENDOR Demo Home Pages Sections Design 
UPDATED : Blog Design
UPDATED : Blog Theme Options
UPDATED : Demo Content
UPDATED : Language POT File
UPDATED : Kapee Extensions Plugin 1.1.0
UPDATED : Owl Carousel v2.3.4
UPDATED : Revolution Slider 6.2.17
UPDATED : Sample Data
UPDATED : Documentation
REMOVED : 2 Blog Style
FIXED : My Account Page Adress Issue
FIXED : Mobile Menu Toggle Iphone Issue
FIXED : Twice Logo in Mobile Sticky Header
FIXED : Minor RTL CSS Issues
FIXED : Minor CSS Issues

Versi 1.2.4 – 23-06-2020

ADDED : WordPress Compatible 5.4.2
ADDED : WooCommerce Compatible 4.2.1
ADDED : Dokan Pro Compatible 3.0.3
ADDED : WC Marketplace Compatible 3.5.2
ADDED : WCFM - WooCommerce Frontend Manager Compatible 6.5.1
UPDATED : Revolution Slider 6.2.14
UPDATED : Sample Data
UPDATED : Documentation
FIXED : Instagram Supported With Smash Balloon Instagram Feed(Instagram Feed) Plugin 
FIXED : Wishlist Count, Add to Cart and Quick View Issue
FIXED : Page Builder custom CSS not Working in Shop and Archive Page
FIXED : Minor CSS Issues

Versi 1.2.3 – 05-12-2020

ADDED : WooCommerce Compatible 4.1.0
UPDATED : Revolution Slider 6.2.6

Versi 1.2.2 – 05-05-2020

ADDED : WordPress Compatible 5.4.1
ADDED : WooCommerce Compatible 4.0.1
UPDATED : Kapee Extensions Plugin 1.0.8
UPDATED : WPBakery Page Builder 6.2.0
UPDATED : Revolution Slider 6.2.3
FIXED : Instagram Element Link not Working
FIXED : WooCommerce Password Strength Issue
FIXED : Sale Countdown Timer Issue
FIXED : Price Summary Discount Amount Issue
FIXED : Prodcut Categories Element Product Count Show/Hide Issue
FIXED : Bought Together Add to Cart Loading Issue
FIXED : Minor RTL CSS Issues
FIXED : Minor CSS Issues

Versi 1.2.1 – 14-03-2020

ADDED : Option Sticky Add to Cart/Buy Now button on single product page in Mobile device
ADDED : Option Sticky Proceed To Checkout button on cart page in Mobile device
ADDED : Option Sticky Place Order button on checkout page in Mobile device
ADDED : WooCommerce Compatible 4.0.0
ADDED : YITH WooCommerce Wishlist Compatible 3.0.9
UPDATED : Kapee Extensions Plugin 1.0.7
UPDATED : Revolution Slider 6.2.2
UPDATED : Language POT Files
FIXED : PHP 7.3.x warnings in Mobile Bottom Navbar
FIXED : Product Categories Elements CSS Issue
FIXED : Minor RTL CSS Issues
FIXED : Minor CSS Issues

Versi 1.2.0 – 29-02-2020

ADDED : NEW FEATURE Mobile Bottom Navbar
ADDED : NEW FEATURE Sticky Single Product Buttons in Mobile Bottom  
ADDED : NEw FEATURE Mobile Categories Menu
ADDED : Mobile bottom Navbar Options
ADDED : Option Newsletter Popup Show on Front Page or All Pages
ADDED : WooCommerce Compatible 3.9.2
ADDED : YITH WooCommerce Wishlist Compatible 3.0.6
IMPROVED : Mobile Layout Design
IMPROVED : Mobile Layout Cart Page Design
IMPROVED : Mobile Layout Wishlist Page Design
UPDATED : Revolution Slider 6.2.1
UPDATED : Language POT Files
FIXED : Product Countdown One Day Issue
FIXED : Minor RTL CSS Issues
FIXED : Minor CSS Issues

Versi 1.1.5 – 27-01-2020

ADDED : WordPress Compatible 5.3.2
ADDED : WooCommerce Compatible 3.9.0
ADDED : YITH WooCommerce Wishlist Compatible 3.0.5
UPDATED : Revolution Slider 6.1.7
UPDATED : Language POT Files
FIXED : Bought Together Option Not Working Issue
FIXED : Minor CSS Issues

Versi 1.1.4 – 12-14-2019

ADDED : WordPress Compatible 5.3.1
ADDED : YITH WooCommerce Wishlist Compatible 3.0.3
ADDED : NEW Sidebar Sticky Option
ADDED : Product Categories Page Title Color Option
UPDATED : Kapee Extensions Plugin 1.0.6
UPDATED : WPBakery Page Builder 6.1.0
FIXED : Mini Search Icon Header transparent Color Issue
FIXED : Product Shortcode Display in List View When Set Default Option
FIXED : Product Categories Display in List View in Shop Page
FIXED : YITH WooCommerce Wishlist Issue
FIXED : POST Archive Page Empty Issue
FIXED : Minor CSS Issues
UPDATED : RTL CSS

Versi 1.1.3 – 28-11-2019

ADDED : WordPress Compatible 5.3.0
ADDED : WooCommerce Compatible 3.8.1
UPDATED : Revolution Slider 6.1.5
UPDATED : Language POT Files
FIXED : Full Width Issue
FIXED : Shop Page Sidebar
FIXED : Translate language issue
FIXED : Minor CSS Issues

Versi 1.1.2 – 11-06-2019

ADDED : WooCommerce Compatible 3.8.0
ADDED : Newsletter Popup Supported Shortcode
UPDATED : Language POT Files

Versi 1.1.1 – 24-10-2019

ADDED : NEW DEMO - 3 Maintenance Pages
UPDATED : Kapee Extensions Plugin 1.0.5
UPDATED : Dummy Content
UPDATED : Documentation

Versi 1.1.0 – 23-10-2019

ADDED : NEW DEMO - Dokan ( Dokan Marketplace )
ADDED : NEW DEMO - WCMP( WC Marketplace )
ADDED : NEW DEMO - WCVendors ( WC Vendors Marketplace )
ADDED : NEW DEMO - WCFM ( Frontend Manager )
ADDED : Dokan Vendors VC Element With 5 Styles
ADDED : WCMP Vendors VC Element With 5 Styles
ADDED : WCVendors VC Element With 5 Styles
ADDED : WCFM Vendors VC Element With 5 Styles
ADDED : Extand Options for VC Row,VC Column Element
ADDED : WordPress Compatible 5.2.4
UPDATED : Kapee Extensions Plugin 1.0.4
UPDATED : WooCommerce Compatible 3.7.1
UPDATED : Language POT Files
UPDATED : Dummy Content
UPDATED : Documentation
FIXED : Single product Page Scroll Down Automatically Issue in Chrome
FIXED : Single Product Page Swatches Issue with Alidrop Woo Plugin
FIXED : Sidebar Widget Menu Toggle Issue On Third Level Menu Item
FIXED : Minor JS Issues
FIXED : Minor CSS Issues

Versi 1.0.7 – 10-09-2019

FIXED : Ajax Add To Cart Issue
FIXED : Minor CSS Issues

Versi 1.0.6 – 10-04-2019

ADDED : AliDropship Woo Plugin Compatible
ADDED : Single Product Tabs to Accordions on Mobile Device
ADDED : Collapse Footer Widgets on Mobile Device
ADDED : Option Collapse Footer Widgets
ADDED : Wishlist on Header
ADDED : Filter My Account Text on Header
UPDATED : Kapee Extensions Plugin 1.0.3
UPDATED : Revolution Slider Plugin 6.1.3
UPDATED : Language POT Files
FIXED : Single Product Variation Swatches Out of Area Issue
FIXED : Minor CSS Issues

Versi 1.0.5 – 27-09-2019

IMPROVED : Demo Import Process
UPDATED : Kapee Extensions Plugin 1.0.2
FIXED : Import Demo Data Issue
FIXED : Minor CSS Issues

Versi 1.0.4 – 20-09-2019

ADDED : Header Style 6 & 7
ADDED : Product Page Price Summary Tooltip Show in Mobile
ADDED : Product Page Terms And Conditions Tooltip Show in Mobile
IMPROVED : Code Improvement For Envato Requirement
UPDATED : Revolution Slider Plugin 6.1.2
UPDATED : Language POT Files
UPDATED : Documentation
FIXED : Out of Stock Message for Variable Product
FIXED : Registraion Button Text
FIXED : Disable Zoom On a Mobile Web Page
FIXED : Product Page Sticky scroll
FIXED : Minor JS issue
FIXED : Minor CSS Issues

Versi 1.0.3 – 14-09-2019

ADDED : YITH Woocommerce Request A Quote Compatible
ADDED : Element Secondary Menu in Header Navigation
ADDED : Option Wide Layout Site
UPDATED : Revolution Slider 6.1.1
FIXED : Product Gallery Thumbnail Issue
FIXED : Product Price Summary Out Area Issue
FIXED : Product Attribute Swatch Issue
FIXED : Footer Payment Logo Issue
FIXED : Minor CSS Issues

Versi 1.0.2 – 09-02-2019

ADDED : Product Category Header Banner 
ADDED : Product Category Custom Sidebar Option
ADDED : Option Single Line Product/Category/Widget Title
UPDATED : Language POT Files
UPDATED : Kapee Extensions Plugin 1.0.1
UPDATED : Revolution Slider 6.1.0
FIXED : Header Manager Secondary Menu Issue
FIXED : Login Popup Issue
FIXED : Dynamic Color Issue
FIXED : Minor CSS Issues

Versi 1.0.1 – 14-08-2019

ADDED :  WooCommerce Compatible 3.7.0
UPDATED : Revolution Slider 6.0.9
FIXED : Compare Button Issue
FIXED : Minor CSS Issue

Versi 1.0.0 – 09-08-2019
Initial Release