This WordPress theme is great for blogs, magazines, and lifestyle websites. It comes with many useful options to make content creation easier and faster. The theme is translation ready and optimized for speed and responsiveness. It also works well with popular plugins like Contact Form 7, WPML, and MailChimp. The admin panel is simple and powerful, allowing for easy customization. There are different page layouts and custom post types available. The theme has regular updates to improve performance and compatibility. Overall, it's a versatile and user-friendly theme for various types of websites.
Untuk Membantu Anda Yang Tidak Punya Alat Transaksi Online Seperti Kartu Kredit, Paypal, Dll. Juga Tidak MEmahami Hosting, Cara Installasi, dan Setting Awal. SHOP.co.id, menawarkan paket Siap Pakai, meliputi : Pembelian Script atau Theme, Domain, Hosting, dan Installasi. Bukan hanya itu, kami juga memberikan tutorial dan support.
Jika Anda Membeli dari Sumbernya langsung, Anda Wajib punya alat transaksi online, Keakhlian Installasi, Memahami Jenis Hosting, dan Juga Hal Teknik lainnya.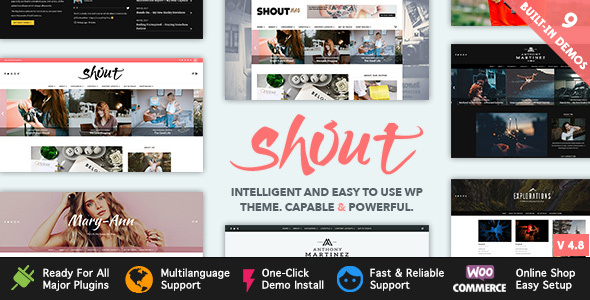 Tema WordPress ini sangat bagus untuk blog, majalah, dan gaya hidup situs web. Muncul dengan banyak opsi berguna untuk memudahkan dan mempercepat proses pembuatan konten.
Konten demo instal sekali klik. Setelah mengaktifkan tema, Anda dapat membuat demo pratinjau dengan satu klik (ya, gambar demo akan disertakan). Tema akan menghasilkan halaman, posting, sidebar, dan semua konten yang diperlukan.
Temanya adalah terjemahan siap (kompatibel dengan WPML), tetapi Anda juga dapat menerjemahkan menggunakan panel kontrol (solusi terbaik jika hanya diperlukan satu bahasa).
Itu keren Pemuatan Halaman Ajax fitur (dapat dimatikan). Opsi ini akan memungkinkan pengalaman pengguna yang lebih lancar dan akan mempercepat proses pemuatan halaman.
Pilihan tema meliputi a berbagai kemungkinan dan Anda akan menemukan semua opsi yang masuk akal di tempat yang tepat.
Tema telah dipelajari dengan cermat untuk ditampilkan dengan sempurna di semua jenis perangkat. Perhatian khusus telah diberikan kepada umum kecepatan situs web jadi konten akan dimuat dan muncul lebih cepat dari biasanya.
Akhirnya, tema telah dioptimalkan untuk bekerja dengan plugin berikut: Formulir Kontak 7, WPML, Polylang, Umpan Facebook Mudah, Revolusi Slider, dan MailChimp. Jika Anda memiliki masalah dengan plugin lain, harap hubungi kami agar kami dapat meningkatkan kompatibilitas tema.
Panel Kontrol Admin Khusus
Sangat penting untuk memiliki panel admin yang sederhana dan kuat. Terbagi dalam 16 bagian Panel Opsi Shout akan memungkinkan untuk sepenuhnya mengedit konten dan memutuskan bagaimana beberapa bagian akan ditampilkan.
Ini juga sangat mudah diterjemahkan semua teks yang digunakan di situs web Anda (dapat dilakukan langsung pada opsi tema, menggunakan file .mo/.po atau menggunakan plugin WPML).
Tata Letak Halaman Kustom
Halaman Blog Klasik
Halaman Blog Masonry
Pisahkan Halaman Blog
Halaman Segera Hadir
Jenis Posting Kustom
Jenis Posting Kustom Slide (penggeser tak terbatas dapat dibuat)
Jenis Posting Kustom Testimonial (testimonial dan set tak terbatas dapat dibuat)
Jenis Posting Kustom Anggota (anggota dan tim tidak terbatas dapat dibuat)
Fitur lainnya
50 Elemen yang dapat ditambahkan langsung menggunakan Plugin WPBakery Page Builder: Accordion, Blockquote, Button, Carousel, Gambar, Galeri Gambar, Komentar Terbaru, Posting Terbaru, Tata Letak, Pesan, Tabel Harga, Bilah Kemajuan, Pemisah, Layanan, Tab, Tema Penggeser, Judul, Beralih, Anggota Tim, Bagian Tur, Bilah Sisi Widget, Umpan Facebook …
Siap widget: 4 sidebar default + Opsi untuk menghasilkan sidebar tak terbatas
Menu khusus WordPress siap: 4 lokasi menu
Pemilih font dengan lebih dari 100 font – font tak terbatas dapat ditambahkan menggunakan metode yang ditampilkan Di Sini
Implementasi mendatang tersedia: jika ada fitur baru yang mungkin Anda suka pada tema ini, kirimkan saya email dan saya akan mencoba menambahkannya ke tema
Log perubahan tema
21 Apr 2023 – Versi 4.8
IMPROVEMENT: Theme performance

3 Februari 2023 – Versi 4.7
IMPROVEMENT: WooCommerce compatibility

25 November 2022 – Versi 4.6
FIX: headings display (WordPress 6.1 compatibility)
UPDATE: WPBakery Page Builder to version 6.10.0

29 Sep 2022 – Versi 4.5
IMPROVEMENT: Licensing system

19 Juli 2022 – Versi 4.4
IMPROVEMENT: Theme performance

26 Mei 2022 – Versi 4.3
IMPROVEMENT: WordPress 6.0 compatibility
UPDATE: WPBakery Page Builder to version 6.9.0

26 Apr 2022 – Versi 4.2
IMPROVEMENT: Loco Translate compatibility

22 Februari 2022 – Versi 4.1
UPDATE: WPBakery Page Builder to version 6.8.0

17 Des 2021 – Versi 4.0
IMPROVEMENT: WordPress coding standards
IMPROVEMENT: Loco Translate compatibility

25 Okt 2021 – Versi 3.9
IMPROVEMENT: Theme Performance

16 Agustus 2021 – Versi 3.8
UPDATE: WPBakery Page Builder to version 6.7.0
IMPROVEMENT: WordPress 5.8 compatibility

18 Juni 2021 – Versi 3.7
IMPROVEMENT: PHP 8.0 compatibility

26 Apr 2021 – Versi 3.6
IMPROVEMENT: WordPress 5.7 compatibility

5 Maret 2021 – Versi 3.5
UPDATE: WPBakery Page Builder to version 6.6.0
IMPROVEMENT: WooCommerce compatibility

13 Jan 2021 – Versi 3.4
UPDATE: WPBakery Page Builder to version 6.5.0
IMPROVEMENT: Theme performance

9 Des 2020 – Versi 3.3
FIX: WordPress 5.6 compatibility
UPDATE: WPBakery Page Builder to version 6.3.2

4 Sep 2020 – Versi 3.1
NEW: added CSS animation options to Google Maps
IMPROVEMENT: WooCommerce compatibility
UPDATE: WPBakery Page Builder to version 6.3.0

30 Juni 2020 – Versi 3.0
NEW: added responsive sizes option to Vertical Spacer page element
UPDATE: Font Awesome version

27 April 2020 – Versi 2.9
NEW: added option to have a custom menu on blog posts
IMPROVEMENT: WordPress 3.4 compatibility
IMPROVEMENT: Theme performance
UPDATE: WPBakery Page Builder to version 6.2.0

19 Februari 2020 – Versi 2.8
UPDATE: WPBakery Page Builder to version 6.1.0
IMPROVEMENT: Loco Translate compatibility

17 Desember 2019 – Versi 2.7
IMPROVEMENT: WordPress coding standards
IMPROVEMENT: PHP 7.3 compatibility

11 Oktober 2019 – Versi 2.6
IMPROVEMENT: WooCommerce compatibility
IMPROVEMENT: PHP 7.2 compatibility

20 Agustus 2019 – Versi 2.5
IMPROVEMENT: Admin area styles and functions
UPDATE: WPBakery Page Builder to version 6.0.5

2 Juni 2019 – Versi 2.4
NEW: added rows with 5 columns layout
UPDATE: WPBakery Page Builder to version 6.0.1
IMPROVEMENT: WordPress coding standards
IMPROVEMENT: Onboarding process

18 April 2019 – Versi 2.3.1
IMPROVEMENT: WooCommerce 3.6 compatibility

6 April 2019 – Versi 2.3
NEW: added extra row background options
UPDATE: WPBakery Page Builder to version 5.7
UPDATE: ACF version

5 Februari 2019 – Versi 2.2
UPDATE: WPBakery Page Builder to version 5.6
IMPROVEMENT: WooCommerce compatibility
IMPROVEMENT: Gutenberg compatibility

21 November 2018 – Versi 2.1
NEW: added option to invert columns on smaller screens
IMPROVEMENT: WooCommerce compatibility

16 Oktober 2018 – Versi 2.0
NEW: Added email option to Social Networks widget
IMPROVEMENT: Plugin detection
IMPROVEMENT: WooCommerce account display
UPDATE: ACF version
UPDATE: WPBakery Page Builder to version 5.5.5

20 Agustus 2018 – Versi 1.9
IMPROVEMENT: GDPR compliance – comments cookie notice display
IMPROVEMENT: WooCommerce compatibility
UPDATE: WPBakery Page Builder to version 5.5.1

16 Mei 2018 – Versi 1.8
NEW: Added Envato Market plugin for easier theme updates
NEW: Added option to make the menu sticky on mobile mode

19 Maret 2018 – Versi 1.7
NEW: Added option for posts to show all attached images
FIX: Instagram feed
UPDATE: WPBakery Page Builder to version  5.4.7

20 Februari 2018 – Versi 1.6
NEW: Added support for descriptions on archive pages
NEW: Added option to exclude recent posts from a Latest Posts page element
FIX: Footer background image option
FIX: Search icon feature when the top bar option is OFF
UPDATE: WPBakery Page Builder to version  5.4.5

22 November 2017 – Versi 1.5
IMPROVEMENT: Single member page layout
UPDATE: WPBakery Page Builder 5.4.4

8 November 2017 – Versi 1.4
NEW: Added Masonry option to Latest Posts page element
NEW: Added option for posts to open custom links
NEW: Added Minimal demo
NEW: Added Right To Left demo
UPDATE: Documentation – added video tutorials

25 Oktober 2017 – Versi 1.3
NEW: Added Masonry option to Latest Posts page element
NEW: Added option for posts to open custom links

18 Oktober 2017 – Versi 1.2
FIX: Pagination inconsistencies on archive pages
FIX: Menu locations assignment after demos generation
UPDATE: WPBakery Page Builder to version 5.4.2
UPDATE: Theme documentation - new video tutorials

13 Oktober 2017 – Versi 1.1
NEW: Added Food Demo
NEW: Added Facebook Feed Demo
NEW: Improved WooCommerce compatibility

12 Oktober 2017 – Versi 1.0
Theme was released
Kredit Gambar