Fueko is a developer who creates easy-to-use Ghost themes without compromising on design or code quality. One of their themes, Nurui, is a modern and lightweight choice suitable for personal or professional blogs, lifestyle, culinary, or design blogs. It is fully responsive and compatible with modern browsers and Ghost versions. Additional features include a membership system with a custom login and registration page, tier support, and custom settings. Supported by Ghost versions 5.47.x to 4.42.x, it has a high performance score and comes with regularly updated translations and bug fixes.
Untuk Membantu Anda Yang Tidak Punya Alat Transaksi Online Seperti Kartu Kredit, Paypal, Dll. Juga Tidak MEmahami Hosting, Cara Installasi, dan Setting Awal. SHOP.co.id, menawarkan paket Siap Pakai, meliputi : Pembelian Script atau Theme, Domain, Hosting, dan Installasi. Bukan hanya itu, kami juga memberikan tutorial dan support.
Jika Anda Membeli dari Sumbernya langsung, Anda Wajib punya alat transaksi online, Keakhlian Installasi, Memahami Jenis Hosting, dan Juga Hal Teknik lainnya.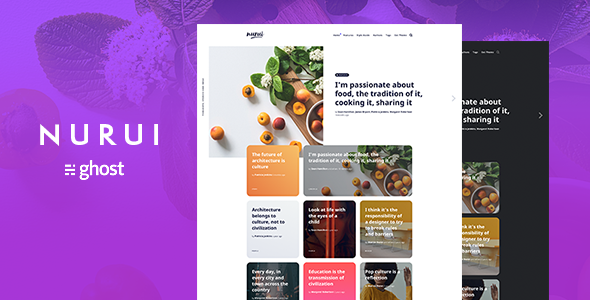 INI BUKAN TEMA WORDPRESS. HARAP DIPERHATIKAN BAHWA KAMI TIDAK MENYEDIAKAN PENGEMBALIAN DANA UNTUK KESALAHAN PEMBELIAN.

Hi aku fueko. Saya membuat tema Ghost yang mudah digunakan, tanpa mengorbankan desain dan kualitas kode. Anda dapat menemukan lebih banyak dari saya di fueko.net dan di Twitter di @fuekothemes.
Temui Nurui

Nuru adalah tema Hantu dengan desain ramping dan modern. Pribadi atau profesional, blog gaya hidup, blog kuliner, atau blog desain. Nuru akan dengan mudah memuat semuanya, jurnal online atau majalah.
Fitur umum

Siap untuk Hantu 5.x
Cocok dengan Ghost 4.42.0 atau versi yang lebih baru
Desain bersih
Ringan dan minimalis
sangat cepat
Sepenuhnya responsif
Kompatibel dengan browser modern
Diperbarui secara teratur
Dukungan cepat
Mendukung fitur Ghost bawaan

Terjemahan siap Termasuk bahasa Inggris dan Polandia
Tingkat keanggotaan
Aksen warna
Judul publikasi dan deskripsi
Logo dan sampul publikasi
Posting, halaman, tag dan halaman penulis
Sampul penulis, avatar, bio, lokasi, situs web, dan akun sosial
Tag penutup dan deskripsi
Tag utama di kartu pos
Beberapa penulis
Editor Koenig
Kartu penurunan harga
Kartu bookmark
Kartu galeri
Kartu gambar dengan lebar normal, lebar, dan penuh
Navigasi sekunder
Posting dan halaman unggulan
Waktu membaca
Navigasi posting berikutnya dan sebelumnya
Akun sosial
Anggota & langganan

Tabel harga di akun kustom dan halaman keanggotaan
Masuk, daftar, berlangganan, dan keluar pemberitahuan khusus
6 warna untuk Ajakan Bertindak
Detail akun
Batalkan & lanjutkan tombol berlangganan
Label Anggota dan Anggota berbayar di kartu pos
Opsi untuk mengedit info penagihan
Mata uang khusus
Pratinjau publik untuk postingan anggota
Pengujian pembayaran

Informasi kartu asli tidak dapat digunakan dalam mode uji. Sebagai gantinya, gunakan salah satu tes berikut nomor kartu.
Fitur tema tambahan

Halaman kontak khusus dengan Formspree atau Dapatkan formulir
Warna latar belakang untuk bagian judul dalam tampilan pos
Bagian penulis dalam tampilan pos
6 warna latar belakang gradien
Slider untuk posting dan halaman unggulan di tampilan beranda
Mengukur item dalam loop
Navigasi tarik-turun untuk banyak item
Fungsi pencarian
Bagikan pos di Facebook dan Twitter
Salin fungsi tautan untuk bagian berbagi dalam tampilan pos
Komentar dengan Disqus
Video responsif
Tabel responsif
Versi gelap otomatis tergantung pada pengaturan sistem
Tautan sosial tambahan
Tema diuji tanpa fitur Anggota – Ghost menambahkan skrip yang memengaruhi hasil

Kredit

Semua foto yang digunakan dalam demo tema berasal dari Hapus percikan.
Versi Hantu yang didukung


5.47.x, 5.46.x, 5.45.x, 5.44.0, 5.43.0, 5.42.x, 5.41.0, 5.40.x, 5.39.0, 5.38.0, 5.37.0, 5.36.x, 5.35.x, 5.34.x, 5.33.x, 5.32.0, 5.31.0, 5.30.x, 5.29.0, 5.28.0, 5.27.0, 5.26.x, 5.25.x, 5.24.x, 5.23.0, 5.22.x, 5.21.0, 5.20.0, 5.19.x, 5.18.0, 5.17.x, 5.16.x, 5.15.0, 5.14.x, 5.13.x, 5.12.x, 5.11.0, 5.10.x, 5.9.x, 5.8.x, 5.7.x, 5.6.0, 5.5.0, 5.4.x, 5.3.x, 5.2.x, 5.1.x, 5.0.x, 4.48.x, 4.47.x, 4.46.x, 4.45.0, 4.44.0, 4.43.x, 4.42.x

Changelog


--------------------------------
  Version 4.1.1  Sep 28th 2022
--------------------------------
∙ Added: Support for the 'data-members-autoredirect' atribute to disable auto-redirection after clicking on the magic link

- Changed files:
    assets/css/screen.css
    members/signin.hbs
    members/signup.hbs
    partials/members/subscribe_form.hbs
    custom-newsletter.hbs
    package.json

--------------------------------
  Version 4.1.0  Aug 26th 2022
--------------------------------
∙ Added: Support for native comments
∙ Added: Support for native search option
∙ Added: Support for tier.name helper on the account page
∙ Added: Ability to remove Portal, subscription form and login panel from the theme via Membership settings on the Ghost Admin;
∙ Added: Notification for 'signup-paid' and 'updateEmail' actions
∙ Added: Ability to change account settings on the account page via Portal (free members)
∙ Improved: On the account page (paid-members) the 'Edit billing info' option was replaced with the 'Account settings' option (via Portal)
∙ Updated: English and Polish translations
∙ Small bug fixes and performance improvements

- Changed files:
    assets/css/screen.css
    assets/js/global.js
    locales/en.json
    locales/pl.json
    partials/members/login_panel.hbs
    partials/members/notifications.hbs
    partials/members/subscribe_form.hbs
    partials/services/disqus.hbs
    partials/footer.hbs
    partials/search_icon.hbs
    custom-account.hbs
    post.hbs
    package.json

--------------------------------
  Version 4.0.0  May 25th 2022
--------------------------------
∙ Added: Support for Ghost 5.0
∙ Removed: Deprecated monthly_price.value and yearly_price.value helper
∙ Removed: Deprecated name value for benefits helper
∙ Removed: API versioning from search function
∙ Updated: English and Polish translations
∙ Small bug fixes and performance improvements

- Changed files:
    assets/css/screen.css
    locales/en.json
    locales/pl.json
    partials/members/cta.hbs
    partials/members/tiers.hbs
    partials/members/visibility_label.hbs
    partials/search.hbs
    partials/search_icon.hbs
    package.json

--------------------------------
  Version 3.2.1  May 13th 2022
--------------------------------
∙ Removed: Deprecated @price helper
∙ Updated: English and Polish translations

- Changed files:
    locales/en.json
    locales/pl.json
    partials/members/tiers.hbs
    package.json

Changelog Arsip


--------------------------------
  Version 3.2.0  May 5th 2022
--------------------------------
∙ Added: Support for 'Tiers'
∙ Improved: The message of the notification has been changed for logged in members after Stripe checkout
∙ Updated: English and Polish translations
∙ Removed: Deprecated 'ghost-api' property
∙ Small bug fixes and performance improvements

--------------------------------
  Version 3.1.3  Jan 18th 2022
--------------------------------
∙ Added: 'Wide' and 'full' option for 'Video' card
∙ Improved: Visual fixes for new cards
∙ Small bug fixes and performance improvements

--------------------------------
  Version 3.1.2  Dec 15th 2021
--------------------------------
∙ Added: Initial support for 'Audio' card
∙ Small bug fixes and performance improvements

--------------------------------
  Version 3.1.1  Dec 14th 2021
--------------------------------
∙ Added: Initial support for 'Button', 'Callout', 'Toggle', 'NFT' and 'Product' card

--------------------------------
  Version 3.1.0  Nov 23rd 2021
--------------------------------
∙ Added: 'Color scheme' option to custom settings in the Ghost Admin
∙ Added: 'Standard load more button' option to custom settings in the Ghost Admin
∙ Added: 'Search API key' option to custom settings in the Ghost Admin
∙ Added: 'Contact form endpoint' option to custom settings in the Ghost Admin
∙ Added: 'Footer copyright' option to custom settings in the Ghost Admin
∙ Added: 'CTA background color' option to custom settings in the Ghost Admin
∙ Added: 'Authors section' option to custom settings in the Ghost Admin
∙ Added: 'Disqus shortname' option to custom settings in the Ghost Admin
∙ Deprecated: '#dark-version', '#auto-dark-version', '#load-more', '#cta-colorname' and '#post-authors-disable' options is no longer supported
∙ Updated: English and Polish translations
∙ Removed: formspree.hbs and search_api_key.hbs files
∙ Small bug fixes and performance improvements

--------------------------------
  Version 3.0.2  Sep 30th 2021
--------------------------------
∙ Improved: Google fonts optimization
∙ Updated: lightense-images.js to v1.0.17
∙ Small bug fixes and performance improvements

--------------------------------
  Version 3.0.1  Jun 12th 2021
--------------------------------
∙ Small bug fixes and performance improvements

--------------------------------
  Version 3.0.0  Mar 17th 2021
--------------------------------
∙ Added: Support for Ghost 4.0
∙ Added: Support for 'Public preview' for members posts
∙ Added: Support for 'Accent color'
∙ Added: Support for new price plan helper
∙ Added: Support for 'preconnect' attribute for Google Fonts
∙ Added: default-custom.hbs template in root folder
∙ Improved: The search function now sorts posts by date
∙ Improved: The search function now includes 'html' field instead 'plaintext'
∙ Improved: Moved (and renamed) members files to the '../partials/members/' folder
∙ Updated: @site.locale helper replaces deprecated @site.lang helper
∙ Updated: clipboard.js to v2.0.8
∙ Removed: Deprecated @labs.members helper and visibility="all" parameter
∙ Small bug fixes and performance improvements

--------------------------------
  Version 2.4.4  Jan 8th 2021
--------------------------------
∙ Added: YouTube Music icon
∙ Improved: The free plan is hidden on membership page if member is logged in
∙ Improved: The search function now includes 'custom_excerpt' field
∙ Small bug fixes and performance improvements

--------------------------------
  Version 2.4.3  Nov 27th 2020
--------------------------------
∙ Added: Google Play and BandCamp icons
∙ Updated: Instructions for adding a Formspree contact form
∙ Small bug fixes and performance improvements

--------------------------------
  Version 2.4.2  Nov 20th 2020
--------------------------------
∙ Restored: Custom notifications
∙ Updated: English and Polish translations
∙ Small bug fixes and performance improvements

--------------------------------
  Version 2.4.1  Nov 19th 2020
--------------------------------
∙ Small bug fixes and performance improvements

--------------------------------
  Version 2.4.0  Nov 5th 2020
--------------------------------
∙ Added: Support for 'Name' field in 'Newsletter' and 'Sign-up' page
∙ Updated: English and Polish translations
∙ Removed: Custom notifications
∙ Small bug fixes and performance improvements

--------------------------------
  Version 2.3.4  Sep 11th 2020
--------------------------------
∙ Improved: Center aligned Facebook, Twitter and Instagram embeds

--------------------------------
  Version 2.3.3  Jul 15th 2020
--------------------------------
∙ Added: Notification if the magic link has expired

--------------------------------
  Version 2.3.2  Jul 4th 2020
--------------------------------
∙ Fixed: Issue with access to posts when members function is disabled

--------------------------------
  Version 2.3.1  Jun 22nd 2020
--------------------------------
∙ Fixed: The height of the images in the post content

--------------------------------
  Version 2.3.0  Jun 7th 2020
--------------------------------
∙ Added: Line.me icon
∙ Added: members_labels.hbs partial template in partials folder
∙ Updated: Google fonts to API v2
∙ Removed: Outdated prefixes from screen.css
∙ Removed: foreach.js script from global.js
∙ Small bug fixes and performance improvements

--------------------------------
  Version 2.2.1  Apr 12th 2020
--------------------------------
∙ New: 'Members' and 'Paid-members' labels in post-card view
∙ Added: Buy me a coffee, Etsy, Notion, Riot, TikTok, Quip icons
∙ Updated: Kickstarter, Gitlab, Facebook, Reddit icons

--------------------------------
  Version 2.2.0  Mar 10th 2020
--------------------------------
∙ Added: Ability to edit billing info on the member's account page
∙ Added: Custom currency support for member's plans
∙ Added: Support for price helper
∙ Added: Support for 'visibility' property check to #has helper
∙ Updated: English and Polish translations
∙ Updated: reframe.js to v2.2.6
∙ Updated: clipboard.js to v2.0.6
∙ Small bug fixes and performance improvements

--------------------------------
  Version 2.1.1  Jan 19th 2020
--------------------------------
∙ Added: Some subscription specific data on the free account page
∙ Improved: Comments are hidden from non logged in users if the post is for members
∙ Updated: The search function now includes also 'plaintext' field
∙ Updated: English and Polish translations
∙ Small bug fixes and performance improvements

--------------------------------
  Version 2.1.0  Dec 18th 2019
--------------------------------
∙ Added: Ability to cancel or continue subscription from member's account page
∙ Added: Some subscription specific data on the account page
∙ Updated: English and Polish translations
∙ Removed: 'Invalid' status from subscribe forms
∙ Small bug fixes and performance improvements

--------------------------------
  Version 2.0.2  Dec 4th 2019
--------------------------------
∙ Added: Support for secondary navigation
∙ Small bug fixes and performance improvements

--------------------------------
  Version 2.0.1  Nov 1st 2019
--------------------------------
∙ Added: members_cta.hbs partial template in partials folder
∙ Added: >members_cta partial reference in post.hbs and page.hbs
∙ Fixed: Issue with signin/signup page when the blog is installed in subdirectory
∙ Fixed: Issue with visible "dots" navigation when there are no more than 4 items
∙ Small bug fixes and performance improvements

--------------------------------
  Version 2.0.0  Oct 25th 2019
--------------------------------
∙ Added: Support for Ghost 3.0
∙ Added: Support for members & subscriptions
∙ New: Custom signin and signup page
∙ New: Custom account page with own featured image and excerpt
∙ New: Custom membership page with own featured image and title
∙ New: Pricing tables in custom account and membership page
∙ New: Custom Call-to-Action for posts with options: members/paid-members
∙ New: 6 colors for Call-to-Action with #cta-colorname tag
∙ New: Notifications for signin, signup, subscribe and checkout
∙ New: "dots" navigation for many items 
∙ New: Automatic dark version depending on the system settings
∙ Improved: Custom subscribe page now is custom newsletter page and shows own featured image and title
∙ Updated: Changed the search function behavior from "plaintext" to "excerpt" 
∙ Updated: Replaced labs/subscriptions with members/subscription feature
∙ Updated: statusCode helper replaces deprecated code helper
∙ Updated: English and Polish translations
∙ Removed: Danish and French translations
∙ Small bug fixes and performance improvements

--------------------------------
  Version 1.8.0  Sep 28th 2019
--------------------------------
∙ New: 20 colors of details
∙ Added: Support for "aria-label" parameter for social icons
∙ Improved: Fonts, border radius, color of details and gradients are now available in css variable
∙ Improved: Colors from the light and dark version are now available in css variable
∙ Fixed: Issue with "dot" hover state in Firefox
∙ Small bug fixes and performance improvements

--------------------------------
  Version 1.7.1  Sep 25th 2019
--------------------------------
∙ Added: Support for "display=swap" parameter for Google fonts
∙ Added: Support for responsive tables
∙ Fixed: Issue with slider while dragging in iOS 13

--------------------------------
  Version 1.7.0  Sep 10th 2019
--------------------------------
∙ Added: Services folder in partials folder
∙ Added: google_fonts.hbs partial template in services folder
∙ Added: >google_fonts partial reference in default.hbs, custom-contact.hbs, error.hbs and subscribe.hbs
∙ Improved: disqus.hbs moved to services folder
∙ Improved: formspree.hbs moved to services folder
∙ Improved: #if pagination.pages helper replaces ^is "post, page" in default.hbs
∙ Removed: "slider-trigger" from featured.hbs
∙ Small bug fixes and performance improvements

--------------------------------
  Version 1.6.6  Aug 28th 2019
--------------------------------
∙ Added: Support for bookmark card
∙ Improved: Custom contact page now shows own featured image and title
∙ Updated: English, Danish, French and Polish translations
∙ Small bug fixes and performance improvements

--------------------------------
  Version 1.6.5  Jul 22nd 2019
--------------------------------
∙ Improved: Splitting the file featured-posts.hbs into posts.hbs and pages.hbs

--------------------------------
  Version 1.6.4  Jul 6th 2019
--------------------------------
∙ Added: Additional option for the "load more" button with text "load more" 
∙ Updated: English, Danish, French and Polish translations
∙ Small bug fixes and performance improvements

--------------------------------
  Version 1.6.3  May 11th 2019
--------------------------------
∙ Improved: Flickity.js slider replaces deprecated Siema.js slider
∙ Small bug fixes and performance improvements

--------------------------------
  Version 1.6.2  May 7th 2019
--------------------------------
∙ Added: Support for code cards with captions
∙ Updated: Slack icon

--------------------------------
  Version 1.6.1  Apr 4th 2019
--------------------------------
∙ Fixed: Issue with nested get helper in featured.hbs

--------------------------------
  Version 1.6.0  Apr 2nd 2019
--------------------------------
∙ Updated: @site helper replaces deprecated @blog helper
∙ Updated: @site.lang helper replaces deprecated lang helper
∙ Updated: Unsplash icon
∙ Small bug fixes and performance improvements

--------------------------------
  Version 1.5.3  Mar 31st 2019
--------------------------------
∙ New: Custom contact page with Formspree
∙ Added: Lazy-loading for Disqus comments
∙ Improved: Custom authors page now shows all authors
∙ Improved: Custom tags page now shows all tags
∙ Updated: English, Danish, French and Polish translations
∙ Small bug fixes and performance improvements

--------------------------------
  Version 1.5.2  Feb 27th 2019
--------------------------------
∙ Improved: Better protection against blank characters for the Content API Key
∙ Added: "Weibo" icon has been added to the social-icons.hbs
∙ Updated: Translations: English, Danish, French and Polish
∙ Small bug fixes and performance improvements

--------------------------------
  Version 1.5.1  Jan 23rd 2019
--------------------------------
∙ Fixed: Issue with displaying pages marked as featured in the slider
∙ Updated: English, Danish, French and Polish translations
∙ Small bug fixes and performance improvements

--------------------------------
  Version 1.5.0  Jan 17th 2019
--------------------------------
∙ Updated: Content API v2 replaces Public API v0.1
∙ Updated: The search function requires the Content API Key
∙ Updated: Tags: #dark-version, #post-authors-disable – must be added to the post to work properly

--------------------------------
  Version 1.4.8  Jan 15th 2019
--------------------------------
∙ Added: Translation into Danish
∙ Added: Subscription form for post and page view (require internal tag #subscribe-form)
∙ Improved: Background color for newer/older post section (in post view) in dark mode changed from light to dark
∙ Improved: normalize.css merges with screen.css
∙ Improved: global-search.js and subscribe.js merges with global.js
∙ Improved: home-slider.js merges with index.js
∙ Small bug fixes and performance improvements

--------------------------------
  Version 1.4.7  Dec 1st 2018
--------------------------------
∙ New: Authors section in post view
∙ New: "Copy link" function replaces "Google+" icon in share post section
∙ Added: Over 100 new icons in the footer
∙ Fixed: Issue with image when it is a link
∙ Improved: Background color for post (in home view), author (in custom authors page), tag (in custom tags page) and code (in post view) in dark mode changed from light to dark
∙ Updated: English, French and Polish translations
∙ Small bug fixes and performance improvements

--------------------------------
  Version 1.4.6  Nov 23rd 2018
--------------------------------
∙ Added: Translations into Polish and French
∙ Improved: Better styling for lists (bullets and numbers are now aligned outside for long position)

--------------------------------
  Version 1.4.5  Nov 17th 2018
--------------------------------
∙ New: Custom error page
∙ Small bug fixes and performance improvements

--------------------------------
  Version 1.4.4  Nov 14th 2018
--------------------------------
∙ New: Dark version

--------------------------------
  Version 1.4.3  Nov 6th 2018
--------------------------------
∙ Improved: h1 tag replaces h2 in post and page view
∙ Small bug fixes and performance improvements

--------------------------------
  Version 1.4.2  Oct 2nd 2018
--------------------------------
∙ New: Custom subscribe page
∙ New: Full width image for title section in post and page view
∙ New: Background colours for title section in post and page view
∙ Improved: Lightense-images.js replaces medium-zoom.js
∙ Fixed: Issue with blurred images when using gallery and zooming in on mobile browsers
∙ Small bug fixes and performance improvements

--------------------------------
  Version 1.4.1  Sep 12th 2018
--------------------------------
∙ New: Custom authors page
∙ Added: Support for multiple authors
∙ Small bug fixes and performance improvements

--------------------------------
  Version 1.4.0  Sep 1st 2018
--------------------------------
∙ Added: Support for gallery card in Koenig editor
∙ Improved: The public API currently returns absolute urls in search results
∙ Small bug fixes and performance improvements

--------------------------------
  Version 1.3.2  Aug 28th 2018
--------------------------------
∙ Added: Support for reading time helper in post view
∙ Small bug fixes and performance improvements

--------------------------------
  Version 1.3.1  Aug 23rd 2018
--------------------------------
∙ Fixed: Issue with search function when the blog is installed in subdirectory
∙ Fixed: Issue with wrong URL for authors cloud in search page view

--------------------------------
  Version 1.3.0  Aug 21st 2018
--------------------------------
∙ New: Support for Ghost 2.0

--------------------------------
  Version 1.2.2  Nov 9th 2018
--------------------------------
∙ Fixed: Issue with search function when the blog is installed in subdirectory
∙ Fixed: Issue with wrong URL for authors cloud in search page view

--------------------------------
  Version 1.2.1  Aug 20th 2018
--------------------------------
∙ New: Custom tags page

--------------------------------
  Version 1.2.0  Jul 28th 2018
--------------------------------
∙ Added: Support for Koenig editor
∙ Small bug fixes and performance improvements

--------------------------------
  Version 1.1.1  Jul 26th 2018
--------------------------------
∙ New: Search function
∙ Added: Support for the blog cover image in search page view
∙ Small bug fixes and performance improvements

--------------------------------
  Version 1.1.0  Jul 12th 2018
--------------------------------
∙ Added: Support for Ghost translation

--------------------------------
  Version 1.0.0  Jul 11th 2018
--------------------------------
∙ Released