Jika Anda Tidak Punya Kartu Kredit dan Alat Transaksi Online, serta tidak punya keakhlian installasi, kami menawarkan paket siap pakai, meliputi domain, hosting, Find a Place – Cms Directory Php Script, dan tutorial. Silahkan hubungi kami Klik Chat CHAT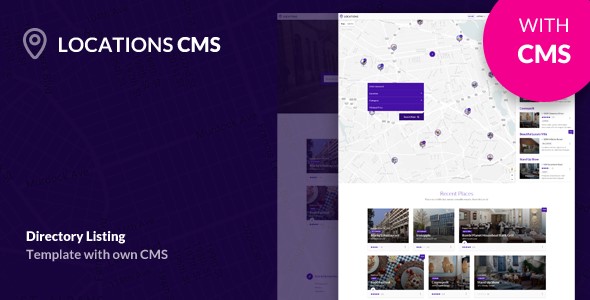 Temukan Tempat – Tangkapan Layar
Temukan Tempat – Deskripsi
Fitur luar biasa seperti modal Ajax, hasil peta langsung, spidol indah, tampilan cepat pada daftar, Proyek Anda akan terlihat luar biasa berkat desain bersih yang indah. Lokasi dapat digunakan untuk direktori, kupon, real estat, persewaan mobil, atau situs web daftar umum lainnya.
Fitur
Direktori & Daftar CMS Universal
2 Beranda Peta
1 Beranda Gambar Pahlawan/Penggeser
Hasil Bilah Sisi Langsung di Peta
Data untuk peta dimuat dari file PHP – siap untuk koneksi DB
Detail Modal Tampilan Cepat pada Daftar
AJAX Modal Windows dari PHP
Alamat Lengkap Google Otomatis
Formulir Email Kerja
Lintang, Bujur atau Alamat untuk Penanda
Pencarian detail barang
Lokasi yang baru dilihat
Tentukan acara saat menambahkan item
Daftar item yang paling baru dikomentari
Tambahkan mitra dari panel admin
Penulisan blog dan fitur blog
Analisis total dan instan
Menambah paket, membatasi anggota sesuai paket
Analisis total dan instan
Batas url video
Batasi gambar galeri
Batas akun sosial
Kelola paket dari panel administrasi
Perbesar dan perkecil beranda Anda
Setel lokasi peta rumah
Pengaturan mata uang
2 tampilan halaman kategori yang berbeda
Facebook twitter Tambahkan akun YouTube dan instagram Anda, muncul di bidang footer
Penyisipan halaman dan pengeditan halaman
Menambahkan informasi bank
Pengguna dapat menyesuaikan peta mereka sendiri
Tambahkan paket gratis, setiap pengguna dapat menggunakannya sekali
mereka dapat membeli iklan untuk barang mereka
Pembaruan Tema
Versi 1.0
Changelog
Version 1.5 - 24.12.2018

- ADDED: Resizing of images in Gallery, Map, Category and List field. (Reducing their size)
- ADDED: Payment method for packages with Paypal.
- ADDED: A hiding button has been added to the search box that takes up a lot of space on the map.
- ADDED: Added search feature for the featured companies.
- FİXED: Unlimited number of color changes made manageable from the control panel.
- FİXED : All the codes belonging to Mysql have been updated to PDO.
- FİXED : Modified codes:  data.php, data_2.php, sidebar_results.php, sidebar_detail.php, modal_pricing.php, modal_marker_cluster.php, modal_item.php, infobox.php, modal_edit.php

Version 1.4 - 05.07.2018

- ADDED: Multi-language features added.
- ADDED: The category page has been made completely dynamic.
- ADDED: Grid and list views were added to the category page.
- FİXED: The Pagination feature has been edited.
- ADDED: The blog page has been made completely dynamic.

Version 1.3 - 16.01.2018

- ADDED: Google analytics code entry.
- ADDED: Featured and sponsored items. add, edit, order.

Version 1.2 - 12.01.2018

- ADDED: Added third homepage view.
- ADDED: Blog features added.

Version 1.1 - 02.01.2018

- FİXED: Header name surname visibility error.
- ADDED: 2 different map views.
- ADDED: Managing home map location.
- ADDED: Zoom in and out of the home map.
- ADDED: Currency regulation.
- ADDED: Meta description and title management.
- ADDED: Adding, deleting and editing packages.
- ADDED: Add a partner and management.
- ADDED: Add, delete, and edit bank information.
- ADDED: Control panel, total and instant analyzes.