WEROCK is a responsive and versatile HTML theme based on Twitter Bootstrap 3, ideal for music bands, singers, and event managers. The layout is responsive, and it includes 15 HTML pages that are HTML5 validated and semantically coded. It features a Mega Menu and an enabled audio player playlist. The latest update to version 2.0 added an Ajax version, fixed the audio player for mobiles, and improved the design. The previous version 1.2 fixed Jplayer bugs, added a new tweet plugin, and included contact form Ajax validation. Version 1.1 included bug fixes, a more comfortable way to handle playlists, and the latest Font awesome version.
Untuk Membantu Anda Yang Tidak Punya Alat Transaksi Online Seperti Kartu Kredit, Paypal, Dll. Juga Tidak MEmahami Hosting, Cara Installasi, dan Setting Awal. SHOP.co.id, menawarkan paket Siap Pakai, meliputi : Pembelian Script atau Theme, Domain, Hosting, dan Installasi. Bukan hanya itu, kami juga memberikan tutorial dan support.
Jika Anda Membeli dari Sumbernya langsung, Anda Wajib punya alat transaksi online, Keakhlian Installasi, Memahami Jenis Hosting, dan Juga Hal Teknik lainnya.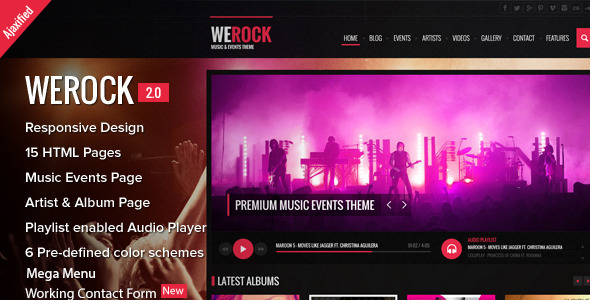 WEROCK adalah tema HTML responsif serbaguna berdasarkan twitter Bootstrap 3, Cocok untuk band musik, penyanyi, dan manajer acara.
Fitur
Tata Letak Responsif
15 Halaman HTML
HTML5 Divalidasi
Menu Mega
Pengkodean semantik
Daftar Putar Diaktifkan Pemutar Audio

2 January 15
Updated to 2.0 (Major Update)
- Added Ajax version
-Fixed Audio Player for mobiles
-Design Improvements

---------------------------------------------------------------------------------------
Updated to 1.2
-Jplayer Bug fixes
-New Tweet Plugin Added
-Contact Form ajax Validation Added

---------------------------------------------------------------------------------------
14 March, 2014
Updated to 1.1
-Bug Fixes
-Added Better way for Playlist handling through HTML
-Updated Font awesome to latest Version.