The eCademy theme is designed for online training and education, with features such as a learning management system, support for online courses, and compatibility with various plugins such as WooCommerce, LearnPress, and BuddyPress. The theme is built on WordPress, Elementor, Redux, ACF Pro, and WooCommerce, and includes 14+ demos and RTL versions for Arabic and Hebrew languages. The theme also includes features such as live streaming, private messaging, and support for live classes through the Zoom plugin. Regular updates and quality support make this theme a suitable choice for online education providers and course creators.
Untuk Membantu Anda Yang Tidak Punya Alat Transaksi Online Seperti Kartu Kredit, Paypal, Dll. Juga Tidak MEmahami Hosting, Cara Installasi, dan Setting Awal. SHOP.co.id, menawarkan paket Siap Pakai, meliputi : Pembelian Script atau Theme, Domain, Hosting, dan Installasi. Bukan hanya itu, kami juga memberikan tutorial dan support.
Jika Anda Membeli dari Sumbernya langsung, Anda Wajib punya alat transaksi online, Keakhlian Installasi, Memahami Jenis Hosting, dan Juga Hal Teknik lainnya.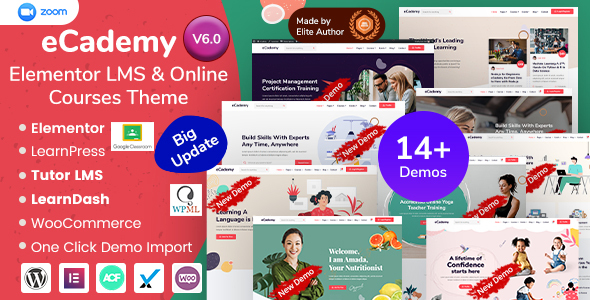 Penawaran Obral: Hanya $99 untuk Waktu Terbatas! Beli sekarang!
Beli satu kali dan dapatkan akses seumur hidup!
Dibangun untuk Manajemen Pembelajaran Kursus Online, Situs Web Pendidikan & Pelatihan.
Dibangun di WordPress, Elementor, Redux, ACF Pro & WooCommerce.
Tutor LMS v2.x, LearnDash, Learnpress v4.x & BuddyPress Tersedia.
14+ Demo, Versi RTL Termasuk untuk Bahasa Arab & Ibrani.
Pembaruan Reguler, Dukungan Kualitas Terbaik dari Penulis.
eCademy adalah tema WordPress Modern yang sengaja dirancang dan dibuat untuk Pelatihan dan Pendidikan Online! Sangat cocok untuk Lembaga Pendidikan, Penyedia Kursus Online, Pelatihan Online, Manajemen Pembelajaran, Pelatihan Sertifikasi Vendor, eSchool, LMS, Sekolah Bahasa, Penyedia Pembelajaran Jarak Jauh, Sekolah Modern, Kursus Yoga, Pelatihan Kesehatan, TK, Pelatihan Gym, Pelatihan Bisnis, Pelatihan Motivasi & Kehidupan, Pelatihan Dapur Rumahan & Resep Sehatdll. situs web.
Tema dibuat dengan Elementor, ACF Pro, Redux, LearnPress, Tutor LMS v2.x, LearnDash, WooCommerce, BuddyPress, Bootstrap, dan CSS. Juga, Sass termasuk dalam tema.
Untuk versi alternatif, silakan periksa di bawah ini:
Bereaksi + Next.js:


Moodle LMS:


Dinamis Sudut:


Aplikasi Seluler Flutter:


Statis Sudut:


Tema eCademy WP disertakan Plugin zoom dukungan untuk kelas langsung.
Juga, LearnPress pembayaran offline pengaya, Yoast SEO, bbPress, dan WPML kompatibilitas plugin.
Itu Sesuai dengan GDPR fitur tersedia dalam tema.
BuddyPress terintegrasi untuk membangun komunitas sosial online untuk pelajar.
Ini juga berisi Sistem gradasi fitur (kemajuan belajar siswa dan nilai yang diperoleh dalam tes kuis sebagai persentase dan hasilnya menunjukkan lulus atau gagal) dan Konten Menetes fitur.
Dengan Streaming Langsung, Perpesanan Pribadi, Google KelasBerlangganan MailChimp, Pembuat Header & Footer, Manajer Acara WP, Sertifikat untuk Kursus, Pencetakan SertifikatOpsi Pemilihan Font Kustom, dan banyak fitur menarik lainnya yang disertakan dengan tema WordPress eCademy Learning Management!
Tema punya RTL fitur disertakan, dan karena itu, menggunakan tema eCademy LMS untuk Arab Dan Ibrani website berbasis bahasa akan lebih cepat dan mudah.

Itu kursus dapat dibeli melalui opsi pembayaran WooCommerce. Tema ini memiliki WooCommerce fitur belanja ditambahkan, pengiriman formulir Formulir Kontak 7, pengiriman plugin Newsletter, komentar yang baik, dan kode sumber yang mudah disesuaikan dengan dokumentasi terperinci. Fitur-fitur ini akan membantu penggunaan dan penyesuaian tema berdasarkan kebutuhan utama.

Fitur eCademy:
Untuk Penyedia Pendidikan, Kursus Online, Pembinaan & Pelatihan
14+ Variasi Demo. Lihat Demo
Tutor LMS v2.x, Learnpress v4.x & Kompatibel dengan LearnDash LMS
Sertifikat untuk Kursus
Pencetakan Sertifikat Fitur
Manajer Acara WP
Opsi Keanggotaan Kursus untuk LearnPress
Sistem gradasi Fitur
Konten Menetes Fitur
Elementor Pembuat Halaman
Pro Bidang Kustom Tingkat Lanjut
50+ Widget Kustom Cemerlang Elementor
Impor Data Demo Sekali Klik
Opsi Pembayaran WooCommerce untuk Kursus
Belanja WooCommerce Fitur
Terjemahan Siap
RTL Termasuk untuk Bahasa Arab dan Bahasa Ibrani
Kompatibel dengan WPML
Pesan Pribadi
Plugin Zoom Mendukung Kelas Langsung
Google Kelas
Streaming Langsung
LearnPress – Pembayaran Offline Dukungan Pengaya
Kompatibel dengan Yoast SEO Pengaya
GDPR Patuh
Kompatibel dengan bbPress Pengaya
MailChimp Langganan AJAX
Pembuat Header & Footer
Opsi Spanduk ke Halaman, Blog Signle, Acara & Produk Tunggal
Footer Sembunyikan/Tampilkan Opsi
Tajuk Lengket dengan Kontrol dari Dasbor
Opsi Tata Letak Blog Berbeda
Opsi Padding Halaman
Gambar Latar Belakang Spanduk Halaman/Pilihan Warna
Opsi Penyelarasan Konten Spanduk Halaman
Opsi Tata Letak Tajuk Spanduk Halaman
Item Menu Spanduk Halaman, Item Menu Lengket, & Item Menu Opsi Warna Aktif
Preloader dengan Tiga Gaya Teks/Spanyol/Gambar
Opsi Font Kustom
Opsi Pemuat Malas
BuddyPress Terintegrasi. Lihat Demo
Opsi untuk Posting meta sembunyikan/tampilkan
Opsi Tipografi Tidak Terbatas
Berbagi Sosial Produk
Opsi Dimensi Logo Utama & Seluler
Unggah Logo Footer & Opsi Dimensi
Modal Berlangganan Munculan
Opsi Pemutar Video Pratinjau Kursus
W3 Valid
Formulir Kontak 7
Kerangka Kerja Redux Opsi Tema
Berlangganan Plugin Buletin
Retina Siap
Kursus Terkait
Responsif di Semua Perangkat
Mudah Disesuaikan dari Dasbor Admin
Tata Letak Kreatif
Cepat, Ringan & Kuat
Pembaruan Seumur Hidup Gratis
Font Tidak Terbatas Mengagumkan
Tak terbatas Opsi Ubah Warna
Termasuk Tema Anak
Kode yang Dikomentari dengan Baik
Ramah Pengembang
Kompatibilitas Peramban
Mudah Disesuaikan
Dukungan Perputaran 24 Jam:
Dukungan Cepat, Berdedikasi & Profesional!
Kami hanya memberikan dukungan melalui sistem tiket kami. Silakan kirimkan tiket Anda dengan mengunjungi Sistem Pendukung EnvyTheme.
Untuk permintaan pra-pembelian apa pun, silakan gunakan obrolan langsung di situs demo item juga, dan bagian komentar item di ThemeForest. Terima kasih!
Mendapatkan apa?
Kode sumber tema
Tema anak
Elementor
Pro Bidang Kustom Tingkat Lanjut
Plugin khusus tema
Data demo untuk diimpor ke tema Anda
Dokumentasi daring
Sumber dan Kredit:
WordPress
Elementor
BelajarTekan
LearnDash
Guru LMS
WooCommerce
BuddyPress
Bootstrap
Tingkatkan Bidang Kustom Pro
Redux
Korsel burung hantu
Munculan yang luar biasa
Ikon Kotak
Font Keren
Kelancangan
Ikon Datar
Font Google
Popper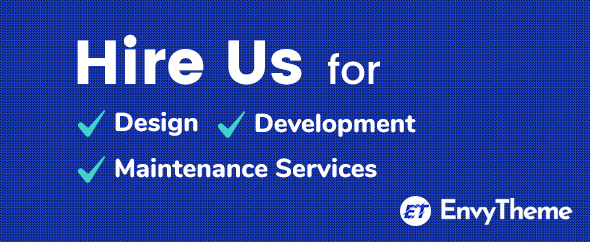 Riwayat Pembaruan:

March 10, 2023: eCademy v6.0
-----------------------------------
- Updated: with LearnPress v4.2.2.1
- Fixed: LearnPress Course Details Page Error
- Fixed: LearnPress Course Page Pagination Not Working Issue
-----------------------------------
March 3, 2023: eCademy v5.9
-----------------------------------
- Updated: WooCommerce Affected Files
- Fixed: Deprecated Error
- Improvement: PHP 8.0 Compatibility
-----------------------------------
January 21, 2023: eCademy v5.8
-----------------------------------
- Updated: With LearnPress Latest Version
- Updated: With Tutor LMS Latest Version
- Updated: With WooCommerce Latest Version
- Fixed: Tutor LMS Course Filter Issue
- Fixed: Tutor LMS Course Details Banner Design Issue
- Fixed: Tutor LMS Course Details Content Design Issue
- Fixed: Tutor LMS Course Review Hide/Show Not Working Properly Issue
-------------------------------------
January 02, 2023: eCademy v5.7
-------------------------------------
- Fixed: Tutor LMS Course Page Design Issue
--------------------------------------
December 23, 2022: eCademy v5.6
--------------------------------------
- Added: Background Image Upload Option for Blog Page Banner
- Added: Background Image Upload Option for LearnDash Course Page Banner 
- Fixed: Theme Options Not Showing Issue
- Updated: ACF Pro v6.0.6
--------------------------------------
December 16, 2022: eCademy v5.5
--------------------------------------
- Updated: WooCommarce Affected Files
--------------------------------------
September 21, 2022: eCademy 5.4
--------------------------------------
- Fixed: LearnPress Course Page Error
- Fixed: Sidebar Search Design Issue
- Updated: With LearnPress v4.1.7.1+
- Updated: WooCommarce Affected File
------------------------------
September 6, 2022: eCademy v5.3
------------------------------
- Fixed: LearnPress Breadcrumbs Issue.
- Fixed: LearnPress Course Details Page Design Issue.
- Updated: LearnPress Affected Files
------------------------------
July 31, 2022: eCademy v5.2
------------------------------
- Fixed: Course price not showing issue on LearnPress LMS
- Updated: Search field width on the menu bar
- Fixed: Dropdown menu issue on Safari browser
---------------------------------------
July 24, 2022: eCademy V5.1
---------------------------------------
- Fixed: Unyson plugin's "Backup & Demo Content" extension is not downloading issue.
- Updated: ACF Pro Plugin Latest File
---------------------------------------
June 14, 2022: eCademy v5.0
---------------------------------------
Added: Business Coaching Demo
Added: Motivation & Life Coaching Demo
Added: Home Kitchen & Healthy Recipe Coaching Demo
Added: Course Details Page Banner Background Image Option
Updated: Documentation
Fixed: LearnPress Certificate Issue
Fixed: Issue with WisdmLabs Instructor Role Plugin
Fixed: Course Continue Button Doesn't Redirect to the Lesson
Fixed: Elementor Custom Widgets WPML Issue
---------------------------------------
April 20, 2022: eCademy v4.9.9
---------------------------------------
- Fixed: Elementor Editor Error
---------------------------------------
April 2, 2022: eCademy v4.9.8
---------------------------------------
- Fixed: Elementor Register Control Issue
- Updated: ACF Pro Plugin Latest File
---------------------------------------
March 21, 2022: eCademy v4.9.7
---------------------------------------
- Updated: Compatible with Tutor LMS V2.0+
---------------------------------------
March 13, 2022: eCademy v4.9.6
---------------------------------------
- Fixed: LearnPress Paid Membership Pro course "Buy Now" issue.
- Updated: ACF Pro Latest File
---------------------------------------
February 08, 2022: eCademy v4.9.5
---------------------------------------
- Added: [year] Shortcode Support
- Updated: Footer Copyright Field Support Shortcode
- Updated: Theme With WordPress 5.9+
- Updated: With LearnPress V4.9.5
- Updated: ACF Pro Plugin Latest File
- Updated: LearnPress Affected Files
- Fixed: LearnPress Course Price Not Showing Issue
- Fixed: LearnPress Course Enroll Button Issue
- Fixed: Search Result Page Issue
---------------------------------------
November 25, 2021: eCademy v4.9.4
---------------------------------------
- Added: Three Social  Custom Link Options for Social Profiles
- Updated: ACF Pro Latest File
- Fixed: Register Form Extra Fields
- Fixed: Dropdown Menu Long Text Issue
---------------------------------------
September 9, 2021: eCademy v4.9.3
---------------------------------------
- Added: Theme Support BuddyPress 
- Updated: ACF Pro Latest File
- Updated: LearnPress Affected File
- Fixed: Safari Browser Time Countdown Issue
- Fixed: Login and Register Design Issue
- Fixed: Enrollment Panel Unable to Scroll
- Fixed: Footer Social Icon Not Loading
---------------------------------------
August 11, 2021: eCademy v4.9.2
---------------------------------------
- Updated: LearnPress Affected File
- Updated: ACF Pro Plugin Latest File
- Added: Event Per Page Count Option
-----------------------------
June 12, 2021: eCademy v4.9.1
------------------------------
Fixed: Minor bug
------------------------------
June 5, 2021: eCademy v4.9
------------------------------
Added: Information Area Widget Tag support for TextArea Field
Added: Product Columns Option
Added: LearnPress Course Page Banner Background Image Option
Added: Course Filter Widget Support Sub Category
Fixed: Course Filter Widget Count Issue
Fixed: How to Apply Section List Issue
Fixed: LearnPress Search Result Page issue
Fixed: Tutor LMS Demo Course Category Page Banner Duplicate Issue
Fixed: Tutor LMS Demo Course Search Page Banner Duplicate Issue
--------------------------------------
May 27, 2021: eCademy v4.8
--------------------------------------
- Updated: With LearnPress V4.0.5+
- Updated: LearnPress Affected File
- Updated: LearnPress Content Drip
- Updated: LearnPress Gradebook
- Updated: Theme POT File
- Updated: eCademy Toolkit POT file
- Updated: ACF Pro Plugin Latest File
- Fixed: LearnPress Payment Issue
- Fixed: LearnPress Certificate Issue
--------------------------------------
May 5, 2021: eCademy v4.7
--------------------------------------
- Fixed: Elementor Typography Issue
- Fixed: Elementor Repeater Issue
-------------------------------
April 4, 2021: eCademy v4.6
-------------------------------
- Added: Learning Management Demo
- Updated: Documentation

Note: Theme is Compatible with WordPress 5.7
-------------------------------
March 6, 2021: eCademy v4.5
-------------------------------
- Added: Gym Coaching Demo
- Added: Feature Boxes Widget Link in a New Tab Option
- Added: Feature Boxes Widget Column Option.
- Added: Single Blog Author  Info Area Background Image Change Option
- Added: Parent Page Breadcrumb Support
- Updated: LearnPress Rating Count
- Updated: ACF Pro Plugin Latest File
- Fixed: Checkout Page Dropdown Issue
- Fixed: Preloader Enable/disable Issue
- Fixed: Page Quick Edit Option Not Showing Issue
- Fixed: Contact and Course Details Page List Issue
- Fixed: Mobile Menu Issue
- Fixed: LearnPress Checkout Page Issue
-------------------------------
November 30, 2020: v4.4 
-------------------------------
- Added: LearnDash LMS Compatibility
- Fixed:  LearnPress Lesson Scroll Issue
- Fixed: Event Countdown Responsive Design Issue
- Fixed: eCademy Toolkit Translate Issue
- Fixed: Elementor WooCommarce Product Widget Issue
- Updated: Course Filtering Support With All Languages
- Updated: Documentation
---------------------------------
November 10, 2020: v4.3
----------------------------------
- Added: Course Membership option for LearnPress
- Added: Tutor LMS Courses page title change option
- Added: Primary menu link option
- Added: Tutor LMS Course wish-list feature
- Updated: Page banner background image/color option
- Fixed: Demo data issue
----------------------------------
October 18, 2020: v4.2
----------------------------------
- Added: Feature Box widget HTML tag support
- Updated: LearnPress affected files
- Updated: Some strings are not translating
- Fixed: Undefined index: action_url 
----------------------------------
September 10, 2020: eCademy V4.1
----------------------------------
Fixed: Course details page Students list name breaking issue
Fixed: Tutor LMS category widget issue
----------------------------------
August 27, 2020: eCademy v4.0
----------------------------------
- Added: Tutor LMS
- Fixed: Switch Button Issue for Page Option

Note: Now Elementor Custom Widgets are 50+
----------------------------------
Aug 09, 2020: eCademy V3.9.1
----------------------------------
- Added: Scrollbar on lessons 
- Added: Icon change option for lesson
- Added: Breadcrumb hide/show option
- Fixed: Site tagline not changing Issue
- Fixed: Warning: Cannot modify header information issue
----------------------------------
July 28, 2020
----------------------------------
Fixed: http/https auto license update
----------------------------------
July 26, 2020
----------------------------------
Fixed: EnvatoApi2 error issue
----------------------------------
July 24, 2020
----------------------------------
- Fixed: http and https request issue
- Fixed: Licensing issue
----------------------------------
July 22, 2020: eCademy V3.9
---------------------------------
- Fixed: Forgot Password page issue
- Fixed: WooCommerce variation product select issue
- Fixed: WooCommerce variation SKU issue
---------------------------------
July 15, 2020: eCademy V3.8
---------------------------------
- Added: Lazy Loader Option
- Added: Post meta hide/show option
- Updated: Program Area widget card item sequence
- Fixed: Blog Banner hide/show Option
- Fixed: Product Category Issue
---------------------------------
July 03, 2020: eCademy V3.7
---------------------------------
-- Added: Kindergarten Demo
-- Added: Grading System ( students learning progress and obtained marks in quiz tests as a percentage and the result showing passed or failed )
-- Added: Content Drip feature
-- Updated: Documentation
---------------------------------
June 30, 2020: eCademy V3.6
---------------------------------
- Added: Health Coaching Demo
- Added: Certificate for Courses
- Added: Certificate Printing Feature
- Added: WP Events Manager
- Fixed: FAQ title duplicate issue
- Updated: Documentation
- Removed: Event Custom Post

Important Note: For more user-friendly events, the WP Events Manager plugin removed Event Custom Post on v3.5. If you update the website with eCademy v3.6, you will lose existing event-related data. After updating to v3.6 then, you have to re-create Events posts.
---------------------------------
June 25, 2020: eCademy V3.5
---------------------------------
- Added: Yoga Training New Demo
- Added: WooCommerce Payment Option for Courses
- Added: Private Messaging 
- Added: Different Blog Layouts Options
---------------------------------
June 23, 2020: eCademy V3.4
---------------------------------
- Fixed: PHP error
---------------------------------
June 22, 2020: eCademy V3.3
---------------------------------
Added: Modern Schooling New Demo
Added: Header & Footer Builder 
Added: Banner Options to Page
Added: Banner Options to Single Blog
Added: Banner Options to Single Event
Added: Banner Options to Single Product
Added: Footer Hide/Show Option
Added: Page Padding Option
Added: Page Banner Background Image/Color Option
Added: Page Banner Content Alignment Option
Added: Page Banner Header Layout Option
Added: Page Banner Menu item, Sticky Menu Item, & Menu Item Active Color Option
Added: Preloader with Three Style Text/Spain/Image
Added: Custom Fonts Option
Added: MailChimp Ajax Subscription
Added: Google Classroom 
Added: Live Streaming
Updated: Documentation
---------------------------------
June 12, 2020: eCademy v3.2
---------------------------------
- Added: Zoom plugin support for the live classes
- Added: Related course
- Added: LearnPress – Offline payment plugin support
- Made: Compitable with Yoast SEO plugin
- Made: Compitable with bbPress plugin
- Added: GDPR compliant
- Made: Compitable with WPML
- Added: Related courses hide/show option
- Updated: Documentation
- Fixed: Slider loop issue for one item
- Fixed: Courses page title update issue
---------------------------------
June 4, 2020: eCademy V3.1
---------------------------------
- Fixed: Buy Now Button External Link Issue
-------------------------------
June 4, 2020: eCademy V3.0
-------------------------------
- Added: Distance Learning Demo
- Added: Language School Demo
- Added: Social Product Share 
- Added: 13 Elementor Custom Widgets
- Added: Main Logo Dimensions Option
- Added: Mobile Logo Dimensions Option
- Added: Footer Logo Upload Option
- Added: Footer Logo Dimensions Option
- Added: Popup Subscription Modal
- Added: Course Back to Class Button on Mobile
- Added: Course Preview Video Player Option
- Added: Course Preview Video Player Auto Play Hide/Show Option
- Added: Single Course Banner Hide/Show Option
- Added: Single Course Breadcrumb Hide/Show Option
- Added: Single Course Banner Rating Hide/Show Option
- Updated: Product Details Page
- Updated: Navbar
- Updated: Cart Icon
- Updated: Course Details Embedded Youtube Video
- Fixed: Single Event Count Down Issue
-------------------------------
May 30, 2020: v2.1
-------------------------------
- Added: WooCommerce Shopping Feature
-------------------------------
May 25, 2020: v2.0
-------------------------------
- Added: Vendor Certification eTraining demo
- Added: Online Training School demo
- Added: RTL Support for Arabic and Hebrew Languages
- Added: Sticky Header
- Added: Sticky Header Enable/Disable Option
- Added: Cursor Effect Animation