The7 adalah tema yang sangat dapat disesuaikan untuk WordPress, Elementor, dan WooCommerce yang menawarkan kebebasan berkreasi yang belum pernah ada sebelumnya kepada pengguna. Ini kompatibel dengan Elementor, Elementor Pro, dan PRO Elements, dan dilengkapi dengan seperangkat alat lengkap untuk membuat tajuk unik, daftar produk, dan halaman individual tanpa menulis satu baris kode pun. Tema ini dioptimalkan untuk Fast Velocity Fast Minify untuk membuat situs web lebih cepat, dan sepenuhnya sesuai dengan GDPR. Ini juga mencakup sistem desain yang komprehensif, opsi gaya lanjutan, dan banyak widget dan plugin, menjadikannya salah satu tema paling serbaguna di pasaran.
Untuk Membantu Anda Yang Tidak Punya Alat Transaksi Online Seperti Kartu Kredit, Paypal, Dll. Juga Tidak MEmahami Hosting, Cara Installasi, dan Setting Awal. SHOP.co.id, menawarkan paket Siap Pakai, meliputi : Pembelian Script atau Theme, Domain, Hosting, dan Installasi. Bukan hanya itu, kami juga memberikan tutorial dan support.
Jika Anda Membeli dari Sumbernya langsung, Anda Wajib punya alat transaksi online, Keakhlian Installasi, Memahami Jenis Hosting, dan Juga Hal Teknik lainnya.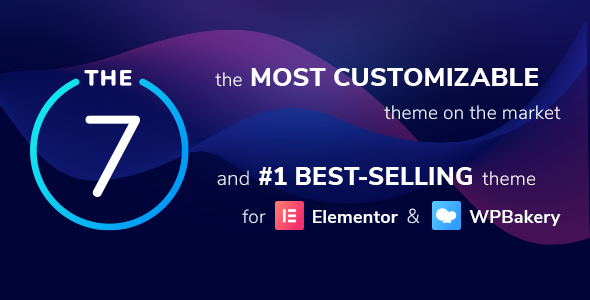 The7 - Tema Paling Dapat Disesuaikan di Pasar
The7 adalah paling dapat disesuaikan Tema WordPress, Elementor, dan WooCommerce tersedia di pasar terkini. Ini memberi Anda kebebasan berkreasi yang tidak dapat ditandingi oleh tema lain. Tidak peduli apakah Anda seorang pemula atau pro, pemilik situs web, profesional kreatif, atau agensi digital - The7 menawarkan kekuatan luar biasa dan nilai tak tertandingi bagi semua orang.
The7 dirancang untuk bersinergi dengan Elementor dan WooCommerce. Tapi itu jauh lebih banyak daripada jumlah bagian-bagiannya!
Jika Anda pernah mencoba membuat tajuk situs web atau menyesuaikan halaman produk dengan vanilla Elementor, Anda tahu betapa sulitnya itu. Tapi tidak dengan The7. Kami telah membuat seperangkat alat lengkap untuk membuat tajuk unik, daftar produk, dan halaman individual - Anda dapat menargetkan bagian mana pun dari situs web Anda. Dan lakukan tanpa menulis satu baris kode pun.
Anda tidak akan menemukan tema, plugin, atau alat lain apa pun yang dapat menandingi tingkat penyesuaian yang ditawarkan The7.
The7 mengemas semua fitur yang Anda harapkan dari tema multiguna modern dan banyak lagi! Di sini adalah beberapa dari mereka:
#1 Menjual Tema untuk Elementor di ThemeForest.net
The7 adalah tema paling populer untuk Elementor di ThemeForest. Ini dipercaya oleh lebih dari 270.000 pengguna. Dan ini, pada gilirannya, berarti The7 teruji dengan sangat baik, dapat diandalkan, dan menawarkan fitur yang tidak dimiliki tema lain.
Selain itu, ini sepenuhnya kompatibel dengan PRO Elements - Alternatif gratis Elementor Pro. Jadi, Anda dapat menghemat $$ serius untuk itu!
Oleh karena itu The7 adalah pilihan terbaik jika Anda mencari tema Elementor.
Dia CEPAT!
Tema WordPress multiguna pada dasarnya lambat. Ini masuk akal, karena semakin banyak fitur (sering tidak digunakan) yang Anda miliki, semakin lambat situs web Anda.
The7 menghadirkan integrasi mendalam dengan plugin Fast Velocity Fast Minify gratis. Ini mengoptimalkan kode HTML, CSS, dan JS situs web halaman demi halaman, yang menghasilkan situs web yang sangat cepat dan peringkat Kecepatan Halaman Google yang luar biasa.
Situs Web Siap Pakai untuk Memulai Proyek Anda
Situs Web Pra-dibuat (atau Situs Demo) tidak hanya menampilkan fitur dan kemampuan tema tetapi juga dapat digunakan sebagai fondasi untuk situs web Anda. Anda dapat mencampur dan mencocokkannya, menginstal dan mencopot, mengimpor halaman individual, dan menyesuaikannya sepenuhnya dengan kebutuhan dan kesukaan Anda. Periksa mereka Di Sini.
Pembuat Situs Lengkap
Elementor adalah pembuat halaman yang hebat. Namun, itu gagal saat membuat header atau menyesuaikan halaman WooCommerce.
Kami telah memperluas Elementor dengan widget dan kemampuan baru yang memungkinkan Anda membuat tajuk dinamis modern, menu mega interaktif, bagian pahlawan, penggeser, menyesuaikan halaman WooCommerce dan arsip Anda, dan banyak lagi!
Sistem Desain Komprehensif dan Gaya Tema
Fitur Sistem Desain memungkinkan perubahan cepat tipografi dan warna di seluruh situs web.
Dan pengeditan Gaya Tema tingkat lanjut memungkinkan Anda menargetkan gaya default situs web Anda. Misalnya, tipografi umum, judul, tombol, formulir, dll.
Dalam praktiknya, ini berarti Anda dapat memasang situs web yang sudah jadi dan menyesuaikannya dengan cepat agar sesuai dengan kebutuhan desain Anda, yang merupakan peningkatan kualitas hidup lebih lanjut yang tidak tersedia saat menggunakan vanilla Elementor.
Widget dipesan lebih dahulu
Kami telah mengubah banyak widget standar dan membuat berbagai widget baru (kami menyebutnya "The7 Elements") untuk menyempurnakan dan memperluas Elementor.
The7 Elements termasuk (tetapi tidak terbatas pada): 26 widget konten umum (daftar lengkap dan demo tersedia Di Sini), 24 widget WooCommerce, dan 22 widget Pembuat Tema.
Pembuat Jenis Posting Kustom Sederhana
Seperti banyak tema lainnya, The7 selalu hadir dengan tipe postingan bawaan untuk portofolio, tim, klien, dll. Tetapi bagaimana jika Anda perlu mengubah tipe postingan yang ada atau membuat duplikat?
Di versi baru, kami telah melangkah lebih jauh dan membuat pembuat tipe postingan yang sangat sederhana. Sekarang Anda dapat mengedit yang ada atau membuat jenis posting Anda sendiri dan menampilkannya dengan widget universal masonry, list, grid, dan carousel kami. Terlebih lagi, jenis posting kami sepenuhnya kompatibel dengan plugin Advanced Custom Fields (ACF). Jadi kemungkinannya benar-benar tidak terbatas. Dan tidak diperlukan pengkodean!
Integrasi WooCommerce yang Diperpanjang
WooCommerce adalah perangkat lunak e-niaga paling populer di planet ini. Dan The7 membawanya ke tingkat yang baru. Toko online Anda tidak lagi harus terlihat seperti toko lainnya! Anda dapat membuat etalase yang sepenuhnya dapat disesuaikan, halaman produk, daftar produk, keranjang belanja, pembayaran, dan banyak lagi! Sekali lagi, ini bukan sesuatu yang tersedia di tema Elementor lainnya.
Oh, dan sudahkah kami menyebutkan filter produk lanjutan yang hanya tersedia di The7?
Pembuat Halaman WPBakery dan Addons Ultimate Tidak Dilupakan
WPBakery Page Builder (sebelumnya Visual Composer) pernah menjadi pembuat halaman untuk WordPress. Dan Ultimate Addons adalah ekstensi pamungkas untuk itu. Waktu telah berubah, tetapi WPB masih memiliki pengikut yang kuat. Dan meskipun saat ini kami berfokus terutama pada Elementor, The7 tetap menjadi pilihan paling populer untuk pembuat halaman ini.
Pembaruan dan Dukungan Gratis
Sejak rilis pertamanya pada tahun 2013, kami terus memperbarui The7 untuk memastikan kompatibilitasnya dengan WordPress terbaru, memperkenalkan fitur baru, dll. Pembaruan ini gratis untuk semua pembeli The7.
Kami juga memberikan dukungan pelanggan gratis meskipun periode dukungan Anda di ThemeForest telah berakhir. (Asalkan Anda tidak menyalahgunakannya.) Tidak ada keanggotaan berulang atau biaya tersembunyi lainnya!
Alat Pelabelan Putih
Alat pelabelan putih memungkinkan Anda untuk mengganti nama The7, mengubah gambar kecilnya, info tema, dll. Fitur ini berguna jika Anda ingin menyesuaikan The7 dengan merek Anda sendiri.
Siap Multibahasa dan Terjemahan
The7 sudah siap terjemahan 100%. Bahkan, itu sudah diterjemahkan ke dalam 10+ bahasa. Dan jika Anda ingin membangun situs web multibahasa, temanya sepenuhnya kompatibel dengan plugin WPML yang sangat populer.
Siap untuk SEO dan Ramah Seluler
Tema ini kompatibel dengan berbagai plugin optimisasi mesin pencari, termasuk Yoast SEO. Itu juga disertifikasi oleh Google sebagai mobile-friendly.
$174+ Senilai Termasuk Plugin Premium
Plugin premium berikut dibundel dengan The7 secara gratis: Slider Revolution, WPBakery Page Builder, Ultimate Addons for WPB, Convert Plus, dan Go Pricing Tables.
Harap perhatikan bahwa Anda mendapatkan plugin ini dan izin untuk menggunakannya di situs web Anda yang didukung The7, tetapi Anda tidak menerima lisensi khusus, konten demo, dll. Ini berlaku untuk SEMUA tema di ThemeForest.
Diskon Dibangun Ke Dalam Harga
Kami mengambil anggaran pemasaran kami dan memutuskan bahwa alih-alih membelanjakannya untuk ulasan berbayar dan komentar palsu, kami akan memberikannya kepada pelanggan kami sebagai diskon. Oleh karena itu, The7 lebih murah hingga 44% daripada tema terlaris lainnya di ThemeForest.
… dan masih banyak lagi!
Butuh pertolongan?
Pernahkah Anda menghadapi masalah? Jangan khawatir – tim dukungan pelanggan kelas premium kami selalu ada untuk membantu Anda https://support.dream-theme.com/
Harap dicatat bahwa:
1. Permintaan dukungan sedang diproses pada hari kerja dari pukul 8:00 hingga 17:00 (GMT 0,0), (biasanya) dalam waktu 24 jam, sesuai pesanan, permintaan tersebut diterima.
2. Permintaan yang diterima melalui komentar, pesan pribadi, email, Twitter, atau Facebook akan memakan waktu lebih lama untuk diproses dan bahkan tidak dapat diproses sama sekali!
Apa yang baru
v.11.5.0 (21 Feb 2023)
New features:
1. Log in / log out widget.
2. Universal categories list widget with post type selection.

Improvements: 
1. Images lazy loading was completely reworked and optimized. This improves performance on page scroll.
2. "resize" event was split into separate "resizeWidth" and "resizeHeight" events; debounced resize events were improved. All leading to significant performance improvements on window resize and screen orientation change.
3. Images cropping in various widgets was transferred from JavaScript-assisted to CSS-only. This improves performance on page loading. 
4. "aspect-ratio" CSS attribute was added to most images on the server side. This prevents responsive images from collapsing on page loading, thus improving user experience. 
5. Slides overlay transparency is now responsive.
6. "Add to cart" and product variations icons in the Carousel and Grid & Masonry widgets are now responsive. 
7. Icon, Icon Box, and Image Box widgets were extended with a number of additional settings.

Bug Fixes:
1. "Blink" on changing images on hover in shop widgets.
2. Product Images Carousel. Image zoom on hover was disabled on mobile devices.
3. Scroll to anchor works incorrectly when there is a carousel widget(s) on a page.
4. Custom Post Type category meta is missing when a widget displays the current query.
5. Fixed "Uncaught TypeError: json_decode(): Argument #1 ($json) must be of type string." 
6. Shop Carousel and Grid & Masonry widgets. Settings for label variations are always visible. 

Other minor improvements and changes.

v.11.4.1 (26 Jan 2023)
Improvements:
1. Improved PHP 8.1 compatibility
2. Google fonts list updated
3. Images loading in carousel widgets overhauled. 
4. Carousel widgets rebuilt to use CSS variables.

Bug Fixes:
1. WooCommerce. Service message is missing on a single product page after adding a product to a cart.
2. Elementor. FontAwesome Pro fonts are missing in the mega menu icon picker.
3. WooCommerce. The quantity field is displayed even for products sold individually. 

v.11.4.0 (17 Jan 2023)
New Features:
1. Products list widgets:
    - variations appearance;
    - variations can now be added to the card right for lists;
    - work on mobile devices;
    - progress indicator on adding product to a cart;
    - etc., etc.
2. Popups:
    - "fit to screen" now properly works on mobile devices; 
    - max-height setting added to "fit content";
    - custom scrollbar settings.
3. Mini cart widget was completely reworked. Confusing layout options are gone. Now you only have the min- and max-height settings. The widget automatically figures out its appearance based on the visitors' screen/device. Also, custom scrollbar settings were added.
4. "Sticky" sections now have a new [experimental] feature: show/hide on scroll. 

Improvements:
1. Add an accessibility description field for the "The7 Icon" widget.
2. Off-screen content pre-loading in carousel widgets.
3. Widgets appearance during the page loading process. 
4. Product Gallery. "Zoom" icon upload option added. 

Bug Fixes:
1. Vertical Menu. Spare space for dropdown indicators sometimes throws off the layout.
2. WooCommerce pages doubling on import of the demo content. 
3. Horizontal Menu > Mobile menu icon. The size setting is not working when using a .svg icon. 
4. Product Gallery > Arrows. The size setting is not working when using .svg icons. 
5. Slider. Issues with .svg icons.
6. Default quantity arrows are visible in FireFox.
7. Shop Categories. Issues with the encoding of captions. 
8. "Inline" .svg images have spare spaces.
9. Carousel widgets. Lazy-loading images are not loading if the first action is scrolling the carousel back. 
10. Sections "unstick" sometimes is not happening on fast scrolls. 
11. Image Box. Incorrect image width with short captions.
12. Incorrect description in WooCommerce login form.

Other minor improvements and changes. 

v.11.3.0 (23 Des 2022)
Improvements:
1. FVM plugin integration integrity check.
2. JavaScript onload performance improvements. 
3. Icons settings added to the Vertical Menu widget.

Bug Fixes: 
1. Issue with spacing below the price in product variations.
2. (accessibility) Empty link error for "the7-popup-button-link" button.
3. [dt_year] shortcode doesn't work in Elementor.
4. Products list. The "Gradient" option is not working for image hovers. 
5. Issue with the "up" button shape when .svg icon is used.
6. Carousel widgets, items being "cut off" in certain settings combinations.
7. Strikethrough line not being centered on the old price in the Price widget. 

v.11.2.2 (12 Des 2022)
Improvement:
The "scrolling offset" setting (for anchor navigation) was added to Theme Style > General Appearance.

Bug Fixes:
1. The mobile menu is visible on the page loading.
2. Product grid and Carousel widgets are broken when used in tabs or mega menus.
3. If a menu item has a submenu and a mega menu assigned to it, both will be displayed.
4. Multiple minor issues with search widgets.
5. Shop categories widget causing horizontal scrolling to appear when used in popups. 
6. PHP notice in product categories. 
7. product gallery main image ratio glitch \+ arrows z offset
8. "Preserve image proportions" option is not working properly in the product gallery.
9. Add to cart. Products with custom attributes are not properly indicated when out of stock. 
10. Duplicated drop-down arrows in selects.
11. Expanded search button acts as an empty anchor link (and causes the page to jump to the top). 
12. Visual issues with the Hotel Booking plugin date-picker.
13. Default WPB button with gradient is not working.

Other minor improvements and fixes.

v.11.2.1 (25 Nov 2022)
Improvement:
Vertical Menu widget. The option to show/hide menu items icons was added.

Bug Fixes:
1. Margin settings are not working correctly in the Shop Categories widget.
2. Issue in Testimonial Carousel widget with navigation arrows positioning.
3. Simple Products Carousel and Grid widgets. The sale price is not displaying correctly.
4. Shop login form. Minor visual issues with the button.  

Other (even more minor) fixes and changes 

v.11.2.0 (22 Nov 2022)
New Feature:
The7 Slider widget (beta). The slides can be created and edited with Elementor like regular templates.

Improvements:
1. Mega Menu will not close when clicking inside of it. It allows using tabs and other interactive widgets (beta) inside Mega Menu.
2. All The7 widgets containing the "number of columns" setting now have the setting to adjust the "wide desktop" responsiveness point. 
3. Navigation arrows in photo scrollers can now be centered relative to images; the corresponding arrow can now be hidden when reaching the scroller beginning/end. 

Bug Fixes:
1. The7 Product Images. Images are not visible when thumbnails are disabled.
2. Theme Styles > Typography. Links styling doesn't work.
3. "Add to cart" doesn't work if a product attribute consists of multiple words.
4. SVG "arrow down" image loads even if it is not displayed in the menu.

v.11.1.2 (9 Nov 2022)
Improvements:
1. PHP 8.1 compatibility
2. Compatibility with WooCommerce 7.1.0 templates

Bug Fixes:
1. Photo Scroller. Custom height setting is not available on mobile devices.
2. Product Review. Some CSS styles are missing.
3. Jitter in sticky headers with certain settings combinations.
4. Posts Masonry & Grid. The inner shadow setting on images is not working.

v.11.1.1 (3 Nov 2022)
Bug fixes:
1. Elementor templates are not working when used inside tabs more than once. 
2. "Tribe Events Сalendar" plugin compatibility issue. 

v.11.1.0 (31 Okt 2022)
New:
Adding and displaying icons in menu items was completely overhauled. Icons can be added in the Appearance > Menus. But all settings for icons appearance are now located in the menu widgets. 

Improvements:
1. Up-sales and cross-sales added to product queries. 
2. Option to display related products from a specific category/subcategory was added to the product list widgets.
3. Menu cart. Typography settings were added for the product quantity. 
4. Product counter. An alignment setting was added.
5. Autoplay was enabled for a video in the WPB Fancy Media lightbox.
6. Shop filter widgets with toggles. Separate settings for borders, background, paddings, margins, etc., were added both for the toggle and content areas. 

Bug Fixes:
1. The7 prevents the native Elementor header from displaying on the CPT archive (Lodgix).
2. Drop-down arrow overlaps the number in the Booking plugin.
3. Carousel widget. The option to center arrows relative to images is not working.
4. "Hamburger" menu icon is visible on the page load.
5. Broken border in the Image Box widget.

Other minor improvements and fixes.

The7 Elements v.2.7.1
Improvements:
1. Post Type Builder. Add setting to show/hide thumbnail admin column.
2. Post Type Builder. Make the "Excerpt" field active by default.

Bug Fix: 
Extra spaces in the "Read more" button code in The7 custom post types in WPBakery shortcodes. 

v.11.0.3 (30 Sep 2022)
Bug Fix:
An issue with the Icon Box Grid width.

v.11.0.2 (29 Sep 2022)
Bug Fix:
Theme Options are disabled after theme update if "My The7" settings have never been saved before.

v.11.0.1 (29 Sep 2022)
Bug Fixes:
1. Button shadow does not work in Theme Styles.
2. Collapse sidebar filter does not work.
3. JS error on "Page Layout" refresh when using Simple posts in the footer template.
4. Images don't resize on orientation change.

v.11.0.0 (25 Sep 2022)
New Features:
1. Starter screen (appears on The7 registration) with an option to automatically set up The7 for building Elementor-based websites from scratch. 
When choosing this option, The7 will automatically install the required plugins, choose optimal settings, create Global Fonts and Colors (Design System), add basic templates (blog, shop, archives, etc.) and template parts (header, footer, mobile menu, etc.), import minimal dummy content, etc. In other words, do all the prep work we usually do before creating a new demo. 
2. Settings presets optimized for Elementor and WPBakery were added to The7 > My The7. 
3. Option to disable old Page Templates and other features not required for Elementor-based websites was added under The > My The7, Settings.
4. Option to disable the icon font built into The7 was added under The > My The7, Settings.

New and Updated Demos:
1. New "Blank" demo (https://the7.io/blank/). Handy if you are building a website from scratch without using a pre-made thematic demo.
2. "Elementor Shop" demo (https://the7.io/elementor-shop/) was completely overhauled. 
All other demos were updated to use new features. 

Improvements:
1. All icons used in the theme were switched from the icon font to .svg.
2. Numerous minor improvements to forms styling (checkboxes and radio-buttons styling; styling for the Product Reviews widget; buttons icon spacing; etc.). 
3. Numerous minor improvements to the Mini Cart widget (title and buttons background; min-height for title background; spacing after the last item; etc.).
4. "Gap" element in TinyMCE text editor is now editable. 
5. Search widget now has the "clear" button.
6. Arrows in the Product Images widget now support .svg's; have responsiveness and spacing settings. 
7. Toggles in the Product Filter widget now have hover and active color settings. 
8. Numerous minor improvements to the Photo Scroller widget.
9. Mega menu margins can now be set in "em" and "rem" units. 
10. "Normalize resize event on mobile devices" setting was added to Elementor Site Settings (works the same as in the Theme Options).

Bug Fixes:
1. "Apply Coupon" button has wrong height on mobile devices. 
2. "dt-the7/woocommerce/myaccount\form-login.php" template is outdated.
3. Image Box widget grid layout is broken in some settings combinations. 
4. Minor appearance issues with the Product Revies form.
5. Position of 3+ level indicator in Shop Categories widget.
6. Header can't be excluded from 404 Page template.
7. Active product filters widget, icon size misses the "px" and "em" units. 
8. Collapsible sidebar. The Product Categories dropdown is not visible with certain settings combinations.
9. Carouse widgets. Animation is missing with .svg arrows. 
10. "Current subcategories" mode doesn't work in "The7 Product Categories Grid".

Other minor improvements and changes.

Changelog untuk v.10 dapat ditemukan Di Sini.
Harap diperhatikan bahwa layanan kami tidak tersedia dari alamat IP Rusia dan Belarusia, dan server kami tidak dapat dijangkau dari nama domain Rusia dan Belarusia.