Specular is a WordPress theme that offers over 20 ready-to-use sites for different purposes, from home variations and demos to fully published websites. The theme is powered by Codeless, created by Ludjon Roshi and Eldo Roshi, and offers a Special Support Center with 12 members, providing real-time support to customers. Specular also boasts limitless possibilities for customization, and a user-friendly interface for layout and design changes without coding skills. Additionally, the theme offers features such as fully responsive design, one-click demo data import, Slider Revolution, WooCommerce, 30+ portfolio layouts, and more.
Untuk Membantu Anda Yang Tidak Punya Alat Transaksi Online Seperti Kartu Kredit, Paypal, Dll. Juga Tidak MEmahami Hosting, Cara Installasi, dan Setting Awal. SHOP.co.id, menawarkan paket Siap Pakai, meliputi : Pembelian Script atau Theme, Domain, Hosting, dan Installasi. Bukan hanya itu, kami juga memberikan tutorial dan support.
Jika Anda Membeli dari Sumbernya langsung, Anda Wajib punya alat transaksi online, Keakhlian Installasi, Memahami Jenis Hosting, dan Juga Hal Teknik lainnya.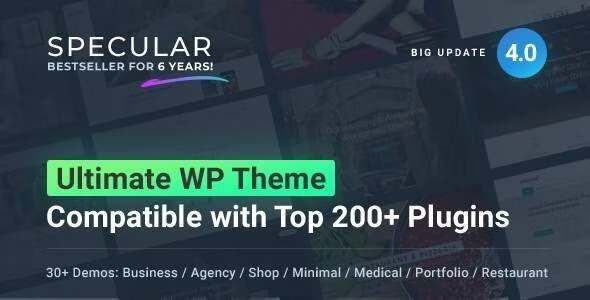 Tema Serba Guna Utama – Demo & Halaman Dalam
Tidak hanya variasi rumahan atau demo tetapi juga situs yang dibuat sepenuhnya untuk Anda yang siap dipublikasikan di internet. Lebih dari 20+ situs siap pakai dibuat dengan penelitian dan dedikasi. Pilih yang tepat dan online dalam 5 menit. Specular adalah tema WordPress yang spektakuler, tema terakhir yang perlu Anda beli. Terus kembali ke halaman ini untuk mendapatkan update terbaru. Fitur Baru dan Situs Demo ditambahkan setiap minggu.
Tema specular diberdayakan oleh Tema Tanpa Kode. Itu dibuat oleh Ludjon Roshi dan Eldo Roshi.

Pusat Dukungan Khusus
Dengan staf yang terdiri dari 12 anggota, Codeless akan memberikan dukungan real-time dan paling kuat yang pernah Anda coba. Anggota staf kami berkonsentrasi dalam membantu pelanggan kami untuk memecahkan dan menyesuaikan situs mereka. Lima di antaranya bekerja setiap hari untuk memastikan Specular tetap bersih, tanpa bug, dan mutakhir. Yang terakhir dan yang paling penting: GRATIS Seumur Hidup
Kemungkinan Tak Terbatas
Tim Tanpa Kode telah bekerja keras untuk memastikan Anda kemungkinan tak terbatas yang dapat ditawarkan Tema Bundel ini kepada Anda: Beli 20+ Tema dengan harga satu (lebih banyak di muka). Jika Anda tidak menemukan situs Demo yang tepat untuk kebutuhan Anda, pilih sekarang untuk survei kami apa yang lebih Anda butuhkan dari Specular dan tim khusus kami akan menyediakan fitur atau demo ini untuk pembaruan berikutnya. Yang terakhir namun tidak kalah pentingnya: Dengan Specular Anda dapat membuat situs kustom Anda dengan sangat mudah dan dengan cara tercepat yang pernah Anda coba. Pilihan dan Kemungkinan Tanpa Batas.
Bisnis / Pemasaran Menghasilkan Uang / Beragam
Ini adalah tiga pemisahan logika utama kami di Specular. Apa artinya? Ini berarti Tanpa Kode. Tidak perlu lagi keterampilan kode untuk memulai bisnis Anda, untuk meningkatkan penjualan online Anda, untuk membuat situs presentasi portofolio, gereja, obat-obatan, kreatif, fotografi, perjalanan, restoran (dan banyak lagi). Dengan pengalaman lebih dari sepuluh tahun dalam pembuatan situs web dan kampanye pemasaran, kami mampu dan yakin untuk menyediakan pelanggan kami kemungkinan untuk menciptakan produk terlaris di pasar.
Fleksibilitas Tata Letak tidak seperti tema lainnya
Specular menyediakan penyesuaian tata letak tanpa batas. Dengan opsi tema yang mudah digunakan, Anda dapat membuat halaman yang unik dan sempurna untuk tujuan apa pun. Opsi ini berisi:

Semua Tata Letak Halaman (Kotak atau Lebar)
Tata Letak Tajuk (Atas, Kiri, Kanan, Tetap, Statis)
Tata Letak Halaman Dalam (Bilah Sisi Kiri, Bilah Sisi Kanan, Lebar Penuh)
Navigasi Sisi Ekstra (Kiri, Kanan)
Lebar Kontainer, Lebar Kontainer Kotak – dalam px atau persentase
Tata Letak Footer (Tampilkan/Sembunyikan Footer dan Hak Cipta)
Misalnya: Jika Anda memerlukan halaman untuk pemasaran atau penjualan produk, Anda dapat dengan mudah membuat tata letak tajuk khusus, menghapus footer, menghapus sidebar, dan memusatkan wadah halaman utama dalam 500px atau 600px. Situs demo kami dibuat dengan penyesuaian mudah ini. Lihat SITUS DEMO kami.
Pembuat Template Online dengan Ekspor
Semua template kami dibuat dengan mempertimbangkan penyesuai online. Anda dapat membuat template yang dipersonalisasi dengan kemungkinan untuk mengubah banyak opsi agar sesuai dengan kebutuhan Anda sebelum Anda mengeluarkan uang untuk itu. Dengan penyesuai online, Anda dapat membuat lebih dari 200+ tata letak dan gaya unik yang belum pernah dibuat tema lain. Setelah membuat template pribadi Anda, ekspor dengan satu klik dan online dalam 5 menit.
Jadilah anggota. Dapatkan tambahan yang menarik.
Dukungan khusus 24/7 dengan lebih dari 12 anggota staf.
Pembaruan Gratis Mingguan Seumur Hidup (Fitur Baru dan Demo ditambahkan setiap minggu)
Dapatkan demo baru gratis yang dibuat dari komunitas.
tutorial video HD
Dapatkan saran gratis dari keahlian kami untuk menciptakan kesempurnaan Anda

situs web

Sarankan kami demo lain apa yang Anda butuhkan dan kami akan membuatnya untuk Anda.
Instalasi 1-klik dan pencadangan inovatif
Demo yang sangat sederhana dan kuat dipasang dengan Specular. Pilih satu templat dan pasang sepenuhnya dalam hitungan detik. Opsi impor/ekspor baru yang inovatif dari Codeless luar biasa. Sekarang Anda dapat mencadangkan konten Anda, memasang dummy baru, dan mengembalikan cadangan dengan cara yang paling sederhana. Jangan buang waktu dengan plugin lain. Terakhir, Anda dapat membagikan konten yang telah Anda buat dengan komunitas dengan cara ini kami dapat membuat komunitas demo & showcase terbesar untuk membantu pengguna kami.
Fitur Inti
SEPENUHNYA RESPONSIF
Cobalah untuk mengubah ukuran browser Anda dan lihat kesempurnaan dari setiap bagian halaman. Tidak masalah jika Anda menggunakan tablet, seluler, atau desktop, tampilannya keren di mana-mana
30+ TATA LETAK PORTOFOLIO
Menampilkan proyek Anda dengan mudah dengan Specular. Gunakan Masonry, Grid, Fullwidth atau Boxed Layout dan semuanya dengan 3 gaya dan 2-5 kolom
BLOG INOVATIF YANG MENARIK MATA
Specular hadir dengan gaya blog baru. Gaya blog layar penuh mudah dikonfigurasi dan mengagumkan bagi klien untuk membaca posting baru.
MULTI-TUJUAN NYATA
Kemungkinan tak terbatas untuk membuat situs web yang luar biasa. Demo unik dan berguna untuk proyek Anda selanjutnya. Dapatkan yang terbaik dari tema seharga $55.
SLIDER TANPA KODE KUSTOM
Penggeser khusus dari tim kami, dengan kemungkinan untuk membuat penggeser dengan animasi efek paralaks dan tombol bergaya tema.
DIBUAT DENGAN PENELITIAN
Semua fitur desain web baru dan praktik SEO digunakan untuk tema ini untuk menjadikannya tema yang paling berguna dan sukses yang pernah dibuat.
LATAR BELAKANG VIDEO
Tambahkan latar belakang video di penggeser, bagian, dan tajuk halaman. Buat halaman kreatif yang fantastis, dan semua ini dengan cara yang sederhana
KOMPATIBEL WOOCOMMERCE
Buat toko online Anda dan jual produk Anda sekarang. Woocommerce sepenuhnya ditata dan siap digunakan dari pengguna kami.
DATA DEMO SATU KLIK
Dengan hanya satu klik, buat situs Anda dengan demo pilihan Anda dari daftar demo kami. Pilih satu template dan instal sepenuhnya dalam hitungan detik.
BAGIAN PARALAKS
Buat bagian paralaks dengan animasi. Gunakan paralaks pada bagian halaman dalam atau di penggeser
SLIDE MULTIMEDIA
Buat slide keren dengan konten multimedia campuran: video, foto dengan konten, paralaks, layar penuh.
NAVIGASI SISI EKSTRA
Tambahkan area widget baru yang dapat diperluas dengan tombol untuk klien Anda memenuhi permintaan mereka.
PENYESUAIAN LANGSUNG
Ubah warna dan gaya dengan mudah dari penyesuai tema wordpress. Buat pekerjaan Anda lebih mudah.
RETINA
Specular dioptimalkan untuk tampilan resolusi tinggi. Semua ikon adalah ikon font dan digunakan pedoman terbaru untuk css.
PEMBUAT HALAMAN
Specular dibangun dengan pembuat halaman seret & lepas. Komposer visual adalah pembuat halaman kami. Ini versi front-end dan back-end. Lihat video kami.
SATU HALAMAN
Dengan Specular Anda dapat dengan mudah membuat satu halaman online Anda. Ini sangat sederhana dan indah.
MEGAMENU
Anda ingin menampilkan banyak konten di menu Anda? Gunakan Specular Megamenu untuk menampilkan 2-3-4-5 kolom megamenu, Anda juga dapat menambahkan gambar latar belakang
FORMULIR KONTAK7
Tema WordPress Specular sepenuhnya kompatibel dengan Formulir Kontak 7
PEMASARAN
Dengan pengalaman lebih dari sepuluh tahun dalam pembuatan situs web dan kampanye pemasaran, kami mampu dan yakin untuk menyediakan pelanggan kami kemungkinan untuk menciptakan produk terlaris di pasar.
8 GAYA BLOG & 2 POSTINGAN TUNGGAL
Anda ingin menampilkan banyak konten di menu Anda? Gunakan Specular Megamenu untuk menampilkan 2-3-4-5 kolom megamenu, Anda juga dapat menambahkan gambar latar belakang
FORMAT POSTINGAN
Buat postingan Kutipan, Video, Audio, Standar, atau Galeri hanya dengan satu pilihan
TERJEMAHAN
Terjemahkan dan jadikan situs web Anda multibahasa, dengan Kompatibilitas WPML dan file .po/.mo.
REVOLUSI & SLIDER LAPISAN
Slider premium $35 sudah termasuk dalam paket. Flexslider dan Codeless Slider juga disertakan.
4 PAKET FONT IKON
Steadysets, font mengagumkan, icomoon, linecon. Semuanya dengan ukuran dan warna khusus
KONTROL LEBAR SITUS
Specular menyediakan penyesuaian tata letak tanpa batas. Dengan opsi tema yang mudah digunakan, Anda dapat membuat halaman yang unik dan sempurna untuk tujuan apa pun.
PUSAT DUKUNGAN BERDEDIKASI
Dengan staf yang terdiri dari 12 anggota, Codeless akan memberikan dukungan real-time dan paling kuat yang pernah Anda coba.
TIDAK PERLU KETERAMPILAN KODE
Tidak perlu lagi keterampilan kode untuk memulai bisnis Anda, untuk meningkatkan penjualan online Anda, untuk membuat portofolio, bisnis (dan banyak lagi) situs presentasi Anda.
ANIMASI CSS3
Pilih jenis animasi, penundaan, dan opsi lain untuk membuat halaman Anda tampak luar biasa
BANYAK WIDGET KUSTOM
Kami telah menyertakan widget khusus yang dapat Anda tambahkan dengan mudah dengan fasilitas drag & drop ke footer, navigasi atas, sidebar, dan area widget lainnya.
KOTAK & LUAS
Pilih untuk posting dan halaman jika Anda ingin tata letak halaman kotak atau lebar. Anda juga dapat menambahkan warna latar belakang dan mengubah ukuran wadah kotak sebanyak yang Anda inginkan.
DIDUKUNG TEMA ANAK
Anda juga dapat menggunakan tema Specular sebagai tema anak. Anda juga dapat menambahkan kode css khusus. Anda dapat memodifikasi seluruh css global atau beberapa halaman saja.
Daftar Fitur Lengkap (Lihat)
Pembuat Halaman Visual – Termasuk Komposer Visual
Seret & Lepas Pembuat Front-end
Desain Modern
Perusahaan perangkat lunak
Tema yang Dioptimalkan SEO
Dukungan WPML
Membersihkan dan memvalidasi kode
Tema Responsif
Desain Serbaguna
30+ Elemen yang Dapat Disesuaikan
Templat Halaman Pradesain
Impor Demo Sederhana Sekali Klik
Panel Opsi Tema Tingkat Lanjut
1000+ Ikon Retina disertakan
Dukungan Retina
Banyak bahasa
Terjemahan Siap
HTML5 + CSS3
Animasi CSS3
Kompatibel dengan Tema Anak
Layer Slider Premium WordPress Slider Plugin disertakan secara GRATIS
Slider Revolution WordPress Slider Plugin disertakan secara GRATIS
Dukungan WooCommerce
Kerangka Bootstrap
12 Tata Letak Tajuk
Mampu Satu Halaman
Sentuh Dukungan Gesek
Menu Mega
20+ template slider
Masonry
Menu Lengket
Garis Waktu Blog
Judul Halaman Pahlawan
Gambar Paralaks
Video HTML5
Formulir Kontak Ajax
Gulir Tak Terhingga
Gulir Halaman Halus
Integrasi Mailchimp
Korsel Responsif
Pembaruan Gratis
Warna Tidak Terbatas
Menu Kiri
Menu layar penuh
Gaya Area Samping
Bagian Latar Belakang Video
Header Tetap
Header dengan Logo dan Menu dimasukkan
Area Widget Tajuk Teratas
Transisi Halaman AJAX
Format Posting Kustom: Staf, Portofolio, FAQ
Codeless Slider – Layar penuh, Paralaks, dan animasi
Portofolio Masonry
Sidebar Kustom
600+ Google Font
file po mo disertakan
Opsi Tipografi Tingkat Lanjut
FontAwesome, Lineicon, SteadySets dll…
Performa yang Ditingkatkan
1-6 Kolom didukung
Efek Geser Ken Burns
Blog yang Dapat Disaring, Portofolio, FAQ, Staf
Logo Kustom, Unggah mudah
Opsi Lebar Responsif
Tajuk Pencarian Opsional
Opsi Judul & Subtitel
Galeri WP Khusus
Widget Footer 1-2-3-4 Kolom
WordPress SEO oleh Yoast
Templat Halaman Blog Kustom
Format Posting Blog Kustom
Pemotongan Gambar
Lightbox Gambar
Halaman Kontak Khusus
Didukung Google Maps
Penulis Elit Tepercaya
Kompatibel dengan banyak plugin populer
Pembaruan Tema Otomatis
Terorganisir dengan baik, kode bersih
Halaman 404 bawaan
Halaman Segera Hadir disertakan
Beberapa Video HD untuk mempelajari Anda
Lebih banyak demo ditambahkan di masa mendatang
Kontrol Penuh atas lebar situs
Termasuk FlexSlider
Perusahaan perangkat lunak
Mode Kotak / Lebar
Penuh Warna Dapat Disesuaikan
Penyesuai Langsung WordPress
Tata Letak Kisi Portofolio
Dukungan Hebat
dan banyak lagi…
Pembaruan
Specular sepenuhnya kompatibel dengan WordPress 6.1

4.2.4
Compatible with PHP 8.2
Adding WpBakery Plugin Again in the plugin directory
Updated Ultimate Vc Composer Update
Updated Slider Revolution

4.0.8
Updated WpBakery Visual Composer
Updated Slider Revolution 

4.0.7
Updated: Waypoints JS
Updated: Codeless Starter Sites 1.0.3 (IMPORTANT)
v4.0.1
Fixed: Disable Elementor default stylings
Fixed: Elementor Container on default Specular pages.
Added: New Demo Wedding
v4.0
### 4.0

Added: 100+ Slider Revolution Templates
Added: Ultimate Addons for WPBakery plugin
Added: Cowidgets Elementor Addons - more than 100 Elementor widgets & styles
Added: 2 New Demos: Consulting & SAAS
Updated: Better One-click installation
Updated: Lighter theme-package, all demos loaded from cloud
Fixed: Small theme bugs on styling
Added: Build custom headers/footers for each page
Added: Theme Builder - design entire website on front-End
Added: Compatibility with TOP & most popular WordPress plugins!
Fixed: Rechecked and fixed theme Performance
Added: New developer hooks to make theme development more easier.
Updated: Theme code to a higher quality
v3.4.2
Updated: WPBakery
Updated: Revolution Slider
v3.4.1
Fixed: WordPress5.5 and Redux new version compatibility

v3.4
### 3.4

Updated: Woocommerce files
Added: Link Target to Clients element
Added: Custom icon and color for each list
Fixed: LearnDash small issue
Fixed: WooCommerce zoom gallery issue
Fixed: Small issue with single portfolio custom params
Fixed: Issue with blog styles not closing div
Fixed: Media image on modern blog article
Fixed: WooCommerce Cart Buttons
Fixed: Sticky Menu issue on mobile when longer then display size
Fixed: Related Portfolio Items, get from actual category only
v3.3

Added: New Demo Cleaning
Added: New Demo Fitness
Fixed: Small JS Issue
Fixed: Layerslider is_numeric issue
Fixed: PHP warning message fixed

v3.2.7

Fixed: Small Gutenberg Fixes

v3.2.6

Updated: Slider Revolution 6.1.6
Updated: WPBakery Visual Composer 6.1

Versi 3.2.5

### 3.2.5

Release December 23

Added: New Elementor Compatibility
Added: Digital-Agency Demo in Elementor 
Update: Plugins Updated
Updated: WooCommerce Compatibility
Fixed: Minor Bugs

### 3.2.4

Release December

Banner Update
Plugins Updates


Versi 3.2.3


### 3.2.3

Release November 20 2019

Added: New Demo Lawyer
Added: New Row Option for Background Cover
Updated: Revolution Slider
Updated: LayerSlider
Fixed: Left Navigation
Fixed: FullWidth Background Image 

### 3.2.2

Release November 2019

Fixed: Small Classic Editor bug 
Updated: Revolution Slider

Versi 3.2.1
### 3.2.1

Release: August 2019

Fixed: Small Issue with Top Navigation Widgets on Mobile
Fixed: Inner Inline Border Column Title issue with Background Color
Fixed: Page Header for long page names on desktop and mobile
Fixed: Countable warning issues on some blog data
Fixed: Section Issue generating empty space from top
Fixed: Animation Issue on Codeless Slider

Versi 3.2
### 3.2

Added: DefaultV3 Demo
Added: Charity Demo
Added: New Header Style with Menu in center
Fixed: Header Button Default Style position fixed
Added: New Modern Button Style
Added: Font Family option to button typography
Added: Shadow and Rounded Corners for Image media elements
Fixed: Custom Heading Element get Theme Font family by default
Added: New Left Aligned Testimonial Carousel with Image
Added: New Blog Grid Style - Shadow Box with Rounded Corners
Updated: New Fancybox script version for lightboxes, works better
Fixed: Missing Page Header Basic from Single Posts
Fixed: Full Blog Element Timeline style issue
Fixed: Title Heading Element, white background issue
Fixed: Small WP Debug Warning Messages fixed
Fixed: Overwrite Page Options issue fixed
Fixed: TTA Accordion issue Responsive
Fixed: Sticky Header Mobile not working well
Fixed: Google Analytics and Custom Code JS options tags issue
Added: Option for archives header light/dark switch
Fixed: Section Spaces JS issue, not initialized correctly
Added: New Shop Archives/Categories Layout Option
Added: New Shop Single Products Layout Option
Added: Single Product Overwrite Layout Option
Fixed: Copyright not showing when missing widget on copyright sidebar
Fixed: Small Woocommerce design fixes
Fixed: Section Equal Height issue with columns
Updated: WPBakery to 6.0.5
Updated: Codeless Framework 1.0.2
Versi 3.1.3
### 3.1.3

Fixed: Overlay menu not working, modernizr & classie js not loading

Versi 3.1.2
### 3.1.2

Fixed: Column Title with Inline-border style
Added: Portfolio Filter Enabled / Disable Option
Fixed: Small WP Requirement fix

Versi 3.1.1
### 3.1.1

Fixed: Small incompatibilities with old PHP version
Updated: WPBakery to 6.0.3
Fixed: Small services small design issue

Versi 3.1

### 3.1

* Released: May 27, 2019

UPDATED: BIG WP REQUIREMENTS UPDATE
Updated: Child Theme
Added: Custom Logo Default WP Functionality
Moved: Post Like from Theme to Codeless Framework plugin
Removed: Not necessary file - soundcloud_plugin.php
Moved: Post Types from Theme to Codeless Framework Plugin
Moved: Widgets from Theme to Codeless Framework Plugin
Updated: Revolution Slider
Updated: LayerSlider
Updated WPBakery Visual Composer
Updated: Smoothscroll to the latest version
Fixed: Portfolio Grid Issue
Fixed: Codeless Slider Autoplay
Added: Pinterest Social Icon
Added: Education Demo Missing
Updated: Comments organization and CSS
Updated: New Page Layout Manager Functions

Versi 3.0

### 3.0

* Released: March 21, 2019

Updated: Redux Framework, no more theme bundled, will get from WordPress repository
Fixed: Codeless Import to force 'home' page as Front page
Fixed: Import Revolution Slider issue on Theme Wizard
Fixed: Content Horizontal & Content Vertical Options on Columns
Fixed: Small fixes on WPBakery elements options, removed some unneccesary options
Fixed: WPBakery Separator Element backend Fixed UI
Fixed: Custom Heading Element fixed margin bottom style
Fixed: Agency Demo Widgets messed
Fixed: Contact Form 7 Message style
Added: Customizer Options
Fixed: Gallery Demo Widgets on setup
Fixed: Codeless Gallery Carousel Slider issue with loop, updated Swiper Slider
Fixed: Issue selecting Price list - list item for edit on VC
Added: Link to List Item Element (can be used on Price List or List Element)
Added: Sticky Header on Mobile/Responsive Option
Fixed: Fontawesome Icons on VC elements with icons
Fixed: Codeless Slider empty space after slider when site layout boxed
Fixed: Boxed Layout on screen resize, page width issue
Fixed: Increased Performance, loads only necessary js files async
Fixed: SEO-OPTIMIZATION fix title of sections, change from H1 to H2
Added: Top Widgetized Area SHOW/HIDE on mobile options
Fixed: Infinite Scroll on Blog Masonry
Fixed: Isotope on Portfolio Items
Added: Infinite Scroll Pagination on Portfolio 
Fixed: Make Codeless Slider non grabbable when only one slide
Fixed: Remove Comments & Reply when user uncheck "Allow Comments" 
Fixed: Social Shares button on Single Posts jump on top of page when clicked
Updated: Documentation
Fixed: Single Portfolio floating sidebar, remove JS, now works with CSS
Fixed: Single Portfolio Fullwidth missing space between image and Content
Fixed: Deregister VC custom style for Flexslider, now loads same style for all flexsliders (galleries)
Fixed: Portfolio Navigation undefined Message
Added: Related Portfolio (with option) on Portfolio Single Pages
Added: Option to remove Tags, Post Date, Author meta etc from blog Posts
Added: Custom (different) Menu for each page option
Added: Link to Team Members (Staff Entries)
Fixed: Missing some image files
Fixed: Header 8, style with border bottom, padding issue
Added: Header Transparency on Menu Header Style 9
Fixed: Blog Icons alignment with text when size of text larger then default
Added: Improved Single Posts style, added new style Modern
Fixed: Footer text line-height issue when body font line-height larger needed
Updated: WPBakery to 5.7
Added: Custom Icon Color and Icon Size for Icon Text Shortcode
Added: New Layout Option for Top Widgetized Area, now you can choose between 6-6, 3-9, 9-3 columns sizes
Fixed: Portfolio Overlay when title with two lines, centered
Added: Option for custom current menu item / hover color
Added: Option for changing header button color/style (light/dark)
Fixed: Remove Envato WordPress Toolkit Library, added Envato market plugin

Versi 2.6.4

- WordPress 5.0 Compatible
- Gutenberg Compatibility
- Update Visual Composer
- Update Revolution Slider
- Compatible with PHP 7.2
- Header 8 Issue Fixed
- Translation string updates


- Update WP Bakery Visual Composer 5.5.5
- Fixed issue with Revolution Slider and JavaScript Incompatibilities
- Fav Icon Issue
- Fixed Boxed Layout Responsive Issue
- Update WooCommerce Files (Compatible with the latest version.)

Versi 2.6.2

- Minor Bugs Fixed
- Update Visual Composer 5.5.1, Revolution Slider 5.4.8 
-style.css 


- Update Visual Composer 5.4.5, Revolution Slider 5.4.6.4, Layer Slider 6.6.4 
- Layerslider issue fixed; 
-Portfolio items in menu 
-includes\types\codeless_portfolio_type.php 
-style.css 
-includes/core/codeless_slideshow.php


-Improved Dummy Data Installation

Files:
- /includes/dummy_data/
- style.css


- Re -Added Tabs, Toggles, Accordions
- Update Visual Composer 5.2, Revolution Slider, Layer Slider
- Single blog post page header Fixed
- Comments on Demo Pages Removed.
- Button Issue Fixed.

Versi 2.4

- Demo Installation
- Minor Bug Fixes
- Responsive Errors

Versi 2.3.3

- Added Snapchat icon
- Updated Font Awesome
- Services Media added Self Hosted Video 
-----------------------------
Files:
- style.css
- /fonts -- folder
- vc_templates/services_media.php
- /includes/core/codeless_elements.php
- /includes/core/codeless_options.php
- /includes/widgets/codeless_socialwidget.php
- functions.php

Versi 2.3.2

- Added Setup Wizard
- Fixed Testimonial on load
- Fixed Recent News without Images
- Service Small Show now all the posts

Versi 2.3.1

- Fixed Installation of Dummy Data (with visual composer pre installed)

Files
--------------
- style.css
- /admin/inc/fields/codeless_import/import_export.php

Versi 2.3

Update Visual Composer

Versi 2.2

Update: Visual Composer
Update: Revslider

---------------------------------------

Files:
plugins/
includes/core/codeless_required_plugins.php
style.css


Versi 2.1

Update: Woocommerce
Update: Revslider
Update: LayerSlider
Fixed: Now can change the page header of each portfolio item
Fixed: Small responsive design issues
Fixed: Recent Portfolio with Careosel on responsive
Fixed: Small H1 titles on responsive

---------------------------------------

Files:
admin/ folder
plugins/ folder
style.css
includes/core/codeless_options.php
woocommerce/content-product.php
woocommerce/single-product/product-image.php
css/woocommerce.css
css/bootstrap-responsive.css
js/main.js


Versi 2.0
Updated WooCommerce, fully compatible
Updated Visual Composer.
Updated some deprecated classes in VC
Added: Option for changing overall content link color
Fixed: Portfolio Page, show all posts on no_pagination option
Added: Youtube Video Compatible in Rows

---------------------------------------

Files:
style.css
includes/core/codeless_elements.php
includes/core/codeless_metaboxes.php
includes/core/codeless_options.php
includes/core/codeless_routing.php
vc_templates/vc_row.php
vc_templates/vc_column.php
woocommerce/content-product.php
functions-specular.php
css/woocommerce.css
style.css
includes/register/register_styles.php
js/main.js
vc_templates/vc_row.php
vc_templates/vc_column.php
css/bootstrap-responsive.css


Versi 1.9
Removed some non functional VC Row Settings
Fixed: Services Media Title Over Image
Fixed: Fullwidth Content Row with Services Media conflict
Fixed: Price List Button Style

---------------------------------------

Files:
style.css
includes/core/codeless_elements.php
vc_templates/vc_row.php
vc_templates/price_list.php
vc_templates/vc_column.php


Versi 1.8
Updated: Visual Composer
Updated: Revolution Slider
Fixed: Parallax on Codeless Slider in case that smoothscroll is not active
Fixed: Added more description on some fields that clients don't understand
Fixed: Breadcrumbs, makes translatable the "You are here" 
Fixed: Button Element align right
Fixed: Codeless Slider Nav on responsive

---------------------------------------

Files:
style.css
includes/codeless_required_plugins.php
includes/core/codeless_elements.php
includes/core/codeless_options.php
js/main.js
css/bootstrap-responsive.css
plugins folder
js/smoothscroll.js


Versi 1.6
Fixed: Custom JS Field
Updated: Visual Composer
Added: Button Element 'Open in new tab' attr
Fixed: FAQ Categories
Updated: Mailchimp
Updated: Service Circle with no link
Fixed: Post Grid Element Button
Fixed: Accordion Title
Updated: Woocommerce
Updated: Revolution Slider
Fixed: Recent Portfolio Basic Style with carousel on responsive

---------------------------------------

Files:
style.css
includes/codeless_required_plugins.php
includes/core/codeless_elements.php
includes/core/codeless_options.php
includes/type/codeless_faq_type.php
plugins/
js/main.js
woocommerce/
vc_templates/vc_accordion_tab.php
vc_templates/button.php
vc_templates/services_large.php
header.php
functions.php
functions-specular.php


Versi 1.5.1

1. Updated  'wp_title' function
2. Updated Visual Composer, Revslider Plugins
3. Fixed - when updating from front-end, settings erased
4. Fixed: Single Post Sidebar Layout
5. Fixed: Boxed layout not responsive (on windows resize)

Versi 1.5

Fixed - Full Blog Element Pagination
Added: Twitter Widget with Avatar Option
Added: Option to remove slider on mobile.
Added: Option for Slider Speed
Added: Option for Testimonial Speed
Fixed: Codeless Slider Default Look when not id is set.
Fixed: Tabs and Accordions Problem with new VC
Fixed: Some issues, notices and warnings
Added: Instagram on Social Widget
Fixed: Staff Single Position Attribute
----------------------------------------------------------------


Versi 1.4.2

Fixed: Header Transparency
----------------------------------------------------------------

style.css
header.php
includes/core/codeless_options.php


Versi 1.4.1

Fixed: Staff position on staff element
----------------------------------------------------------------

style.css
vc_templates/staff.php


Versi 1.4

Fixed: Some minor bugs
Fixed: Text block display
Fixed: Media Animation Effects
Fixed: Visual Composer FontAwesome icons display
Fixed: Images display in single portfolios
Fixed: FullScreen slider display on responsive
Updated: Visual Composer (vs. 4.7), WooCommerce files (vs. 2.4.6)
----------------------------------------------------------------

style.css
plugins (folder)
font (folder)
css (folder)
includes/core/codeless_elements.php
vc_templates/media.php


Versi 1.3.7

Fixed: Some minor bugs
Fixed: Issue with mega-menu and sub-menus
Added: Top position for portfolio item content, Mailto link in email social icon
Updated: Visual Composer (vs. 4.6.2), Revolution Slider (latest versions included)
----------------------------------------------------------------

 style.css
 plugins (folder)
 includes/view/blog (folder)
 includes/view/portfolio (folder)
 js/main.js
 includes/widgets/widgets.inc.php


Versi 1.3.6

Fixed: Some minor bugs
Fixed: Read more string translation
Updated: Visual Composer, Revolution Slider (latest versions included)
----------------------------------------------------------------

 style.css
 plugins (folder)
 includes/view/blog (folder)


Versi 1.3.4

 Fixed issues with Visual Composer columns
----------------------------------------------------------------

 style.css
 vc_templates/vc_columns.php


Versi 1.3.3

Important Update - Visual Composer 4.6.1
----------------------------------------------------------------

style.css

/plugins/js_composer.zip


Versi 1.3.2

Fixed: Theme Compatibility for Visual Composer 4.6
------------------------------------

style.css
plugins (folder)
vc_templates (folder)


Versi 1.3.1

Updated: Visual Composer
------------------------------------

style.css
plugins (folder)


Versi 1.3

Fixed: Some minor bugs
Fixed: Background color on blog page
Updated: Visual Composer, Revolution Slider (latest versions included)
------------------------------------

style.css
plugins (folder)
includes/view/blog/loop-fullwidth.php


Versi 1.2.9
Fixed: Some minor bugs
Added: Font size added as option for footer headings
Fixed: Social sharing
Fixed: Images display in blog full-screen style
Added: Link option to Media element on Visual Composer
Fixed: Hyperlinks color on pages, posts
Updated: Visual Composer, Revolution Slider (latest versions included)
------------------------------------

style.css
plugins (folder)
includes/core/codeless_options
includes/register/register_styles
vc_templates/media.php
includes/core/codeless_elements.php
includes/view/blog/loop-index.php
includes/view/blog/loop-fullscreen.php


Versi 1.2.8
Fixed: One page Links problem with simple sections.
Fixed: iPad Scroll Page with Codeless Slider
Fixed: Submenu multi-level problem

------------------------------------

style.css
js/main.js


Versi 1.2.6
Added: Select Category for Staff Carousel Element
Update: Visual Composer

------------------------------------


Versi 1.2.5
Fixed: Shop Category Page Header
Fixed Gallery Carousel Slider in Responsive

------------------------------------


Versi 1.2.4
Fixed: Import Process JS
Update: Redux & Metaboxes
Added: Tabs - change default opened tab
Fixed: Icon Select Box on VC

---------------------------------------


Versi 1.2.3
Added: New Business Demo
Fixed: SubMenu Third Level

---------------------------------------


Versi 1.2.1
Fixed: Testimonial Carousel with different height
Fixed: Envato Auto Update Plugin Error
Fixed: Price list button link

---------------------------------------


Versi 1.2
Updated: Speed-up dummy data setup 
Added: Auto Theme Updater
Added: Seo plugins Compatible
Added: Dual Sidebars Options
Added: Child Theme Support
Added: Compatible with Disqus
Added: Mailchimp Integration
Added: Infinite Scroll for Blog Posts
Added: Options for Blog Info details
Added: Instagram Social Icon
Added: BBM for contact info shortcode
Fixed: Mobile Menu Issue
Fixed: Services Small supports shortcodes into description
Fixed: Codeless Slider Bug in responsive fixed
Fixed: Visual Composer Responsive Options

---------------------------------------


Versi 1.1.1
UPDATED: Visual Composer now compatible with 4.1

---------------------------------------

Files:
style.css
plugins/js_composer.zip


Versi 1.1
Added: NEW Demo <strong>Minimal 2</strong>
Added: New Slider (Carousel) with opacity and title, desc
Added: Portfolio Item Like
Added: Testimonial select by category
Fixed: Fullscreen Single Blog Issue
Fixed: Header Cart Style Fixed
Added: Option for remove responsive menu
Added: Option to make visible extra navigation in responsive
Fixed: Price List Button Text (Purchase)
Fixed: Header 11 (Logo in center) fixed in responsive

---------------------------------------

Files:
style.css
header.php
functions.php
js/main.js
css/bootstrap-responsive.css
vc_templates/price_list.php
vc_templates/testimonial_carousel.php
vc_templates/testimonial_cycle.php
includes/core/codeless_options.php
includes/core/codeless_slideshow.php
includes/core/codeless_elements.php
includes/register/register_style.php
includes/view/portfolio/single-container.php
includes/view/portfolio/single-floating.php
includes/view/portfolio/single-gallery.php
includes/view/portfolio/single-fullwidth.php


Versi 1.0.14
Added: Option to disable featured image in Pages / Posts (Single)
Added: Option for overwrite the default post / page layout (sidebars)
Added: Option for overall pages layout (sidebars)
Added: Option to add upcoming date to events.

---------------------------------------

Files:
style.css
includes/core/codeless_metaboxes.php
page.php
includes/view/sliders_output.php
includes/view/blog/loop-index.php
vc_templates/recent_news.php
includes/core/codeless_options.php
single.php
template-blog.php


Versi 1.0.13
FIXED: Import from online builder

---------------------------------------

Files:
style.css
admin/inc/fields/codeless_import (entire folder)


Versi 1.0.12
Added: NEW DEMO BUSINESS CORPORATE
Added: New Header 12 (Business Corporate)

---------------------------------------

Files:
style.css
includes/core/codeless_options.php
header.php
includes/register/register_style.php
includes/register/register_shortcodes.php
includes/register/register_sidebars.php
css/shortcodes.css
css/bootstrap-responsive.css


Versi 1.0.11
Added: Enable comments on portfolio items.
Added: Social Icons (Youtube, Email)
Fixed: Removed Animation from Text Block element. Use Column animation instead. 

---------------------------------------

Files:
style.css
includes/core/codeless_metaboxes.php
includes/core/codeless_options.php
includes/core/codeless_elements.php
includes/view/portfolio/single-container.php
includes/view/portfolio/single-fullwidth.php
includes/view/portfolio/single-floating.php
includes/view/portfolio/single-gallery.php
includes/widgets/codeless_socialwidget.php


Versi 1.0.10
Fixed: Fullscreen sliding JS error

---------------------------------------

Files:
style.css
functions-specular.php


Versi 1.0.9
Fixed: Portfolio Grayscale style

---------------------------------------

Files:
style.css
includes/view/portfolio/loop-grid.php


Versi 1.0.8
Updated: Metaboxes

---------------------------------------

Files:
style.css
admin/loader/extensions/metaboxes (entire folder)


Versi 1.0.7
Added: Option for Agency Header Colored Border Top

---------------------------------------

Files:
style.css
includes/core/codeless_options.php
includes/register/register_styles.php


Versi 1.0.6
Added: Missing dummy data for new demos
Fixed: Menu issue with Medicine Demo

---------------------------------------

Files:
style.css
includes/core/codeless_options.php
includes/register/register_styles.php
css/bootstrap-responsive.css
/includes/dummy_data (entire folder)


Versi 1.0.5
Added: Linkedin Social Link

---------------------------------------

Files:
style.css
includes/core/codeless_options.php
includes/widgets/codeless_socialwidget.php


Versi 1.0.4
Added: Custom Link in Portfolio Items
Fixed: Codeless Slider in IPad Mini

---------------------------------------

Files:
js/main.js
style.css
includes/view/portfolio/loop-grid.php
includes/view/portfolio/loop-masonry.php
includes/core/codeless_metaboxes.php


Versi 1.0.3
Fixed: sticky header font color on Codeless Slider
Added: Custom CSS
Added: Show Logo only on scroll (sticky)
Added: Add image Element on Codeless Slider
Added: New Portfolio Style with Chrome bar like in presentation page

---------------------------------------

Files:
js/main.js
includes/register/register_.style.php
includes/core/codeless_options.php
style.css
functions_specular.php
includes/codeless_slider/codeless_slider_options.php
includes/codeless_slider/codeless_slider.php // Added: Add image Element on Codeless Slider
includes/view/portfolio/loop-grid.php
includes/view/portfolio/loop-masonry.php
includes/core/codeless_metaboxes.php
img/chrome.png
includes/core/codeless_elements.php
functions.php


Versi 1.0.2 Pembaruan PENTING
Fixed: Footer Widget Area
Updated: Framework
Fixed: Hover on Services Medium

---------------------------------------

Files:
style.css
includes/register/register_sidebars.php
admin/ (entire folder)


Versi 1.0.1
Added: Social Shares in posts
Updated: Dummy Data

---------------------------------------

Files:
style.css
includes/core/codeless_options.php
includes/view/loop-index.php
js/main.js
includes/dummy_data (entire folder)